by Paul Hislip, Communications intern (Class of 2018)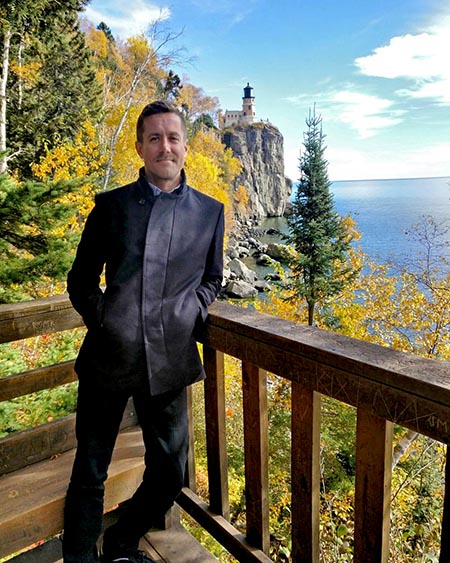 I recently had the pleasure of interviewing Bloustein School assistant professor Michael Smart, whose primary research has explored the ways in which social networks embedded in particular neighborhoods of affinity—such as immigrant neighborhoods and gay and lesbian neighborhoods—influence the activity patterns of those who live in those neighborhoods.
Dr. Smart's education has taken him from coast to coast. As an undergraduate he studied German at Yale; he later went to the University of Pennsylvania for his Master's in urban planning, and then traveled across the country to UCLA to get his Ph.D. in that field. During his time at Yale, he took the only urban planning course offered at the time, a survey course called Study of the City. He also was in the marching band, and had various part-time jobs. Dr. Smart said that having that part-time job as a young student has helped to keep him grounded now that he is a professor.
Between his undergraduate and graduate careers, Dr. Smart worked with recently-released prisoners, counseling them as they transitioned to society and keep positions in the working world; for a while, this was the career path in which he envisioned himself. Eventually, however, he went back to school for urban planning and secured a position at the Bloustein School through a standardized application procedure.
Having joined the Bloustein School as an assistant professor in September 2013, Dr. Smart recently returned from a sabbatical. While away from Rutgers he spent some time working at the University of Minnesota's Center for Urban and Regional Affairs to perform research, but he also flew to Europe near the end of his leave to take a tour of former Yugoslavian countries, like Serbia, Bosnia and Slovenia.
The topics of Dr. Smart's research while on sabbatical were areas that I was surprised to find have had very little research done, like the cost of owning a car. This was research where he was surprised by the results, as was I when he told me. He found that rising gas prices does not indicate that the overall cost of owning a car rises as well; what he found was that his subjects economized in other ways in order to mitigate higher gas prices. He also examined the average transportation budgets of people who move from suburbs to the city, or vice-versa. Again, where he expected the costs to change, they stayed about the same. It was believed that people leaving the suburbs for the city would sacrifice their cars in favor of public transportation, but he found that this was not necessarily the case. He found that people were more likely to bring their cars with them into the city and, again, economize in different ways.
Another interesting area of study that Dr. Smart researched, in collaboration with Nicholas J. Klein PhD '14 (now at Columbia University) inquired into how people's past experiences with public transportation shape their willingness to use public transportation in the future. This research will be the basis for a forthcoming article in the Journal of Planning Education and Research titled "Remembrance of Cars and Buses Past: How Prior Life Experiences Influence Travel."
As a student, perhaps the most significant thing I took away from interviewing Dr. Smart is some advice he said that he also tells his master's students–be nice to everybody you meet as a student. Urban planning is a close-knit community, so someone you meet in the classroom could very well be the person who makes the decision on a new job down the road.
When not working on research or teaching, Michael enjoys hiking, bicycling, and visiting the theater and museums in New York City.