Graduation Ceremony of the Edward J. Bloustein School of Planning and Public Policy
View the transcript of the ceremony here
Graduates may download their individual slides by scrolling to the bottom of this page.  Type your name in the "Search" feature, click on your slide, and follow the instructions to download.
Is the Bloustein School Graduation Celebration a live event?
The event is not live. All portions of the event have been pre-recorded.
Can I download the video?
Due to copyright law, the graduation video is only available for streaming from our website or Facebook page.
How long will the website be available for watching?
The Bloustein School has an archive page of all of its previously recorded graduation ceremonies. The Class of 2020 Celebration will always be available on the archive page once it has moved off of the main Bloustein home page. The archive page is https://bloustein.rutgers.edu/students/graduation/convocation-photos/
How should my friends and extended family watch the event?
They can go to our website https://bloustein.rutgers.edu/2020-graduation/ or our Facebook page https://go.rutgers.edu/RUEJB2020
Do you need to have a Facebook account to view the event on Facebook?
No, a Facebook account is not needed to view the Facebook recording. The Bloustein School Facebook page, https://www.facebook.com/Bloustein is public. Participants without accounts will have a bar on the bottom of the screen prompting to login or create an account, but that can be ignored.
Can I still send in my photo and message to update my slide?
Unfortunately, no. Our deadline for supplying information to Marching Order to personalize individual slides has passed.
Can I get a copy of the program?
All graduates will receive a package containing a copy of the Graduation Celebration invitation and program. The mementos given out at our annual graduation celebrations will also be included!
Students in the U.S. should receive their packages by the second week of June. Outside the U.S. may take longer. If you do not receive a package by the end of July, UNDERGRADUATES should email undergrad@ejb.rutgers.edu and MASTER'S/PHD students should email coutney.culler@rutgers.edu so we can make sure it was mailed to the proper address.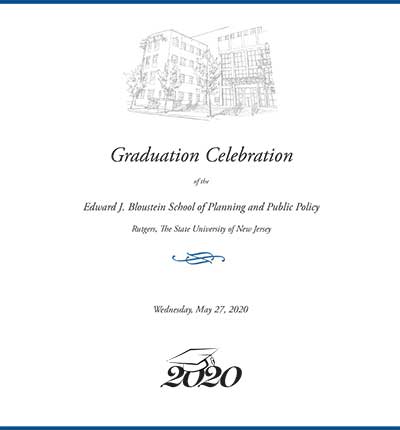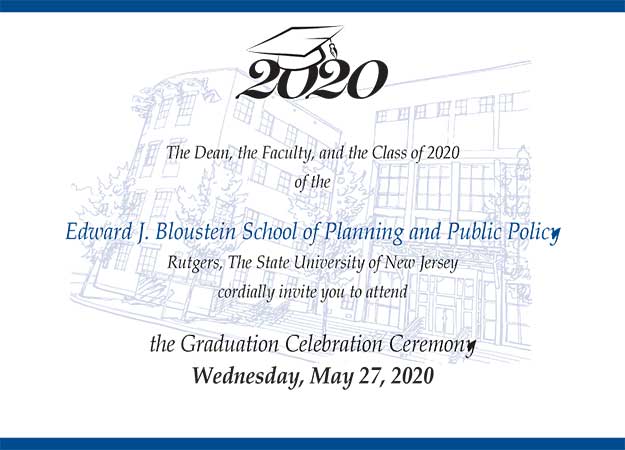 Rutgers is an equal access/equal opportunity institution. If you are in need of a disability-related accommodation for this virtual event, please contact the Rutgers Access and Disability Resources office by email at radr@echo.rutgers.edu.
Individuals with disabilities are encouraged to direct suggestions, comments, or complaints concerning any accessibility issues regarding a Rutgers websites to accessibility@rutgers.edu or complete the Report Accessibility Barrier / Provide Feedback form.
To download a slide by typing your name in the "Search" feature, click on your slide, and follow the instructions to download.