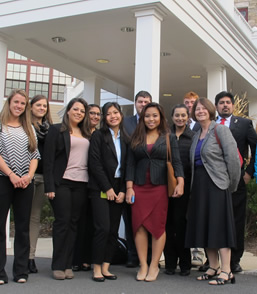 Undergraduate majors in Bloustein School programs undertake a comprehensive and thorough set of capstone professional practice courses on "Internship" and "Leadership" which hold weekly/biweekly seminars covering many career development oriented topics.  Resume, cover letter, LinkedIn, project management, internship/employment search are among some of those covered.  In depth research within field of study as well as strengthening professional skill sets are also engaged.
The Bloustein School faculty serve as a tremendous resource for undergraduate students seeking advice and counsel on the practice within their field.  A wide range of practitioners teach in the programs coming from key industry, government and non-profit sectors.  Leaders from the health, planning and policy profession engage students in their courses and they should be encouraged to speak to them about careers in the field.
In addition to the instruction provided at the Bloustein School, students should also consult with the Rutgers University Career Services for information on reviewing interview techniques, other job opportunities and various employment support services. Individual counseling is also available to both students and alumni.