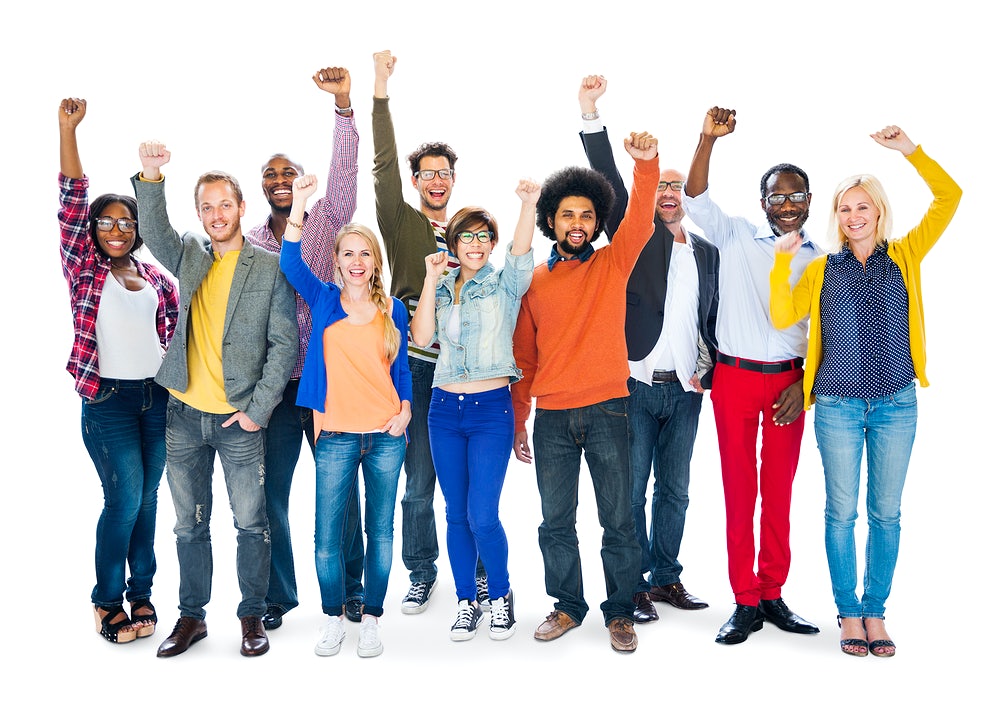 The list below is not exhaustive, and will continue to be updated. If you learn of a program or resources that are not included, let us know!
General Resources | International Students | Women | Persons of Color
LGBTQ+ | Persons with Disabilities | Military Veterans
---
General Resources
Rutgers Division of Diversity, Inclusion and Community Engagement
Harvard Business Review (HBR) article: Use Your Social Network as a Tool for Social Justice
Harvard Business Review (HBR) podcast: Diversity, Equity and Inclusion 101 at Work | Doug Melville, VP, Head of Diversity & Inclusion at Richemont North America, joins host Porter Braswell to answer questions about diversity, equity, and inclusion that can be awkward to ask at work. They define the terms we hear so often, address common misconceptions, and share their personal experiences with race at work.
Diversity.com | Includes job database for diverse job seekers, list of top 50 companies for diversity, and many other job search resources.
Fast Company Article: 10 Interview Questions to Determine if a Company is as Inclusive as it Claim
Fortune Best Workplaces for Diversity
House office of Diversity and Inclusion
Local Government Diversity Dashboard CivicPulse and Engaging Local Government Leaders recently released a first-of-its-kind gender diversity benchmarking tool and report for the more than 21,000 local governments and their stakeholders across the country pursuing diversity, equity, and inclusion (DEI) initiatives: the Local Government Diversity Dashboard (LGDD). Take a look at the report to learn more about the gender composition of top appointed leaders across the country.
---
Resources for International Students
RESOURCES FOR INTERNATIONAL STUDENTS
Career Advice and Resources
Rutgers Global and OPT/CPT information:
VAULT Career Blogs for International Students
H1base.com
HBR Article: The Big Challenge of American Small Talk
National Career Development Association (NCDA) Resources for International Students
---
Resources for Women
The Gender Pay Gap and What You Can Do About It
HBR Podcast- Women at Work: Starting Your Career in a Pandemic
International Association of Women
Feminist Majority Foundation | The Feminist Jobs Board is a project of the Feminist Majority Foundation, a 501(c)3 non-profit committed to educating and mobilizing folks around the political, economic, and social equality of all women. The board provides feminists with a space to find jobs that progress the status of women or encompass their passion for social justice.
WAGE Project | WAGE inspires and helps working women to take the steps needed so that every woman is paid what she's worth
The Women's Congressional Staff Association
---
Resources for Persons of Color
VAULT Career Blogs for Persons of Color
The Environmental Fellows Program (EFP) at the University of Michigan (U of M) School for Environment and Sustainability (SEAS), in partnership with the Environmental Grantmakers Association (EGA), is a 12-week summer fellowship opportunity that seeks to diversify the environmental field by cultivating the career aspirations of master's and doctoral students from historically underrepresented groups by connecting students to work opportunities in environmental nonprofits, grant makers, and government sectors.
US Department of Transportation Internship for Diverse Groups
Black Voices on the City: A Resource Guide |Introducing a new interactive resource that presents the contributions of the Black community to a growing understanding of cities and the built environment.
HBR Article: Remote Networking as a Person of Color
Congressional Black Caucus Foundation
The Conference of Minority Transportation Officials (COMTO) – the leading national advocate for employment diversity, inclusion and contracting opportunities in the multi-modal, multi-billion-dollar transportation industry.
Senate Black Legislative Staff Caucus
Top 21 African-American Professional Groups
Black Career Women's Network| BCWN is a national career development enterprise dedicated to fostering the professional growth of African-American women
Women of Color in Pharma (WOCIP)
United States National Park Service | The Cultural Resources Diversity Internship Program provides a career exploration opportunity for diverse undergraduate and graduate students ages 18-25 in historic preservation/cultural resources work. The program places interns with National Park Service park units and administrative offices, other federal agencies, state historic preservation offices, local governments, and private organizations.
Congressional Black Associates
Congressional Hispanic Caucus Institute
Congressional Hispanic Staff Association
Hispanic Alliance for Career Enhancement (HACE)
ihispano.com | provides resources for connecting aspiring and accomplished Latino professionals to assist them in realizing their professional and personal goals.
National Society for Hispanic Professionals
Middle Eastern Professionals Association
National Association of Asian American Professionals | promotes professional relationships with Asian students interested in a career in business, service, and/or government from the U.S. and Canada
Conference on Asian Pacific American Leadership (CAPAL) | dedicated to building leadership and public policy knowledge within the Asian Pacific American community.
Congressional Asian Pacific American Staff Association
---
Resources for LGBTQ+
Practical Advice for Transgender and Nonbinary Folks Navigating the Job Market
Human Rights Campaign Corporate Equality Index | The best research tool to identify which companies are LGBT-friendly is this index released each year by the Human Rights Campaign. This report assesses companies based upon a number of criteria, including: Equal employment opportunity policy; Employment benefits (including transgender-inclusive medical coverage); Organizational LGBT competency (trainings, resources, or accountability measures);Public commitment to LGBT support
Human Rights Campaign Workplace | Link to top articles created by the HRC for LGBTQ+ individuals navigating the world of work
Article: Coming Out at Work from Human Rights Campaign
Article: Authenticity Can Help LGBTQ Leaders Be More Effective
What You Should Know: The EEOC and Protections for LGBT Workers
LGBT Congressional Staff Association
---
Resources for Persons with Disabilities
FAQ: The Americans with Disabilities Act at Work
MIUSA – Mobility International USA | Founded in 1981, Mobility International USA (MIUSA) is a disability-led non-profit organization headquartered in Eugene, Oregon, USA advancing disability rights and leadership globally.® By implementing innovative programs, MIUSA is building bridges to create a new era where people with disabilities will take their rightful place in the world community. MIUSA is a cross-disability organization serving people with a broad range of disabilities.
Bender List | Add yourself to the list of applicants of individuals with disabilities available to all federal agencies)
EEOC – Tips for Applicants with Disabilities on Getting Federal Jobs
GettingHired.com | Helps individuals and veterans with disabilities connect with inclusive employers
The Job Interview Employment Tool Kit from Autism Speaks
US Office of Disability Employment Policy page
Interview Techniques for Students with Disabilities
Workforce Recruitment Program | Managed by the U.S. Department of Labor's Office of Disability Employment Policy and The U.S. Department of Defense, The Workforce Recruitment Program (WRP) is a recruitment and referral program that connects federal and private-sector employers nationwide with highly motivated college students and recent graduates with disabilities who are eager to demonstrate their abilities in the workplace through summer or permanent jobs.
Neurodiversity Network https://www.neurodiversitynetwork.net/
---
Resources for Military Veterans
Positive Traits Veterans Should Stress in Interviews
Rutgers University Office of Veteran and Military Programs & Services
www.va.gov | Information on careers and employment for veterans