"This Executive MHA will give you a competitive edge unlike any other. It is designed and taught by current health care leaders who know your world."
Vincent D. Joseph, FACHE Advisor and Executive Coach
The Rutgers Executive Master of Health Administration is designed for emerging leaders who want to transform health care delivery.
Ten of the 20 fastest-growing jobs today are in health care, a field that will, in the next few years, continue to add more new jobs than any other sector. Health care reform continues to greatly increase demand for quality, affordable care, requiring clinicians and administrators alike to come up with novel approaches for care delivery. Succeeding in this environment calls for specialized knowledge and skills.
Why the Rutgers MHA?
Most MHA programs offer the same old set of isolated 3-credit silos that don't meet the needs of future innovators. Our Executive MHA track is challenging, mirrors on the job experience using a modular approach, and is collaborative, student-centric, and team-driven.
---
About the Program
We are transforming the way future health care leaders are educated—integrating real life scenarios into the classroom learning environment. As a Rutgers Executive MHA student you'll be presented with real-time problems health care organizations grapple with every day. Together, in your assigned cohorts, you'll work through potential solutions that aren't found in textbooks—they require the skills of leaders who can work on diverse teams, find answers through organizational innovation, and manage change.
The Rutgers Executive MHA prepares graduates for executive positions in hospitals, large group practices, long-term care, behavioral health facilities, government, nonprofits, and other organizations, as well as jobs in consulting, pharma, insurance, and finance.
---
Next generation health care requires a new way of thinking—bigger, bolder, and smarter—and an understanding of the challenges facing health care systems in the 21st century.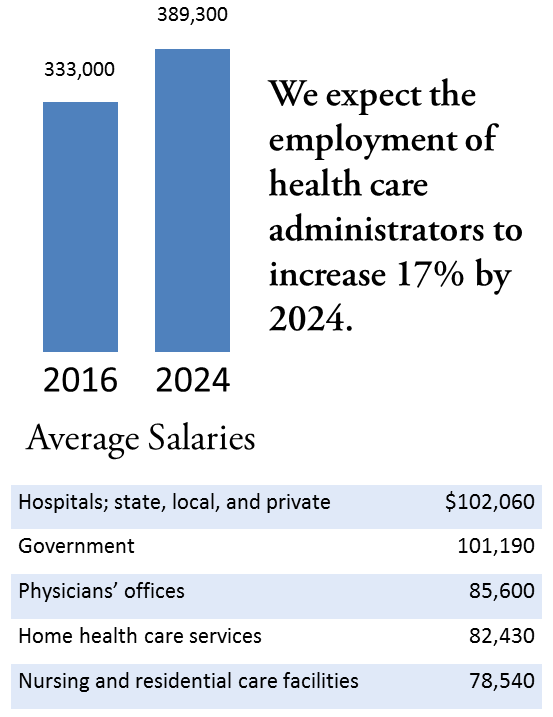 The Executive MHA track is tailored for the health professional with at least five years of experience. Our newly designed curriculum presents information in four sequential, 9-credit modules or clusters—courses grouped together in common themes and two experiential summers. At the start of each module, cohorts take on a complex health care problem and collaboratively create innovative solutions.
Executive MHA participants complete the 45-credit track in two calendar years, including completion of an experiential portfolio of management achievements, typically up to 6 credits.*
Along with problem solving, students will analyze challenging health care trends:
Value-based performance
Health care reform through the AffordableCare Act
Big data and new technology
Developing and executing change strategies
Accountable care organizations
Continuum of care
Quality improvement
Population health
Improving clinical outcomes
Organizational innovation
* In extraordinary circumstances, portfolio assessment of management experience may reach 9 credits, but under no circumstance will portfolio assessment result in more than 9 credits toward the MHA.
---
Among the benefits the Rutgers Executive MHA offers:
Innovative, cohort-based track. As part of the CAHME accreditation requirements, the Rutgers MHA uses a competency-based learning system. This means that you will master the skills and knowledge you need to be highly successful in healthcare today. You will develop proficiencies in 19 core competencies within six major domains including the healthcare environment; leadership and professional development; management and business, communications and relationship management; and entrepreneurship and innovation. When you finish, you can be confident that you are ready to move forward in today's rapidly changing healthcare environment.
World-class experts. Faculty members in the Executive MHA include accomplished individuals who have helped shape health care throughout New Jersey and beyond—people who live the daily challenges of today's health care industry. They include teachers, lecturers, and guest speakers from top industry leaders, including Johnson & Johnson, Horizon Blue Cross/Blue Shield, and Rutgers Robert Wood Johnson Medical School, as well as researchers and experts from the Bloustein School. Our students will also have the opportunity to network and develop professional relationships among a rich network of contacts through Rutgers' alumni and faculty.
Inside-out knowledge of the drivers in health policy. The Bloustein School has outstanding health administration programs at both the graduate and undergraduate levels. As a leader in the study of health policy, our undergraduate public health program is ranked 4th nationally. We use innovation in the classroom—mentoring, team teaching, executive coaching, case studies, and more—and have the expertise and resources to develop tomorrow's health care leaders.
---
Applicant Requirements
Bachelor of Science/Bachelor of Arts/or related degree
Minimum GPA of 3.0 preferred
5 years of health care experience
Transcripts (may be submitted for the highest degree awarded to applicant)
Two letters of recommendation:

A strong letter of recommendation from your employer
A letter that should amplify the applicant's academic potenial or qualifications that sets the candidate apart from other applicants
Both letters should speak to a strong work ethic, professionalism, leadership potential, motivation, and high ethical standards.
APPLY NOW