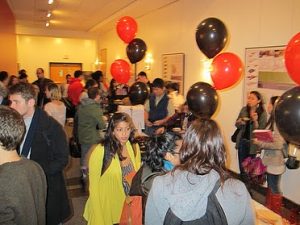 The Edward J. Bloustein School of Planning and Public Policy will be hosting a Virtual Graduate Admitted Student Open House on Tuesday, March 31, 2020. If you are an admitted student for fall 2020, we welcome you to join us. One great thing about a virtual open house it allows you the flexibility to participate from anywhere in the world, and attend the sessions that best meet your needs! We will post the schedule for our virtual Open House shortly so please make sure to check back on this page for any updates.
Our virtual open house will be similar to the in-person event and will still provide admitted students to our masters (public policy/urban planning/public informatics) and doctoral programs the opportunity to speak with faculty, current students, and learn about our academic programs, student housing options, career services support as well as funding options available to them upon joining the institution.
The Bloustein School offers this event for admitted fall 2020 students in these programs only. If you have any questions, feel free to contact openhouse@ejb.rutgers.edu.
INFORMATIONAL MATERIALS FOR OPEN HOUSE
Welcome from Bloustein School Dean Piyushimita "Vonu" Thakuriah (video)
Welcome from Current Students (PDF)
Life at The Bloustein School From a Student's Perspective (PDF)
Master's Program in Public Policy (MPP/MPAP)
Alumni Video: Coltrane Stansbury MPP '04, NASPAA Alumni Spotlight Honoree (video) Slideshow: Andrea Hetling, Program Director
Recording: Public Policy Master's Program Open House Session
MPP/MPAP Program Outlines
Master's Program in Urban Planning (MCRP)
Slideshow: Kathe Newman, Program Director
Recording: Urban Planning Master's Program Open House Session
MCRP Concentrations
Master's Program in Public Informatics (MPI)
Slideshow: Frank Felder, Program Director
Recording: Public Informatics Master's Program Open House Session
MPI Outline and How to Apply
Doctoral Program in Planning and Public Policy (PhD)
Slideshow: Robert Noland, Program Director
Recording: Doctoral Program Open House Session
PhD Handbook
Syllabus: Discrete Choice Methods
Syllabus: Advanced Qualitative Methods
Syllabus: Advanced Scholarly Research
Annual Academic Conferences
Members of the Graduate Faculty
Graduates of the Bloustein School Doctoral Program
Financial Aid and Student Academic Services
Presentation from Steve Weston, Assistant Dean for Student and Academic Services
Recording: Financial Aid and Student Academic Services Open House Session
Student Life: Housing, Student Organizations, Commuting, and Other Information
Presentation from Courtney Culler, Assistant Director for Graduate Student Services
Recording: Student Life: Housing, Student Organizations, Commuting, and Other Information
Career Development Support Services
Presentation from Andrea Garrido, Career Management Specialist
Recording: Career Development Support Services
Chat with Current Master's Students
Presentation from Chase Palmer (MCRP '20) and Vineeta Kapahi (MPP/MCRP '20)
Recording: Chat with Current Master's Students