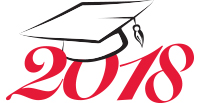 The Bloustein School will hold its graduate student convocation ceremony on Saturday, May 12, 2018, at 3:00 p.m. at the Nicholas Music Center, Douglass Campus. During the ceremony, public policy and urban planning master's degree recipients will receive their diplomas.
Doctoral degree candidates will be recognized at the Bloustein Convocation, but will also be hooded at the School of Graduate Studies Convocation on Friday, May 11, 2018 planned for 10:00 a.m. to 11:30 a.m. at the Louis Brown Athletic Center (RAC), Livingston Campus.
University Commencement will be held Sunday, May 13, 2018, from 10:00 a.m. to 11:30 a.m. in Rutgers Football Stadium. Academic regalia is required for participation. Please see the commencement website for specific details regarding ticketing specifications, arrival and gate opening times, parking, and bag policies.
We anticipate the Bloustein School ceremony on Saturday, May 12 to last approximately one hour, with a reception immediately following at Bettenbender Plaza located outside the Nicholas Music Center. In the event of inclement weather, the reception will be held in Rehearsal Hall 104 inside the Nicholas Music Center.

Please note guest availability below under "Invitations and RSVPs."
If you have any questions about the graduation activities or process, please contact
Steve Weston (848-932-2728)
2018 Bloustein Graduate Convocation Speaker
Richard L, Jackson
Professor Emeritus, Fielding School of Public Health, UCLA 
Richard Jackson is a Professor at the Fielding School of Public Health at the University of California, Los Angeles. A pediatrician, he has served in many leadership positions in both environmental health and infectious disease with the California Health Department, including the highest as the State Health Officer.  For nine years he was Director of the CDC's NationalCenter for Environmental Health in Atlanta and received the Presidential Distinguished Service award.  In October, 2011 he was elected to the Institute of Medicine of the National Academy of Sciences.
While in California he was instrumental in conceptualizing laws to reduce risks from pesticides, especially to farm workers and to children. While at CDC he was a national and international leader, including leading the federal effort to "biomonitor" chemical levels in the US population.  He has received the Breast Cancer Fund's Hero Award, as well as Lifetime Achievement Awards fromthe Public Health Law Association, and the New Partners for Smart Growth.  In October, 2012 he received the John Heinz Award for Leadership in the Environment.
Dick Jackson co-authored two Island Press Books: Urban Sprawl and Public Health in 2004 and Making Healthy Places in 2011. He is host of a 2012 public television series Designing Healthy Communities which links to the J Wiley & Sons book by the same name.  He has served on many environmental and health boards, as well as the Board of Directors of the American Institute of Architects. He is an elected honorary member of both the American Institute of Architects and the American Society of Landscape Architects.
1. Regalia
Graduates are required to wear academic regalia (i.e. gown, hood, and cap) specific to their degree. MPP and MPAP candidates wear peacock blue hoods; MCRP and MCRS candidates wear brown hoods. Contact the Barnes and Noble at Rutgers University Bookstore (tel.: 732-246-8448) or stop by to arrange for purchase of academic regalia. The bookstore is located in the Gateway Transit Building (at the intersection of College Avenue and Somerset Street), 100 Somerset Street, New Brunswick. Regalia orders will be available for pick-up at the bookstore.
2. Invitations and RSVPs (IMPORTANT!)
During the week of March 20th, each graduating student will receive invitations with envelopes to distribute to family and friends via student mailboxes. Due to the expected size of the event this year, attendance is restricted to no more than twelve (12) guests per graduate. Invitation cards are required for entry at the event. One card per guest attending. You will also receive an RSVP form to let us know if you will be attending as a graduate, how many of the ten potential guests you estimate will be joining you at the event, and if any of your guests have special requirements (e.g., require wheelchair access). The ceremony and the reception afterwards are free and open to all Bloustein School graduating students and their guests.
3. Directions to Nicholas Music Center
Options for getting to the Nicholas Music Center, Douglass Campus, from the New Brunswick Train Station (NJ TRANSIT):
Take the the Rutgers "EE" bus from the corner of George St. and Somerset St. — this bus goes to Douglass Campus and stops near the Nicholas Music Center (you must get off at the Gibbons bus stop).  However, the buses may be running on a reduced weekend schedule by Sunday, May 17, so the "EE" bus may just run once every 40 minutes or so. The website for the Department of Transportation Services, which runs campus buses, will have the summer bus schedule posted at: http://parktran.rutgers.edu.
Take a taxi from the New Brunswick Train Station to the Nicholas Music Center — there is a taxi stand at the train station. The fare is approximately $5 within the city limits for up to 2 passengers (there is an extra fee for additional passengers). Victory Taxi's phone number is 732-545-6666. All Brunswick Taxi's phone number is 732-545-0900.
4. Hotel Accommodations
Below are possible hotel accommodations for guests attending the events that weekend:
Hilton East Brunswick
3 Tower Center Boulevard
East Brunswick, NJ 08816
732-828-2000
Holiday Inn Express
4 Tower Center Boulevard
East Brunswick, NJ 08816
732-247-0700
Hyatt Regency
Two Albany Street
New Brunswick, NJ 08901
732-873-1234
Days Hotel – East Brunswick
195 Route 18 South
East Brunswick, NJ 08816
732-828-6900
The Heldrich Hotel
10 Livingston Avenue (across from Bloustein School)
New Brunswick, NJ 08901
732-729-4670