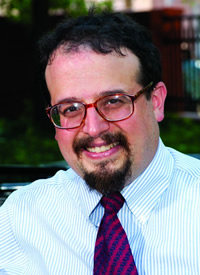 Professor
Associate Dean of Faculty
B.S., Case Western Reserve University; M.P.P. and Ph.D., Harvard University – Kennedy School of Government
Research Interests
The Regulatory Process
Use of Cost-Benefit Analysis
The Federal Bureaucracy
Regulatory Reform
Policy Analysis
Stuart Shapiro joined the Bloustein school faculty in 2003 after five years in the Office of Information and Regulatory Affairs (OIRA) at the Office of Management and Budget (OMB) in Washington. In OIRA he analyzed and coordinated executive branch review in the areas of labor, health and social policy. Prior to working at OIRA he received his PhD in Public Policy from Harvard University where he studied how political factors impacted changes to child care regulations in eight states. He has taught courses at Harvard, Georgetown, and the USDA Graduate School.
Complete Curriculum Vitae (C.V.)
Recent Publications
Books
2016: Shapiro, Stuart. Analysis and Public Policy: Successes, Failures, and Directions for Reform. Edward Elgar Publishing
2013: The Politics of Regulatory Reform (with Debra Borie-Holtz), Routledge, 2013.
Chapters in Books or Monographs
2015: Why Public Policy? In Public Policy and Administration for the Curious. Why Study Public Policy and Administration? Kishor Vaidya (ed)
The Curious Academic Publishing.
2013: Reforming the Regulatory Process to Consider Employment and Other Macroeconomic Factors in Does Regulation Kill Jobs? Cary Coglianese, Adam Finkel, and Christopher Carrigan (eds)
Articles in Refereed Journals
2017: Shapiro, S. (2017), Structure and Process: Examining the Interaction between Bureaucratic Organization and Analytical Requirements. Review of Policy Research. doi:10.1111/ropr.12245
2016: Shapiro, S. and Chris Carrigan. What's Wrong With the Back of the Envelope: A Call for Simple (and Timely) Benefit-Cost Analysis Regulation and Governance 10:1. doi:10.1111/rego.12120
2014: Exploring the Relationship Between Regulatory Reform in the States and State Regulatory Output Case Western Reserve University
Law Review (2014) 64:14 (w. Debbie Borie-Holtz)
2014: Agency Oversight as 'Whac-a-Mole': The Challenge of Oversight of Restricting Agency Use of Non-legislative Rules Harvard Journal of Law and Public Policy (2014) 37:523
2013: Does Haste Make Waste? How Long Does It Take to do a Good Regulatory Impact Analysis? (w. John Morrall) Administration and Society (2013)
2013: The Paperwork Reduction Act: Benefits, Costs, and Directions for Reform Government Information Quarterly (2013) 30:204
Articles in Non-refereed or General Journals
2016: Shapiro, S., Borie-Holtz, D. and Markey, Ian (2016). "Regulatory Reform: Retrospective Review in Four States" Regulation. Vol. 39 No. 1, 32-35.
2014: Why Regulatory Reform? (2014) 37:3 (with Debra Borie-Holtz)
Other Contributions
Areas of Expertise: Economics, Environmental Planning and Policy, Political Institutions