---
Bloustein School Graduation Celebration Details
For almost 30 years, the Edward J. Bloustein School of Planning and Public Policy has taken great pride in its graduating students from both our graduate and undergraduate degree programs. The Bloustein School 2021 Graduation Celebration recognizing our graduates will begin on Saturday, May 15 at 10:00 a.m.
A virtual event that includes remarks from our Dean, program directors and graduate and undergraduate speakers is coming together. Additional program items include special program-based award recognition of students as well as shout outs from faculty, staff and others.
Finally, to wrap up the event we are planning a special LIVE post-viewing series of "zoom receptions," to allow for students to gather together to hear congratulatory comments from faculty, staff and administration, celebrating the achievements of our graduates! While we can't be in person, we can still share a moment to welcome each of you into the network of Bloustein School Alumni! Details on our "zoom receptions" will follow the week of May 10th via email to each graduate.
University Commencement Virtual Celebration Details
Rutgers University's 255th Anniversary Commencement, a virtual celebration, is also being presented to graduates on Sunday, May 16, 2021, as we acknowledge the academic achievements of the Class of 2021 along with their families and guests and the Rutgers community. President Jonathan Holloway will address the degree candidates and also confer degrees.
GRADUATION PORTRAITS AND REGALIA
Lors Photography Studios continues to offer portrait sessions at three remote off-campus locations in New Jersey (New Brunswick, Mount Laurel, and Toms River). Lors is open to any graduate, yet only has sample regalia for undergraduates. Graduate students may order/request regalia through Rutgers Barnes and Noble Bookstores. Students may book sessions with Lors directly by contacting customerservice@lorsstudio.com or call 908-964-3040.
GRADUATION CELEBRATION TOOLKIT!
Our Graduation Celebration Toolkit includes information and resources to help you get ready for and participate in our celebration!
All the information on our graduation website, plus links to the live stream, downloadable signs, social media tools, and resources to begin your journey as an alumni of the Bloustein School.
VIRTUAL PHOTO BOOTH
Virtually place yourself on campus with PROPICSby uploading a photo and then choose from a selection of Bloustein School backgrounds! Use this tool to virtually place yourself on campus and don't forget to share it on social media with #RUEJB2021, #RU2021 and #RUCommencement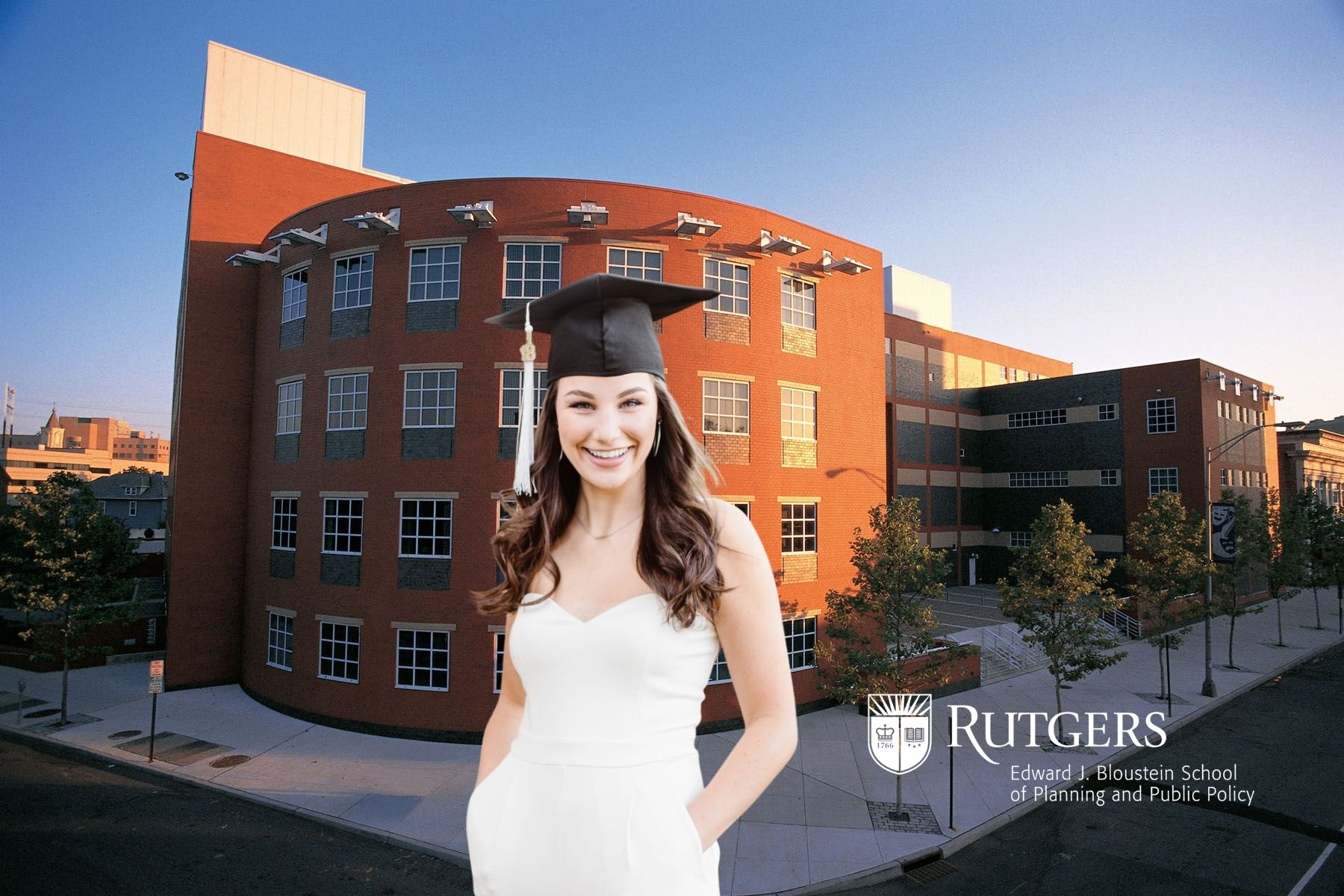 SHOW YOUR SCARLET PRIDE!
Your graduation will be remembered as a significant and memorable point in your lives and we are so excited to celebrate your accomplishments! Show your scarlet pride and invite your family and friends to support one of your greatest achievements! Make sure to use the official hashtag #RU2021 and #RUEJB2021!
---
GRADUATION SURVEY (Rutgers Career Services)
If you are a graduating student and have not done so yet, do fill out the post-graduation survey offered by Rutgers Career Services.