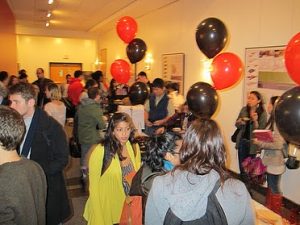 The Edward J. Bloustein School of Planning and Public Policy will be hosting its annual Graduate Admitted Student Open House on Tuesday, March 31, 2020. If you are an admitted student for fall 2020, we welcome you to join us.
The purpose of the event is to provide students admitted to our masters (public policy/urban planning/public informatics) and doctoral programs the opportunity to visit the school and faculty, meet other prospective and current students and learn more about academic programs, funding options, and research opportunities upon joining the institution.
The Bloustein School offers this event for admitted fall 2020 students in these programs only. To find out more about the program, view the Open House Agenda and other links below. If you are an admitted degree student to one of the programs for the fall 2020 semester and would like to RSVP please do so here.  If you have additional questions, please contact our student recruitment team at openhouse@ejb.rutgers.edu.
Information for the RSVP will include:
Your full name and email address.
Whether you will attend Thursday or undetermined at this time.
Whether you will be driving and need instructions on parking options.
Whether you are interested in staying with current students during your visit. There may be limited hosting opportunities available.
Any other comments or questions you may have.
If you have any questions, feel free to contact openhouse@ejb.rutgers.edu.
Welcome from Current Students (PDF)
Life at The Bloustein School From a Student's Perspective (PDF)
Getting Here (Directions) (PDF)