Contacts
Karyn Olsen
karyno [at] rutgers.edu
Assistant Director of Communications, Marketing and Public Relations
Room 388, Civic Square Building
(848) 932-2814
Tamara Swedberg
tamara.swedberg [at] rutgers.edu
Communications, Social Media, and Website Specialist
Room 388, Civic Square Building
(848) 932-2947
The Bloustein School's Communications department helps to promote the school as well as assist faculty, staff, and students with Rutgers guidelines. Among many responsibilities, the office serves as the liaison with the Rutgers University Communications Office (R-Comm), assists with obtaining editorial, design, and photography needs, manages the content of the Bloustein School's official academic and promotional publications, the school's website and key social media sites, and the release of Bloustein School news and other information.
---
Media Relations
Bloustein School faculty are available to speak with the media upon request. If you are a reporter, writer, editor or other media representative seeking an academic expert or other assistance, please contact Karyn Olsen or Megan Schuman (schumann [at] rutgers.edu), Senior Public Relations Specialist, Rutgers Communications and Marketing (R-Comm), 848-445-1907.
---
Events
If you are planning an event directly related to the Bloustein School, you should first work with the Bloustein School Events and Facilities Management office to secure the date and space. Once logistics are in place, please email webmaster [at] rutgers.edu with the event specifics so they may be included on the Bloustein School calendar, Rutgers University calendar, and the Bloustein School Weekly Events email (distributed to faculty, staff, and students at the Bloustein School only), and social media. If your event has a wider scope requiring additional attention such as external advertising or press releases, or that may attract media attention, we recommend that you contact the office as early in the process as possible.
---
Print and Publications
The Bloustein School is committed to helping you create publications that engage and inform your various audiences and that effectively promote the school and university. The communications department has a limited capability to assist with the production of brochures, booklets, posters, and advertising for specific projects or events, but is happy to help identify vendors that may be able to help with your projects or help with printing, distribution, and/or mailing services. Please email Karyn Olsen (karyno [at] rutgers.edu) to discuss your needs.
Faculty and staff in need of business cards should supply the following information and email Karyn Olsen (karyno [at] rutgers.edu) when you are ready to order:
account/project/department to be charged
QUANTITY (boxes come in 250, 500, 750, etc.)
Name (degrees/credentials if desired)
Academic or Administrative Title(s) (Center Name if affiliated)
Office Phone #
Cell phone # (if desired)
Fax # (if desired)
email address
Website (if desired)
A sample card is included here. If you do not include a fax or cell phone number, that space is left blank. If you have a need for a double-sided card or require a card with information in a second language, please specify when emailing.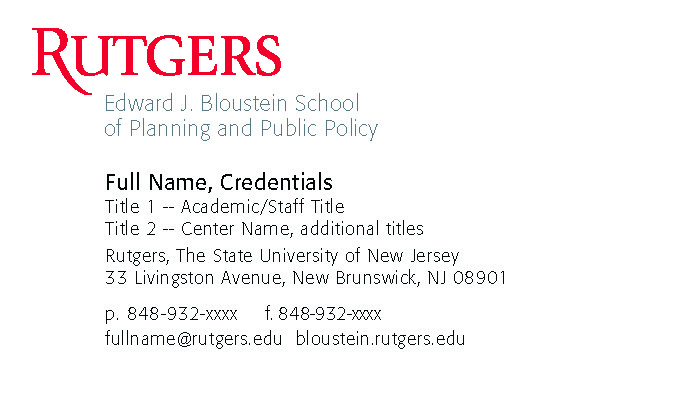 ***** Students and student groups may contact the Rutgers Office of Trademark Licensing for assistance with ordering business cards. They have a form here: https://rutgers.qualtrics.com/jfe/form/SV_9vRJjJ9gdAFOZAV but you can also email identity@ucm.rutgers.edu to let them know you would like to order cards and they can assist you with the process.****
If you are in need of a sign for outside of your door, please download the following file. Enter your information as needed (and delete any rows you do not). Should you need a specially formatted sign, please contact the Communications Team at webmaster@ejb.rutgers.edu.
---
Photography
The Bloustein School does not have a photographer on staff; the majority of assignments are completed by freelance photographers through professional service provider agreements. The Bloustein School has an extremely limited capability to take photos for smaller activities or events in the Civic Square Building given advance notice; please contact Karyn Olsen (karyno [at] rutgers.edu) or Tamara Swedberg tamara.swedberg [at] rutgers.edu to find out if your event can be covered. A minimum of two weeks notice must be given. All assignments completed by freelance photographers or school staff become part of the Bloustein School photo archive, and may be used/shared for school promotional purposes.
Please see information from Rutgers University Procurement about hiring professional service providers. All independent contractors/freelancers must complete an Independent Contractor or Employee Determination Form (ICED) form and a Statement of Work (SOW) form, which is to be submitted with the contractor's quote and requisition request.
Release Forms for Photography and Recording
Rutgers University and the Bloustein School require that all external guests sign a release form in advance of any photos/videos being taken. The release form can be downloaded from the link below, or you can send your guest(s) the link to fill out the online form
---
University Communications and Marketing
Rutgers University has created the ACE Program— Access to Communications (and marketing) Experts—to assist university offices and departments with easy access to suppliers who have master service agreements in place with the university and have been trained on Rutgers brand standards and on the university's communications and procurement policies.
Through a thorough evaluation process, the university has established master service agreements with firms in the following service areas:
Advertising Strategy/Media Buying
Communications Messaging and Strategy
Graphic Design
Market and Audience Research
Marketing Campaigns
Marketing Writing/Editing
Photography
Public Relations
Video/Filming
Website Design and Development
Please contact Karyn Olsen (karyno [at] rutgers.edu) to find out more information about these services.
---
Promotional Items ("swag")
Bloustein School swag—The school has an extremely limited quantity of giveaway-type items. Some are free, some are not. Please stop by and see Karyn Olsen or Tamara Swedberg (CSB 388) to discuss your needs.
**For the creation of new promotional items, ALL Bloustein School faculty and staff must first contact Karyn Olsen (karyno [at] rutgers.edu) to review artwork designs to ensure compliance with the University's Visual Identity.**
In 2020 Rutgers University created the University SWAG Portal. University Communications and Marketing (UCM) and Procurement worked on this strategic sourcing project for Rutgers branded merchandise, with the goal of improving improve the often difficult process as well as leveraging the collective spend in this category to bring volume discounts to Rutgers.
A major justification for this project was to streamline options so that the university can benefit from volume discounts. The number of vendors that are licensed to produce branded promotional items and apparel for Rutgers has been limited, which means that some vendors used in the past may no longer be licensed to produce Rutgers branded merchandise. Per the trademark licensing policy, a vendor must have a Rutgers license to produce merchandise including the university's name and logos. Vendors who offer specialty merchandise and services, as well as vendors that operate in our local host communities, have been retained. If you require specialty merchandise that cannot be utilized by the portal vendors, please email trademark@ucm.rutgers.edu before contacting these additional licensees. Orders using these vendors will follow the standard UCM approval and Procurement requisition and quoting processes.
Rutgers users with a NetID may access this new, easy and streamlined process for ordering Rutgers branded merchandise by visiting swag.rutgers.edu or through the Branded Swag by Consolidus punchout tile found in RU Marketplace. The quick guide found here provides guidance on how to use the portal.
Student Organizations—Bloustein School-affiliated student organizations must follow the guidelines set by Rutgers Division of Student Affairs. Student organization leaders will be provided access to the Swag Portal to search for items and upload artwork. All items must be purchased through the portal using your organization's SABO code, and will be approved by a member of Rutgers Student Affairs and University Communications and Marketing. More guidance about these policies will be set forth in September 2020.
Additional Resources
EJB Fact Sheet—This is for use as a handout to visitors who want more information about the Bloustein School (updated Fall 2022)
Bloustein Folders—The school has a limited supply of Bloustein School folders that can be used for events. These are distributed by the Office of Student and Academic Services. Please contact Steve Weston (sdweston [at] rutgers.edu) to arrange for what you need.
AICP Certification Maintenance Credits: If you are a faculty, staff member, or student group at the Bloustein School, or are co-hosting an event with the Bloustein School and wish to have an event submitted for AICP (American Institute for Certified Planners) credits, please send the information below to Karyn Olsen (karyno [at] rutgers.edu). If you are a Rutgers University entity (New Brunswick, Newark or Camden) seeking to become a licensed provider of AICP events under the Bloustein School license, please contact Karyn Olsen (karyno [at] rutgers.edu) for instructions on how to proceed.

Required information for AICP CM submission:

full name of event
date including start and end time of event
abstract/description that clearly states learning objectives of your event
link to registration page
names and bios of ALL speakers participating in the event
---
Visual Identity (Logos)
Please contact Tamara Swedberg (tamara.swedberg [at] rutgers.edu, 848-932-2947) or Karyn Olsen (karyno [at] rutgers.edu, 848-932-2814) if you have any questions about how to properly use the Rutgers-Bloustein signature. By accessing the Visual Identity page, you attest that you are a Bloustein affiliate and understand that modifying or misusing the materials violates Rutgers University's visual identity policies.
UPDATED 9/12/2023: Rutgers University will be transitioning to a new Visual Identity system in early 2024. Rutgers Communications will be working through the fall 2023 semester to create new guidelines and resources for the system, with a target of providing the university community full access to the new system of marks in January 2024. Administrative and academic units will then have the tools to begin their phased transition to the Rutgers R marks during the spring semester in accordance with schedules that are determined by unit leaders.
Until the new logos are announced, Bloustein School community members may continue using the logo found on Box (login required) here: https://go.rutgers.edu/logos
Stock Images are free through Adobe: https://stock.adobe.com/
Enable your Adobe account: https://go.rutgers.edu/adobe