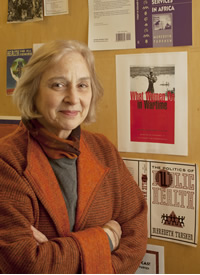 Professor
B.A., Oberlin College, Ohio; M.A., New York University; D. Phil., University of Sussex, England
Contact
Room 552, Civic Square Building
(848) 932-2386
Research Interests
International health and policy issues
The impact of war on women
Women's health
Meredeth Turshen is a Professor in the Edward J. Bloustein School of Planning and Public Policy at Rutgers University. Her research interests include international health and she specializes in public health policy. She has written four books, The Political Ecology of Disease in Tanzania (1984), The Politics of Public Health (1989), andPrivatizing Health Services in Africa (1999), all published by Rutgers University Press, and Women's Health Movements: A Global Force for Change (2007) published by Palgrave Macmillan; she has edited six other books, Women and Health in Africa (Africa World Press, 1991), Women's Lives and Public Policy: The International Experience(Greenwood, 1993), What Women Do in Wartime: Gender and Conflict in Africa (Zed Books, 1998), which was translated into French (L'Harmattan, 2001), African Women's Health (Africa World Press, 2000) , The Aftermath: Women in Postconflict Transformation (Zed Books, 2002), and African Women: A political economy  (Palgrave Macmillan, 2010). She has served on the boards of the Association of Concerned Africa Scholars,  the Committee for Health in Southern Africa, and  the Review of African Political Economy, and is on the editorial board of the Journal of Public Health Policy.
Complete Curriculum Vitae (C.V.)
View all course offerings and related syllabi
Undergraduate
Global Poverty
Human Rights and Health
Public Health Literature
Women and Health
Medical Globalization
Graduate
Women and Health
War and Public Health
Social Policy in Developing Nations
Health & Human Rights
Gender and International Development
Recent Publications
Books
2016: Turshen, Meredeth. Gender and the Political Economy of Conflict in Africa: The Persistence of Violence. London: Routledge, 2016
Chapters in Books or Monographs
2015: "The Political Economy of War: What Women Need to Know", in Sexual Violence in Conflict and Post-Conflict Societies: International Agendas and African Contexts, edited by Doris Buss, Joanne Lebert, Blair Rutherford, and Obi Aginam to be published by UN University Press, Tokyo, 8-1-2014
2014: Schneider D., and Turshen M., Political and Social Violence: Health Effects, Reference Module in Earth Systems and Environmental Sciences, Elsevier, 2014. 05-Feb-14 doi: 10.1016/B978-0-12-409548-9.09048-5
2012: "Food insecurity: The impact on African women and children" in Gendered Insecurities, Health and African Development, edited by Howard Stein and Amal Fadlalla, London: Routledge,2012.
Articles in Refereed Journals
2016: Turshen, Meredeth. Kongo Majesty, European Savagery, Review of African Political Economy, http://roape.net/2016/02/09/kongo-majesty-european-savagery/
2016: Turshen, Meredeth Congo Binga: Notes on Burri's Grande Sacco, Review of African Political Economy, http://roape.net/2016/03/16/congo-binga-notes-on-burris-grande-sacco/
2014: "A Global Partnership for Development and Other Unfulfilled Promises of the Millennium Project" Third World Quarterly 2014, 35(3)
Electronic Publications, Refereed
2015: "Women, War and Peace in Africa: A Reflection on the Past 20 Years." UNRISD, Let's talk women's rights: 20 years after the Beijing Platform for Action, March 2015 http://www.unrisd.org/beijing+20-thinkpieces
2012: "The Political Economy of Violence against Women in the Democratic Republic of the Congo" Journal of Post-colonial Cultures and Societies http://www.jpcs.in/index.php
Reviews
2014: Review of "Your Pocket is what Cures You: The politics of health in Senegal" by Ellen E. Foley, Rutgers University Press, in Canadian Journal of African Studies, 2014, 48(1)
Areas of Expertise: International Development, Political Institutions, Public Health, Social Policy/Inequality and Disparities, Global Health