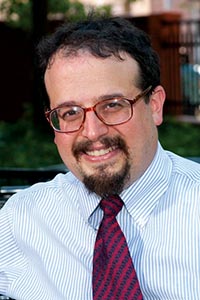 EJB Talks returns! In the first episode of our second season, Professor Stuart Shapiro talks with Associate Teaching Professor Patti O'Brien-Richardson about her research and advocacy on natural hair discrimination. She discusses the CROWN Act, a statute adopted by a number of states to address this form of discrimination. She also describes the connection between hair discrimination and racial discrimination, and how this year's protests will affect the implementation of the CROWN Act. Stuart and Patti also discuss her teaching focus at the Bloustein School and how her determined, creative, and inspiring students are handling the challenges posed by remote learning.
Stuart Shapiro
Welcome to our second season of EJB Talks. We're thrilled to be back with you. I'm Stuart Shapiro, the Associate Dean of Faculty at the Bloustein School. And the purpose of this podcast is to talk with my colleagues and our alumni about policy, planning, and health, and how these issues affect people in New Jersey, the United States, and the world.
We're going to start this season by talking with some of our newest faculty members at the Bloustein School. Today, I'm going to be speaking with Professor Patti O'Brien- Richardson, who joined us last year and teaches undergraduates leadership and helps them through their internships. Professor Richardson, thanks for joining us.
Patti O'Brien Richardson
Thank you for having me. I'm really excited. It's great to be with you.
Stuart Shapiro
Wonderful. Let's start by talking about your research and your advocacy. You've done a lot of work on the issue of hair discrimination. How did you get interested in Black individuals being discriminated against because of how they wear their hair?
Patti O'Brien Richardson
Well, you know, just like everything else we're seeing nationally, this has been an issue for decades; really, it's been an issue for a very long time. But I think because of technology, because of social media, we're now able to actually see someone in one part of the country or even in one part of the world is able to see what's happening. People that experience hair discrimination are able to write about it in their blogs, or on YouTube in their vlogs. And many articles have been published about it. So it's really hard to not realize that it's happening. But my journey really began talking to youth just as an educator, and just speaking with mostly high school students at the time.
One of the things that I found in talking to them in my work as a health educator was, I noticed that some girls were not participating in physical education. They weren't being physically active. And so they would rather sit on the bleachers instead of participating. Now, this was in high school at the time, I was a high school educator. And when I asked them about it, they said they didn't want to mess up their hair, they really didn't want to destroy their hairstyle at the time. And so when I started to talk to them and sort of created, not necessarily a serious focus group, but just a group of girls talking after class. One of the things I found was that they really felt this pressure, this societal pressure to have their hair neat, straight, and also to assimilate to the working conditions and what they felt was the standard of working professionals that are women that look like them.
And so I realized that even at a very young age, perhaps even 8, 9, 10, early teen years, you have brown and Black girls that are feeling this pressure to have their hair straight or definitely neat. And really as a way of getting a job and getting entrance into the workplace. And the more I asked about it, that's what I heard from them. That they felt from hearing their mothers, auntie's, older siblings, say, you know, when you graduate, when you apply for a job, or when you apply for an internship, you have to make sure that your hair has to be a certain way. And so it started there. And then the more I spoke to young adults and young women, and then women of all ages, it really became an area of focus for me.
Stuart Shapiro
So you're clearly not the only one who kind of picked up on this. It's become an issue nationwide, and we're seeing states pass legislation to try and deal with it. Can you… or to combat it, I should say. Can you talk a little bit about state legislation, especially here in New Jersey, and what kind of laws are being put in place to combat air discrimination?
Patti O'Brien Richardson
Yeah, it's very exciting. I'm very proud to be from New Jersey, at least now currently, I'm originally from New York, but I'm just equally proud to be… (laughing)
Stuart Shapiro
Just like me! Transplanted New Yorkers.. (laughing)
Patti O'Brien Richardson
Yes!
Stuart Shapiro
Slowly overcoming their biases and acclimating to New Jersey
Patti O'Brien Richardson
Slowly. (laughing)
So, you know, in 2019, we started off with really a force, I would say. More of a force of recognizing that this is an issue, we really have to address this on a large scale. And California became the first state to enact legislation banning hair discrimination by passing the CROWN Act on July 3, 2019. And then shortly after that, New York followed, and that was a huge event in New York City because it also included schools. And I was very excited about that, being an educator. It also included that young people, older people, men, women, all genders now have protection under the law.
And then at the end of the year, New Jersey became state number three. And so there are now seven states, including Washington, Colorado, Virginia, and Maryland. And it's very exciting. But we still have several that have filed to have a CROWN Act, which really represents a protection for the discrimination of hair. And CROWN stands for Creating a Respectful and Open Workplace for Natural hair. And so it's very exciting for New Jersey.
And so on December 19, at the end of last year, our Governor, Phil Murphy signed the CROWN Act. And so now, if anyone, students, youth, any age, any gender, if they feel that they have been discriminated against because of their hair, which that would include braids, locs, twists, natural hairstyles–because what natural hairstyle is really meaning is that it's been unprocessed and there are no chemicals involved to make it straight. So just the way Black hair naturally comes out. And so there have been cases of this hair discrimination. But now, in New Jersey and in these several states, there can be protection.
And so this is something that I believe, this type of policy, this is something that employers even businesses really need to be aware that they have to really focus, and be able to monitor these types of policies because this could affect their business. And there are fines that are involved now in New Jersey. Especially in this climate that we have right now with racial tensions nationwide and even globally, I would say that it's very important for businesses and organizations to really pay close attention to their own policies and practices, particularly in New Jersey. Just to really make sure that they're revising their documents, their guiding documents, their HR policies. There has been an increase in managers being properly trained. In New Jersey, there are several initiatives to have diversity training and inclusivity training for employers as well as, you know, staff and management. So this is very important. And I think it really leads to the whole idea of creating an inclusive environment for everyone.
Stuart Shapiro
So it's only been obviously nine months or so since New Jersey passed. It's a little more time since California and New York City. Have you noticed any changes? Do you think that awareness is increasing as a result of these statutes?
Patti O'Brien Richardson
That's a great question because, you know, equally as relevant in the last nine months we've had coronavirus. And so we've been home which really — I don't know what it's like for you, but I've been very comfortable in terms of what I wear… and my hair… (laughing)
Stuart Shapiro
I have no comment on that. (laughing)
Patti O'Brien Richardson
So I think it's really hard to tell. I think this type of assessment and evaluation would really be better assessed once the "world opens," and we're able to go back into the workforce and really be able to see what's acceptable, and what is not. And we'll be able to judge really based on the number of files and complaints that have been filed, and those types of things. Even with schools now, everyone is really… they have options. You know, there's hybrid learning, there are quite a few classes online, many communities are remote. So it's, in terms of what students wear, there are different levels of enforcement. I have read, though, of students really being warned about uniforms in certain school districts. And so I'm beginning to see maybe it will lead there. But I think we really won't be able to tell until the world opens up, and people are really, the workforce is fully engaged, working on-site, in the communities in those organizations and companies, and then we'll be able to really know.
Stuart Shapiro
I tend to agree with that. I do wonder though, you brought up the Zoom example. Like my kids, for example, have to keep their cameras on for their classes, for their high school and middle school classes. They're not allowed to turn their camera off. I mean, that means you've got to keep up certain appearances. We do that and could still see some of these discriminatory acts, even remotely, even though people aren't in person.
Patti O'Brien Richardson
It's true. And I think you know, we're starting off with the clothing and uniforms and that's really how it began with young people. At least with students. It began by using the hair policy as an extension of the school uniform. And we saw that with several students across the country, some even making its way on national talk shows and to the Oscars and Grammys, and it became a very highlighted area. So I think we'll just have to wait and see what it looks like. But I think for now, with everyone moving to this virtual format, we'll just have to wait it out and see.
But at the same time, I think organizations and companies really need to use this time to instill diversity training, training on inclusion, and building a welcoming, belonging space for all individuals, because there are fines that are attached and we are living in a litigious environment. And we're seeing quite a bit of racial tension across the globe. So I think that this is an opportunity, while we are remote, for organizations to use this in preparation when the world does open up, and employment is now on site again.
Stuart Shapiro
So you mentioned COVID is something that's affected the implementation of the statute and as you said, it gives employers time. The other major development obviously over the past year, was the murder of George Floyd and the probe and ensuing protests. And as you said, the increasing racial tension. How do you think that affects issues like hair discrimination? Does it push them aside a bit? Does it give an opportunity to look at them more closely? What's your perspective on that?
Patti O'Brien Richardson
Well, you know, there is a strong connection between the way we do our hair and what's happening with George Floyd, and many other police-involved shootings across the country. And the reason is that hair is a part of who we are. It is a characteristic of who we are. And it can definitely reflect our gender, sex identity for sure, and even our national origin, our race, and our ethnicity, the country we're from. And so because this type of discrimination is rooted in race and racism and discrimination, it's completely connected to what's happening across the world, where we see discrimination and violence and structural violence specifically in systemic violence towards people of color, but specifically, Black people.
And so I think with what happened with George Floyd and many others before him, and since then, sadly, is we do see this powerful moment where all of us, we were able to watch this man die before our eyes. And so that is something that no one will forget. But I think that because it goes back to this concept of Blackness, and what that means in America from the history of America, it's completely connected. And that's why hair discrimination is discrimination because it's rooted in racism. And so I think that's an important point to connect it to.
Stuart Shapiro
Before I switch gears, is there anything else you want to say about your work on hair discrimination?
Patti O'Brien Richardson
Well, just that I think I'm excited to be a part of it. I was able to use the literature, the work that I've published to help support the passing of the bill in Colorado. I'm very happy that I've been reached out to by policymakers to see if I would be interested in allowing my work to be used to support their argument for pushing for this legislation. So I think it's important that policy really becomes people, and people-oriented, again. Add I'm so excited to be a part of that movement. It's just the beginning. And I think there's more to come.
Stuart Shapiro
Great. Let me finish off by asking you one or two questions on your teaching role. The pandemic has obviously affected the job market. I just ran into one of my best former students on Friday who's still looking for a job. I have to imagine it's affected the internship market as well. How are our students doing in finding internships? Are they out there? And, what has the dynamic become?
Patti O'Brien Richardson
You know, I have to say, I am so proud of our students. I'm so proud. I'm sure I can say that for all of us at Bloustein but, and even just in general, the class of 2020 and the class if 2021 that we're teaching now, they are on fire. They are so resilient. I mean, they are going to be changemakers. Absolutely, because they've come through the fire. They've come through a very challenging time and many of them have experienced coronavirus themselves. I know personally, one of my students, she was literally, she had the tubes to her nose on a ventilator and allowing air to just support her breathing and she was giving her presentation. From there. She was able to record it and then she sent it. So of course, she definitely got an A, but I guess… (laughing)
Stuart Shapiro
I would hope so! (laughing)
Patti O'Brien Richardson
But I think … and also I think it's important to note that several of our students are already essential workers. They are EMTs. Several of them are educators. They're teaching at Day School, a daycare, which has young children there and they are there. They're there right in front. They're right on the frontline. And so I'm just so proud of our Bloustein students. And I think because of that they are a different breed too. They are ferocious, they are intense, they're determined, they have this determination. That's very inspiring. And I have to say, even challenging for me, I'm inspired by it.
So I have seen them really come in with some incredibly creative ideas. They've been able to, you know, despite the challenges that they're facing, they have been able to capitalize on the virtual format and creating opportunities for themselves and finding internships with a virtual remote format. So I'm super proud of them. I have not experienced many students with a challenge to be quite honest. And I think it's just their generation. I think that, you know, Gen Z's are online. If you want to get something done, just give it to someone in that age range in terms of anything technological and they will just get it done and get it done quickly. They have been able to leverage that knowledge to secure opportunities that I'm just always amazed. In fact, last week — it's what, we are in the second week of school — I had a student tell me that she's already secured her internship for the spring, for professional practice in spring.
So they're hungry. They're determined. I think being a part of coronavirus — seeing their family members pass away, seeing their uncles and auntie's sick, siblings — I think that it's made them see how much more determined they have to be. And competitive. And so I think also another part of that is that many employers are shifting their internship programs to a virtual format. And I think those that will be at a disadvantage are those that are not able to quickly take advantage of that shift.
So I think that our students are able to [do this] because of what they know, what we're teaching them in terms of skills. We're teaching them in the Leadership program how to look attractive on LinkedIn, and how to prepare their resume, and how to even interview now, remotely, which is totally different than even a year ago. So I think it's caused us, as educators at Bloustein, to really re-examine what the job market needs, what organizations and companies and employers require. And we've had to have some meetings ourselves, and just to learn best practices, change up our curriculum, and really help our students so that when they leave Bloustein, they're not just equipped but they're really ready to shine.
Stuart Shapiro
That's great. That's very heartening. We are also, of course, helped by the fact that so many of our students have health-related interests, and that has been a very booming market for unfortunate reasons.
Patti, thank you very much for coming on today. Really a great conversation. Also, I would like to give a big thank you to Amy Cobb and Karyn Olsen, our production team. We'll be back next week with another interview with another of our new faculty members here at the Bloustein School. Till then, stay safe.