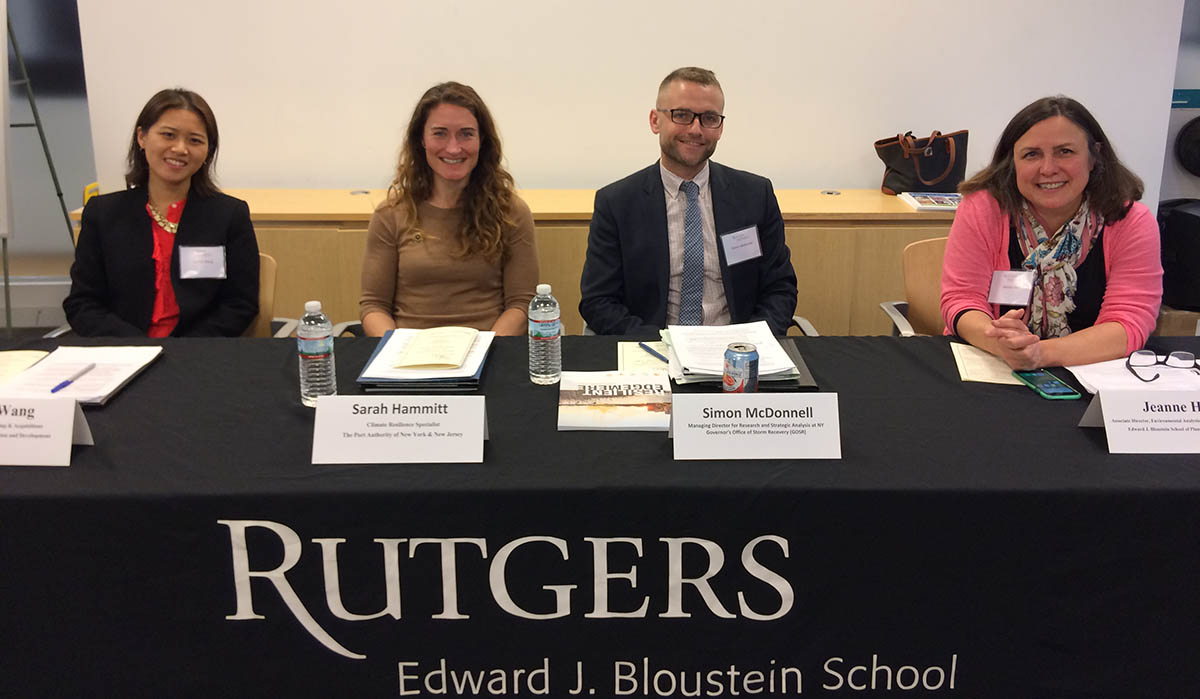 Five years ago in late October, the Northeast was rocked by Superstorm Sandy. On Thursday, November 16th, the Bloustein School Alumni Association hosted a PoP Topics panel to reflect on lessons learned in light of the unfolding disaster recovery efforts in Texas, Florida, Puerto Rico and the Caribbean. The goal of the panel-based discussion was to reflect on a variety of sector-based responses, and discuss what could be considered for next steps.
The panel included  Simon McDonnell, Managing Director for Research and Strategic Analysis at NY Governor's Office of Storm Recovery (GOSR); Sarah Hammitt, Climate Resilience Specialist at The Port Authority of New York & New Jersey; Lauren Wang, Director of Resiliency Planning & Acquisitions at NYC Department of Housing Preservation and Development and was moderated by Jeanne Herb, Executive Director, Environmental Analysis and Communications Group, Edward J. Bloustein School of Planning and Public Policy.
Each panelist discussed their offices position and priorities post-Sandy, including where money came from and what they could each do with it.  A crowd full of current Bloustein students, recent alums and colleagues of the panelists made the networking portion of the event successful and panel discussion stimulating. The event was generously hosted by Enterprise Community Partners, where Bloustein alumni currently work.