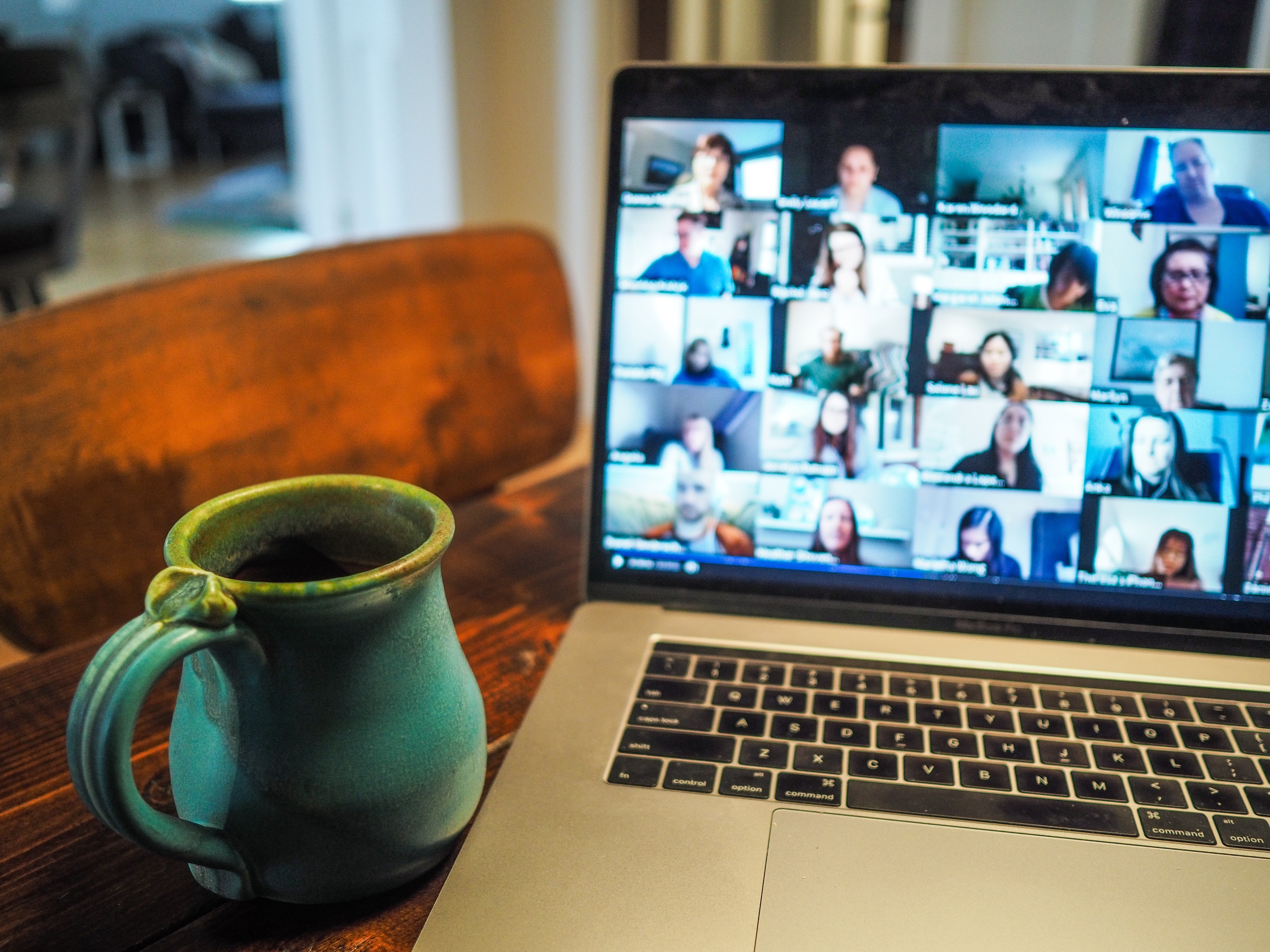 Here you will find an array of virtual and in-person career workshops, panels and professional development events for the Spring 2022 semester. Some of these events are also open to undergraduate students and alumni and will be noted. Be sure to check back, as new events, updates and registration links are added throughout the semester. Once posted, you can also see and access these events by month by visiting the Student and Career Services Calendar.
If you have questions or would like a recording of these sessions, please contact career management specialists, Andrea Garrido (andrea.garrido@rutgers.edu) (MCRP, MPP/MPAP, MPI students) or Cheryl Egan (cheryl.egan@rutgers.edu) (MHA students).
---
IN-PERSON ADVISEMENT
Visit with the Career Services team (Andrea Garrido and Cheryl Egan) for walk-in advisement or simply to say hello as we end the semester. We'll be in the lobby of our Civic Square building twice in April! Refreshments will be served!
Thursday, April 21 – 11:30 AM – 1:30 PM
Wednesday, April 27 – 3:30 – 5:00 PM
CAREER SUPPORT GROUPS
Join Cheryl Egan, Andrea Garrido, and special guests for five (5) virtual, small group career support sessions offered on select Tuesdays from 12-1 PM from May through July 2022. These informal sessions are for recent graduates (and current students seeking internships, if interested) to check in, connect with their fellow students/new alumni and stay accountable with their job search and gain career support. You may consult with Cheryl and Andrea about a variety of career-related questions on topics including interviewing, career decision making, salary negotiation, job search strategy, networking, resume/cover letters, LinkedIn, and much more.
May 24 – REGISTER HERE

June 7 – REGISTER HERE

June 21 – REGISTER HERE

July 12 – REGISTER HERE

July 26 – REGISTER HERE
PROFESSIONAL DEVELOPMENT
See below for a current listing of technical and career-related professional development workshops and events. The majority of these workshops will be held online. Those taking place in person will be noted.
TECHNICAL PROFESSIONAL DEVELOPMENT
Join Marcie Anszberger of CTAAR for live, virtual 90-minute Excel workshops, geared to Bloustein students, and join Rutgers University Libraries instructors for live, virtual R and Python workshops. Please see this link for additional valuable workshops the University Libraries is conducting. Click the links to register and receive an access link. You can register up to the same day as the session. Open to both undergrad and graduate students.
1.28 @ 1:30-3 PM | Excel: Up to Speed | PAST EVENT
2.18 @ 1:30-3 PM | Excel: Visualizing Data | PAST EVENT
3.25 @ 1:30-3 PM | Excel: Fixing Data | PAST EVENT
CAREER-RELATED PROFESSIONAL DEVELOPMENT
1.21 @ 12-1 PM | International Student Resources Information Session (Virtual) | Join your Bloustein student and academic services support staff- Andrea Garrido, Cheryl Egan, Courtney Culler, and Emilio DelValle – as well as our partners from RU Global – Jinling Quan, Bloustein Liaison and Senior International Student Advisor – and RELI (Rutgers English Language Institute) – to learn about the career and internship resources and services available at Bloustein and Rutgers University to support our international students. | PAST EVENT
1.26 @ 4.30-5:30 PM | Job and Internship Search Strategies and Panel Event (Virtual) | Join Cheryl Egan and Andrea Garrido and a panel of 2nd year graduate students and recent graduates from our various programs in both urban planning and policy and health administration to learn about their unique internship experiences, including the process they went through to find their internship/AFE/experience. Gain valuable advice and get the inside scoop on the entire process to help you prepare for your search. | PAST EVENT
1.27 @ 12 PM | Congressional Budget Office Virtual Recruiting Event | Bloustein students are invited to a virtual recruiting event for the CBO, sponsored by the NASPAA Employer Relations Committee and hosted by Brown University. PAST EVENT
1.27 @ 1-5  PM ET | G2U Virtual Career Fair: Opportunities in Federal Government | The Chicago Federal Executive Board (FEB) is partnering with the Volcker Alliance, a national non-profit dedicated to strengthening the university-to-government pipeline. This virtual career fair is focused on career opportunities in the federal government for current students and recent graduates, both in Washington, D.C. and throughout the country. You'll have the opportunity to speak directly with federal recruiters eager to meet mission-driven students like you. Learn more and register for this event | PAST EVENT
2.10 @ 4:30-6 PM| Resume Critiques | As the new year/semester is just beginning, this is the perfect time to not only update your resume, but get your resume critiqued! This virtual event will be held in a small group format and you will receive immediate feedback from Career Management professionals, HR professionals and alumni who work in urban planning, policy and health administration fields.  | PAST EVENT

2.16 @ 4:30-5:30 PM | Interviewing Best Practices | Join Bloustein Career Development Specialists Cheryl Egan and Andrea Garrido for a one hour virtual workshop to sharpen your interviewing skills in preparation for upcoming internship and job interviews and the Mock Interview Clinic taking place on 2/23 (see below)! We will review behavioral based interviews and the STAR approach, virtual interviews, other types of interviews to expect as well as how to prepare for these interviews. Tell us if you have specific questions or topics you'd like for us to cover when registering!  | PAST EVENT

2.17 @ 5-6 PM | Networking and the Benefits of Joining ACHE-NJ (Virtual) | Co-sponsored by GSHL | Come join Professors Michael McDonough, DMH, FACHE, and Ruth Bash, FACHE and current ACHE-NJ Regent, as they discuss the importance of networking and the benefits of becoming a student member of the American College of Healthcare Executives-NJ (ACHE-NJ). | PAST EVENT
2.23 @ 4:30-6 PM | Virtual Mock Interviewing Event ( SPACE IS LIMITED! Deadline for registration is 2.18)| Sharpen your interviewing skills by practicing one-on-one with one of our alumni, an employer partner in the planning/policy realm, or Human Resources professional. You can sign up for one 30-minute session where you will be able to practice and get immediate feedback on your interviewing skills. This event is co-sponsored by the School of Management and Labor Relations (SMLR) and is open to graduate students and recent graduates. | PAST EVENT

2.28 @ 1:30 – 2 PM ET  | One Path to the AICP  Zoom Webinar| Join APA practice leader, Felicia Braunstein and colleagues from the AICP who will hold a live 30- minute Q&A session Bloustein students and students from other schools about any questions related to obtaining AICP Certification. To get the most out of this session, you FIRST need to do the following:
Watch this short recording: https://youtu.be/1bgX6UsYmIU.
Review these eligibility documents: https://planning.org/certification/eligible/.
Register for the Q&A session by 1 PM EST on Friday, February 25, 2022  PAST EVENT
The Zoom webinar information will be provided to each registrant after completing the form.
By watching the video (#1) and reviewing the eligibility documents (#2) ahead of time, you can ask many of your questions in the registration form (#3). APA will then be prepared to answer those questions and any new ones in the 30-minute session on the 28th.
3.8 @ 4.30-5:45 PM | Networking & LinkedIn Best Practices | There's no doubt that networking is the number one way to land jobs and internships and LinkedIn is a MUST for all professionals. Learn more about the importance of each at this informative workshop which will help you get more comfortable networking both in person and via social media. | PAST EVENT
JUST ADDED! 3.10 @ 1:00 PM EST | Public Service Loan Forgiveness (PSLF) Program Overview | Public Service Loan Forgiveness (PSLF) allows qualifying federal student loans to be forgiven after 120 qualifying payments (10 years), while working for a qualifying public service employer. This can include a U.S. federal, state, local, or tribal government or not-for-profit organization. Hear from guest speaker Lisa Bridgewater, Associate Director, Office of Student Financial Services at Indiana University–Purdue University Indianapolis (IUPUI), about her own personal experience navigating the system for loan forgiveness along with her guidance as a financial aid professional. Note: Ms. Bridgewater does not represent the PSLF program directly.  This event is Hosted by the career services office of Baruch College's Marxe School of Public and International Affairs on behalf of the NASPAA Employer Relations Committee. All NASPAA school students and alumni (including Bloustein) are invited. | PAST EVENT
4.4 @ 4:30 – 5:30 PM| Salary Negotiation and Evaluating Job Offers | Join Bloustein Career Development Specialists Cheryl Egan and Andrea Garrido for a one hour workshop to learn tips and strategies about salary negotiation skills (which doesn't only include negotiating for salary) as well as how to evaluate job offers. | PAST EVENT
---
REAL DEAL SERIES
Join Andrea and Cheryl and special guests for the two remaining talks devoted to the "real deal" about a variety of career related topics on diversity, equity and inclusion. Students will have the opportunity to ask questions at the end of each Real Deal event. You must register to attend. Open to graduate students and alumni.
March 29 @ 4:30 – 6:00 PM | Breaking Through Barriers: Making Cutting Edge Career Decisions | Hear from panel of women who took risks to achieve their personal and professional goals. Each panelist will share HERstory of their journey. This event is co-sponsored by the Women's Leadership Coalition (WLC), GSHL and Bloustein Career Services (Cheryl Egan and Andrea Garrido). A perfect way to celebrate the last day of Women's History Month. | PAST EVENT
4.5 @ 4:30 – 5:30 PM | Practicing Inclusion: Allyship in Action | Please join us for an impactful presentation, conducted by MPP alumni Coltrane Stansbury, Vice President of Diversity, Equity and Inclusion at Macmillan Learning, followed by a meaningful discussion on allyship strategies and how best to show up in our everyday relationships and interactions. During this conversation, Coltrane will present eight (8) steps to becoming an impactful Ally – including helping to bring isolated and marginalized groups into the center, and taking a stand when those groups face unjust treatment. We will learn how to use the power of listening to prepare us for action and how best to mobilize our own privilege to help create more equitable organizations. | PAST EVENT
---
CAREER PANELS, ROUND TABLES, & TALKS
Hear from our amazing Bloustein alumni to gain practical advice and learn about careers in a variety of sectors, organizations and jobs in the urban planning and policy and healthcare administration realms. Each panel will provide participants with the opportunity to ask questions, gain more clarity and validation about careers, and become acquainted with our strong alumni network. Continue checking back as more information and additional events are added.
2.9 @ 8 – 10 AM ET | The United Nations Secretariat in New York/UN Careers Talent Outreach Team is delighted to invite you to the UN Careers LIVE! for Universities, a webinar for current university students and recent graduates interested in pursuing a career at the United Nations. The virtual event will be streamed live on YouTube. This online webinar is open to all current students and recent alumni who want to learn more about professional opportunities at the United Nations. They will be able to hear special presentations on job opportunities that make a difference in the world, the value of adding the UN to their career journeys, and much more. This session offers an exciting opportunity to make promising connections with the UN as a prospective employer and gain valuable insight into the process of becoming a competitive applicant. | PAST EVENT
2.9 @ 5-6 PM| GCI Health Information Session (Virtual) | Please join the Talent Acquisition team from GCI Health, a global integrated healthcare communications agency voted International Agency of the Year (2021), to learn more about the agency, services provided, as well as internship and entry-level opportunities. | PAST EVENT
2.24 @ 5-6 PM| Careers in Pharmaceuticals and Biotech (Virtual) | Learn more about the pharmaceutical and biotechnology fields from Dr. Christopher J. Schaber, President and CEO of Soligenix, Inc. and Chairman of the Board of BioNJ. Dr. Schaber will be discussing potential careers within the industries as well as his own career path and about Soligenix, Inc. and BioNJ. | PAST EVENT
2.25 @ 1-2 PM | Truths from Hiring Managers Virtual Panel | Are you currently on the job market and having difficulty understanding how to navigate this new normal when it comes to applying for jobs in the public sector? Interested in learning what trends you should be aware of when it comes to your resume, cover letter, interviewing and networking? What about gaining insight into hiring trends with various sectors within this field? This virtual panel (for students attending a NASPAA university, including Bloustein) is brought to you by The Rockefeller College of Public Affairs & Policy at The University of Albany and will feature hiring managers who are eager to share with you what you need to know to successfully navigate this new landscape. Featured panelists include: Jess Fassler, U.S. Senator Gillibrand; Deborah Eichhorn, Government Accountability Office; Curtis Rich, NYS Troopers | PAST EVENT
3.21 @ 5-6 PM ET | Technology Policy Trends and Careers – Virtual Panel | This panel is co-hosted by the career services offices at The Sanford School of Public Policy and the O'Neill School of Public and Environmental Affairs, Indiana University. All NASPAA schools (including Bloustein) are invited. | Join us for a lively discussion on technology policy tends and hear career advice from the experts. Duke's Professor Ken Rogerson will moderate. Panelists: Dean Brenner – Chairman, FCC Technological Advisory Council, Federal Communications Commission. Duke AB ' 82, Georgetown JD '85 Laura Sallstrom – Professor of Technology Policy, Duke University. SAIS MA '94 Art Ehuan – VP, Palo Alto Networks. UCLA BA, Rensselaer Polytech MS Carolyn Mehta- Bonfire Digital Wellness, O'Neill School MPA '11 | PAST EVENT
3.23 @ 4:40-6 PM| Careers in Environmental Planning, Sustainability, Hazard Mitigation & Climate Resilience | Moderated by Policy Advisor and Special Projects Manager, Julia Wong (MCRP 2019) of the New Jersey Department of Environmental Protection (NJDEP), hear from a panel of alumni who work in this space to learn about their career trajectories, get advice and gain an understanding of career options for you. Q&A to follow. | PAST EVENT
3.30 @ 4:30-6 PM | Careers in Community Development Panel | Learn about the career trajectories of alumni who work in the community development space since graduating from Bloustein. These alumni were also Fellows with the Morgan Stanley Community Development Graduate Fellowship (MSCDGF). MSCDGF was created in 2012 through a partnership between the Association of Neighborhood & Housing Development (ANHD) and Morgan Stanley to create a high-quality community development fellowship. Moderated by Eliot Hetterly, Senior Manager for Housing Development at ANHD, panelists include Tyler Rubin (MCRP '13, MSCDGF '12-'13 cohort), Deputy Director – Internal Audit & Compliance at LISC (Local Initiative Support Corporation), Nicholas Shatan, (MCRP '17, MSCDGF '16-'17 cohort), PhD student, City & Regional Planning at UC Berkeley and former Learning Manager at MIT CoLab, and Ryan Cote, Project Manager, Land Use Division of the New York City Council (MCRP '17, MSCDGF '16-'17). | PAST EVENT
4.12 @ 4:30-6:30 PM | Healthcare Alumni Networking Event | co-sponsored with GSHL, FHA, & RMHAAA | Interested in learning more about careers in various healthcare sectors? Attend this networking event to meet with, ask questions, and gain invaluable advice from Bloustein Alumni who graduated from the MHA, undergraduate Health Administration and Public Health programs. | PAST EVENT
4.14 @ 5:00-6:00 PM | Introduction to CAHME & HPMSNJ / Career Development in Healthcare | co-sponsored with GSHL, FHA, & RMHAAA |  Join Anthony Stanowski and Elizabeth McNutt as they talk about ways to advance professional growth in your career. They will review how CAHME & HPMSNJ helped them in their career paths and its intersection, how being active in professional organizations is an excellent means to enhance your network, and how to be an effective leader in healthcare! | PAST EVENT
4.19 @ 5:00-6:00 PM | Careers in Healthcare Finance: Introduction to HFMA | co-sponsored with GSHL, FHA, & RMHAAA | Please join healthcare executives as they discuss healthcare finance careers. Speakers will review their careers paths, and how being active in the Healthcare Financial Management Association (HFMA) helped them in their careers. HFMA can help you "Be a leader in your industry and Build your future." | PAST EVENT
4.25 @ 5:00-6:30 PM | What is the Administrative Fellowship Application and Decision Process Really Like? | co-sponsored with GSHL | Come join current Rutgers MHA students as they candidly discuss their administrative fellowship process. Topics of discussion will include: choosing and narrowing down fellowship locations; types of fellowship programs (rotational, project-based); essay writing process; interview process; making a final decision. The panel will feature: Katrina Moreno, MHA '22 and incoming fellow at Providence Health & Services, Washington & Montana Region, and Anna Pryamkova, MHA '22 and incoming fellow at Columbia University Irvine Medical Center, AND . The event will be moderated by Nisha Desai. | PAST EVENT
---
VIRTUAL SPRING MEET & GREET/CAREER FAIR EVENT
Bloustein graduate, undergraduate students and recent graduates are invited to meet with alumni and employer representatives from a variety of organizations. Some of these employers are recruiting for jobs and internships and others are providing valuable information about themselves and their organization for future opportunities. This event offers an excellent opportunity for you to network with alumni and prospective employers from a variety of sectors – public, private, non-profit – to network and to learn more about their careers and the organizations in which they work.
3.3 @ 4:30-6:30 PM | HEALTH ADMIN|PAST EVENT
Participating employers included Amazon; GCI Health; Hackensack Meridian Health; Healthcare Consultancy Group; The Innova Group; IQVIA; Memorial Sloan Kettering Cancer Center; Rutgers Institute for Health, Health Care Policy, and Aging Research; Sellers Dorsey; Universal Health Services (UHS)
3.4 @ 10:00 AM – 3:00 PM| PAST EVENT
Engage with alumni and employer partners who are seeking interns, fellows or full time employees now or in the future. This is a terrific networking opportunity. Participating employers include New Jersey Department of Environmental Protection (NJDEP), Cambridge Systematics, New Jersey Board of Public Utilities (NJBPU), U3 Advisors, New Jersey Office of Legislative Services (NJOLS), Applied Energy Group, Macmillan Learning and New Jersey Future. To participate, register and you will receive a link, listing of participating employers/alumni and schedule prior to the event.