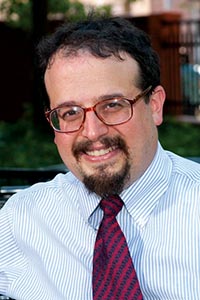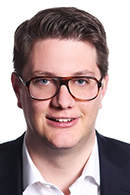 On this episode of EJBTalks, Stuart Shapiro welcomes alum Simon Liepold MPAP '05, who came to the Bloustein Public Policy program as part of an exchange program with Konstanz University in Germany. Simon talks about his current role as Senior Director of UN & International Relations for Microsoft. He describes his efforts on global topics like sustainability, privacy, and cybersecurity to name a few. He speaks about how his policy degree has been instrumental in his career, from his understanding of policy and decision-making to the importance of statistical analysis and excellent data. Simon and Stuart then talk about Microsoft's focus on data and leveraging ai to solve global problems to drive global good. They discuss the importance of data and machine learning in driving good decisions and policy-making and how Bloustein's newest program, the Master of Public Informatics, can play a role in the future of public policy and urban planning. Tune in for this and more!
Stuart Shapiro
Welcome to EJB Talks. I'm Stuart Shapiro, the Interim Dean of the Bloustein School, and the purpose of this podcast is to highlight the work my colleagues, and this season, in particular, our alumni in the fields of policy, planning, and health are doing.
This 30th anniversary year for Bloustein we are focusing on our alums and the contributions that they're making around the world. Today, we're talking to an alum of our public policy program. Simon Liepold came to Bloustein as part of a wonderful exchange program with Constance University in Germany, and now he works for Microsoft. Welcome to the podcast, Simon.
Simon Liepold
Thank you, Stuart, pleasure to be here, and thanks for inviting me.
Stuart Shapiro
Absolutely. So Microsoft, is not the most common destination for Bloustein grads. Tell us a little bit about how you got there.
Simon Liepold
Actually, I hope it will become a common destination for Bloustein grads, and I'm happy to help with that. For me, Bloustein was instrumental in getting to Microsoft. When I came to Bloustein and spent a year in New Jersey back in 2005, I had one of the best and most transformative times of my life. And for me, it was always clear, I wanted to come back to the US on a more permanent basis. After I returned to Germany, I finished my studies there. And then I had an opportunity at Microsoft's public relations department to start a traineeship for about 12 months. And I immediately jumped on this opportunity because I felt like this is for me the ideal combination of technology policy and the transatlantic component to it, because Microsoft, as an American company with subsidiaries, basically, in most of the countries around the world, is an international opportunity for anyone starting there. So this is how I ended up from Bloustein at Microsoft, with the intent that finally paid off to come back to the US.
Stuart Shapiro
That's great. And you've done a ton of interesting stuff at Microsoft, I know from having other conversations with you. But let's focus on what you're doing right now. Working in Microsoft's UN Office. Why does Microsoft have you in office? And what do you do?
Simon Liepold
I'm currently working as a senior director for strategy and operations in Microsoft, UNIO office. UNIO stands for United Nations and International Organizations. And this is a new, almost an experiment, you can say that we are doing as a company. We are the first company who has opened a liaison office with the United Nations in New York City. Part of my work is getting this office off the ground, establishing the right relationships working with the UN, but also with international organizations, on multi-stakeholder engagements around the world.
What does it mean? It is basically a response to the increased complexity of the world and the demands towards multinational corporations in the areas of regulation, policy, also, philanthropic engagement. So bringing all that together onto a platform and driving it on international levels through international organizations and the UN. And as I said, I think this is a huge opportunity for us, because we are the first ones who are really doing that. While other companies have the same functions, we are the only ones who made the commitment to physically be in New York, and work with the United Nations directly.
So my job basically is to ensure that this is a successful experiment, bringing it all to life together with a great team. And my boss, who sits in Paris, and another boss who sits in Redmond, but basically bridging all these gaps, bringing the teams together and working closely with the UN.
Stuart Shapiro
Can you give us an example of one issue you've been working on in this position?
Simon Liepold
One thing, for example, is I just came back from COP27 In Egypt, where we work closely with the UN with the UNFCCC which is the environmental body of the UN, but also the Egyptian Government on sustainability issues. And sustainability currently is everywhere. It's one of the most pressing and urgent topics for all types of companies, but also governments and international organizations. And for Microsoft, we were present in order to drive our sustainability agenda, but also work with international organizations and the UN on solutions for the sustainability challenge that lies ahead of us. So I think sustainability is one of the most urgent ones and also one of the largest topics we're working on.
But besides that, we also work on regulatory topics like privacy, cybersecurity, geopolitical topics, international trade, you name it. There is almost no topic, no challenge in the world that doesn't require a multi-stakeholder approach given the complexity that we are facing.
Stuart Shapiro
Yeah, there's so much that Microsoft's involved in that really, borders don't make a difference right? You know, it doesn't really matter where it happens something like privacy or something like cybersecurity or any of those issues are really almost borderless issues if you will. And so it makes a lot of sense that, that the international presence and the connection to the UN there.
I had the privilege of visiting Simon out at Redmond back in June, and he showed me and my colleague, Jim Samuel the AI for Good Initiative. Can you talk a little bit about that, and explain to the listeners what Microsoft is trying to do there?
Simon Liepold
Yeah. The AI for Good program that Microsoft is running is basically an umbrella term for a lot of the work we're doing around data and leveraging AI to solve global problems. And this goes again, back to sustainability, but it also is about disaster response. So for example, at COP27, we just announced together with the Secretary-General efforts to develop databased, early warning systems for disaster response and climate change. And I think that's a good example of how data can help to prevent and indicate and direct solutions and find solutions for pressing problems that we are facing. And AI for good really gets directly into that. So we have a larger team of data scientists who are working on these topics, who are driving the algorithms, who are developing the models, who are bringing together the data and the expertise to develop solutions to drive global good.
Stuart Shapiro
I saw that one of the things that came out of COP27 was sort of the first time developed countries funded disaster relief for developing countries. Disasters that come as a result of climate change. If it does materialize in action, obviously, implementation has to happen. It's a huge step change. And is that the kind of thing that would make us even more interested in the stuff you were talking about with early warning systems and such? Now we have a stake in ensuring that during these disasters that the damage is minimized?
Simon Liepold
Yeah. And I think our approach is coming in even earlier, right? So it's really important to ideally, identify and prevent disasters before they are happening, and then mitigate their impact. And this is where data comes back into play. And this is really the big shift we see in the industry right now the importance of data, the importance of AI and AI models, machine learning, making predictions, and basing base policy decisions on these insights you're generating through data.
And I think this is also where we started this whole discussion about my journey from Bloustein to Microsoft, I was I'm still benefiting from the thorough education around statistics, data science, all these models, and understanding how that works in politics, policy decision making. And while I was there in 2005, which is 17 years ago, I think, now it really starts to come to life, not only in academics but also in the private sector and in the public sector. I think that's the beauty.
And that gets back to why Bloustein was so instrumental in my career, that I was equipped with the toolset to understand what's really happening because data is and then there's this way overused way of saying "data is the new oil," but it actually it has the same importance like oil had at the beginning of the Industrial Revolution. Now, there is this notion of the fourth Industrial Revolution, which is AI cloud computing and this is all based on data. And I think it's so important to understand what drives that, but also in order to understand what the capabilities are and where the limitations are, right? And I think that's kind of this very fundamental part where a school like Bloustein can play a role.
Stuart Shapiro
So if I may, I'll hawk one of our new degrees the master's in public informatics, the intent of which is to add many of those things you talked about AI, machine learning, etc. So urban planners and public policy scholars have new tools in their belts, to address these problems that go across the world and go across so many different dimensions.
I want to ask you, Simon. You got your degree long before any of these things were part of Bloustein or really part of education anywhere. You said you keep applying the skills that you got. Can you talk about that a little more?
Simon Liepold
Yeah, I think the beauty of the education I received at Bloustein, and then subsequently also in my studies in Germany when I came back, is having a broader set of tools under my belt that allows me to understand how policy decisions are being made. And the clear trend you see it as being more data-based by the hour basically, around the world. And I think this understanding, of how data works, and how data can be used to drive decision making. Informed decision-making is so important.
I have to admit, I'm not good in math. I have a basic understanding. But the idea that approaches… the tools, you need to understand. This is I think, so valuable that in the context and in combination with a broader set of policy questions and how to handle them based on data insights. And I think that's kind of also what I hope this degree in informatics and public policy will deliver to future graduates, this broader sense of understanding and how to apply data to make informed decisions based on this empirical understanding.
Stuart Shapiro
I'm so glad you said you're not good at math, because a lot of times that frightens people away, and there is a difference between being able to think analytically and systematically about questions and having to think mathematically about them. Though math helps. I won't say that it doesn't, but it's not the only component to thinking systematically about problems. And I'm sure you would encounter that all the time
Simon Liepold
Yeah, absolutely. And I think that the most important thing is to have developed skills of critical thinking, and then understand the problem, the scope of a problem, and have a toolset how to solve such a problem, right? So this is kind of what I encounter in my job on a daily basis. I'm thrown into problems I have no idea about, and I need to get myself immersed into what are the basic and the most important facts, what are the main players? What are the dependencies? How do you bring all that together to a solution that is good, and helps the company or your employer, or the broader society?
And I think that's the beauty of this combined approach of combining public policy, private sector, and data analytics in some senses. So I'm really excited about when you first told me about this new degree, I think there's a lot here. And I think that opportunities are limitless for something like that.
Stuart Shapiro
Yeah, you know, it's too often I'll hear students, or dare I say it, even faculty say, "Well, you know, I can't weigh in on a climate issue or on a, you know, a health care issue, because I don't know the area that well." And the reality is, you know, yes, it helps to know those areas, I don't want to dismiss that specialized expertise by any means, but if you know how to think carefully about problems, then you've got a big step up in addressing really any kind of problem.
Simon Liepold
I think in my career, it was very important to make the decision between being a generalist and a specialist. And I intentionally wanted to be a generalist and understand the broader picture. And Bloustein was so helpful in providing me with this background. But on the other hand, you need specialists to tell you how to solve a problem, how to get deep into the issue and to understand it and make a recommendation. Then it gets back to me as someone who then needs to decide needs to assess the different recommendations.
And there is this joke, "Why are there so many, two-handed lawyers around here? Because they always say on the one hand side, and on the other hand." And I think that's kind of, you're provided with kind of different solutions to a problem, and it's up to me and my peers to decide what's the right solution in this specific situation. And I think understanding that and how to approach it and how to critically think about these solutions is so important. And I really hope and I know from my back experience that the Bloustein education is providing students with exactly the skill sets and background.
Stuart Shapiro
The… we make the same joke about economists on the one hand and on the other ((laughing)). It's exactly right. So but ya know, and in this age where we doubt experts so much that the role of the generalist isn't to cast doubt on the experts but to figure out how to apply their expertise to particular problems. And so I agree completely. Let's end up with, give you a chance… What advice do you give to those who are starting out on their educational journeys toward degrees in public policy or even urban planning or public health?
Simon Liepold
I think the most important thing is to be very intentional, what do you want to accomplish? And what do you want to learn, but also to be very open-minded and have kind of a growth mindset of where it will lead you. If you had asked me back in 2005, where I will end up I would not have been able to predict that I will be at one point in New York City and working for Microsoft with the UN. It would have been an ideal situation and worked out very well, but I would have not been able to predict that. I think that's the beauty of it being on a journey.
And then the other part is, be open and assess new things. For me, one of the most valuable experiences was Bloustein, from an academic perspective, but also from a cultural perspective. And I think that was a very important part that you be immersed in different cultures that you have experiences with other countries, with different mindsets, different approaches. This is what I'm dealing with on a day-to-day basis in my job right now. And I think that helps me so much.
And within Microsoft, we have a saying, "Don't be a know it all, be a learn at all." And I think that summarizes it very well that it's constant learning constant, being open and curious about new things. And I feel like that will get you a very long way. And especially in an area like public policy, urban planning, having the right tool sets will set you up for success. You don't need to be an expert in everything. You should not be afraid to tackle something new and you should know how to tackle it. That would be my, at least from me personally, that was kind of the way to success.
And then finally also have fun on the ride. That was part of me being in New Jersey. I had a lot of fun I have to say.
Stuart Shapiro
Well, that is excellent advice and an excellent note on which to end. Simon thank you so much for coming on the podcast.
Simon Liepold
Thank you, my pleasure.
Stuart Shapiro
And also a big thank you to Amy Cobb and Karyn Olsen for all the work they do to get this out and make this happen. We will see you next week with another expert, another alumnus from the Bloustein School until then, stay safe.