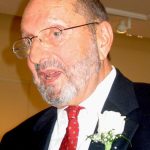 The Jerome Rose Excellence in Teaching Award is presented annually to a full-time faculty member committed to quality teaching. Faculty and graduate students from all of the Masters programs at the Bloustein School nominate recipients.
Dr. Rose was a Distinguished Professor of planning and environmental law at the Bloustein School from 1969 to 1996 and endowed this teaching award. At his retirement dinner, he declared, "My twenty-seven years at Rutgers have been the best years of my life."  He passed away in 2013 following a brief illness.
Following his death, the school honored his legacy by designating the newly renovated student reading room on the first floor of the Civic Square Building as the Jerome G. Rose Reading Room. This designated "quiet space" offers students a relaxing, library-like space complete with seating areas and a laptop bar. The Rose family further continued his legacy with an additional gift that enhanced the Jerome G. Rose Distinguished Teaching Award.
Rose Teaching Award Recipients
2022
Robert B. Noland
Patti O'Brien Richardson
2021
Dawne Mouzon
2020
Kelcie Ralph
Ann Marie Hill
2019
Mi Shih
Juan Ayala
2018
Jocelyn Elise Crowley
Fereydoun Nikpour
2017
Julia Sass Rubin
Alexandra Lopez
2016
Henry Coleman
Michael Smart
2015
Andrea Hetling
2014
Marc D. Weiner
2013
Anton C. "Tony" Nelessen
Fred Heyer and Susan Gruel, co-recipients, part-time lecturer
Ben Teresa, teaching assistant
2012
Robert W. Lake
Steven Liga, part-time lecturer
Shannon Sweeney, teaching assistant
2011
Gabriella Carolini
Andrew Zitcer, part-time lecturer
Haiyan Zhang, teaching assistant
2010
Lyna Wiggins
Betty Chang, teaching assistant
Glen Belnay, part-time lecturer
2009
Meredeth Turshen
Andrew Davis, part-time lecturer
Stefan Mend, teaching assistant
2008
Kathe Newman
2007
Radha Jagannathan
Fereydoun Nikpour, part-time lecturer
Ralph Buehler, teaching assistant
2002
Susan Fainstein
2001
Edward Ortiz
1999
Henry J. Raimondo
1997
Mike Greenberg (inaugural)