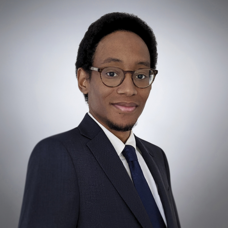 Senior Policy Fellow
Vice President for State Partnerships at Center on Budget and Policy Priorities MCRP, Rutgers University, Edward J. Bloustein School of Planning and Public Policy
Contact
bmckoy [at] ejb.rutgers.edu
Research Interests
Racial Equity
Economic Justice
Public Policy
Healthcare
Brandon McKoy is the Vice President of State Partnerships on the State Fiscal Policy team. He helps support member organizations of the State Priorities Partnership (SPP) network by connecting them with vital resources as they research and promote policies that advance racial and economic justice efforts and improve the lives of communities across the country. Prior to joining the Center, McKoy was President of New Jersey Policy Perspective (NJPP), a member organization of the SPP network, and led the organization's efforts in shaping policy debates. McKoy previously also served as NJPP's Director of Government and Public Affairs, and, prior to that, as Policy Analyst. He joined the organization in 2014 as a national fellow under SPP's and the Center on Budget and Policy Priorities' State Policy Fellowship Program.
McKoy brings 15 years of experience in social policy research, advocacy, and implementation, having served on the boards of various community organizations, advised governors on economic and tax policy, and participated in multiple task forces to advance racial and economic justice and reduce barriers in marginalized communities. Before NJPP, McKoy worked as a Program Associate at The Fund for New Jersey, where he assisted in grantmaking on public policy issues that particularly affect low-income and minority populations in New Jersey.
He has received multiple recognitions, including 40 under 40, top millennial leaders, and top leaders of color awards in New Jersey, and is an alum of the New Leaders Council – New Jersey chapter, where he served as Director of Mentorship, Director of Diversity, and Deputy Director. McKoy holds a Master's degree in City and Regional Planning and Policy Development from Rutgers University's Edward J. Bloustein School of Planning and Public Policy and a Bachelor of Science degree in Social Psychology from The College of New Jersey.
Areas of Expertise: Economics, Health Disparities, Health Equity, Housing, Social Policy/Inequality and Disparities