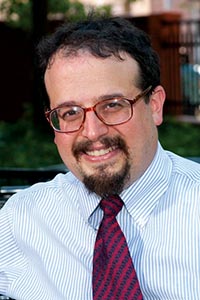 This week we welcome Elizabeth Cooner, Executive Director of the New Jersey State Policy Lab, to EJB Talks. Elizabeth talks to Stuart about the Lab's mission of conducting rigorous evidence-based research to help inform New Jersey's policymakers on solutions to important policy questions that are effective, innovative, and always have a focus on equity. She also talks about the lab's valuable and vital collaboration between the Bloustein School and the Rutgers School of Public Affairs and Administration in Newark. The two speak about recent reports that the lab has worked on including the impacts and implications of cannabis legalization, COVID eviction assistance, and local treatment of vacant commercial properties.
Stuart Shapiro
Welcome to EJB Talks. I'm Stuart Shapiro, the Interim Dean of the Bloustein School, and the purpose of this podcast is to highlight the work my colleagues and our alumni in the fields of policy, planning, and health are doing to make the world, the country, and New Jersey a better place.
Today we welcome Elizabeth Cooner, the Executive Director of the New Jersey State Policy Lab to the podcast. The Policy Lab has a place near and dear to my heart as I'm the Principal Investigator for the lab and played a significant role in founding it. Liz, welcome to the podcast.
Elizabeth Cooner
Thanks, Stuart. I'm happy to be here.
Stuart Shapiro
Let's start with a description of what the Policy Lab is and what its goals are.
Elizabeth Cooner
So we're an independent, nonpartisan research center. We're really a collaboration between the Bloustein School of Planning and Public Policy, and the School of Public Affairs and Administration in Newark. We're funded primarily by the New Jersey Office of the Secretary of Higher Education. And what we're all about is conducting rigorous evidence-based research to enable state policymakers to address the needs of New Jersey communities and all the work that we do we focus on equity issues. And as you said earlier, we're working to improve the quality of life for all New Jerseyans.
Stuart Shapiro
Great. What are the primary areas of focus for the lab?
Elizabeth Cooner
So we have a number of different issues that we're studying, from healthcare to education, transportation to housing, the environment to equity issues. Some specific projects that we're looking at right now include telemedicine, which is really an outgrowth of the pandemic, equity and public schools, food insecurity, transportation, digital equity, and women in work, to name a few.
Stuart Shapiro
Fantastic. So a very big emphasis is on issues surrounding equity and social justice.
Elizabeth Cooner
Absolutely.
Stuart Shapiro
Let's start talking about some of the recent work that the lab has produced and it's been fairly productive in the last couple of weeks. The one that got a lot of attention, in particular, was the one that Dean Menifield worked on, on cannabis legalization. Can you talk to me a little bit about the main points of this report?
Elizabeth Cooner
Sure, I'd be happy to. So with the recent legalization of cannabis use and possession for adults 21 years of age or older in New Jersey, back in 2021, Dean Menifield wanted to spearhead this research to really have a focus on health, law enforcement, and educational outcomes associated with the use of marijuana. And he envisioned this project as really a baseline study. So we need to take a look at where things stand currently on each of these different outcomes, and then continue to measure them to understand the potential negative impacts of cannabis use.
So they started the report by examining what proportion of the population has ever used marijuana, they looked at arrest rates broken down by race and ethnicity. They examined educational impacts for such things as out-of-school suspensions, by race and ethnicity. And they found, for example, that black students missed two times as many school days as white students, and substances were the third most common explanation for the infractions. Ultimately, they argued that it's incumbent upon policymakers to create protocols to minimize the negative impacts of recreational marijuana use.
Stuart Shapiro
Yes, well, certainly this is a hot topic in New Jersey circles right now. And really nationwide as well. So yes, obviously cannabis is a big issue in New Jersey and nationwide. Just yesterday, the lab released a report although it'll be about a week by the time people actually hear this podcast on eviction assistance. What did we learn from that report?
Elizabeth Cooner
Right. So following the COVID pandemic, the housing crisis got notably more challenging, and local governments had to administer emergency rental assistance programs. And so a series of authors, David Trout and others, worked on examining these programs in five cities; Newark, Camden, Trenton, Jersey City, and Elizabeth. And they wanted to take a look at, really, how they went about administering the programs and distributing the funding. They found that some partnered with local nonprofits while others worked with a consulting firm, such as Newark. They worked with Ernst and Young. And what they found is that systematic eviction prevention does work well, but it does require–because it is an ongoing crisis–it requires that we continue to pay attention to the issues surrounding housing security for our most vulnerable populations, including people of color and households with children.
Stuart Shapiro
Yes, I mean, everybody's wondering now, what's going to happen now that the eviction assistance has been eliminated by the federal government. The CDC is no longer providing that. And does the report give us any speculation or guidance about how bad things are going to get?
Elizabeth Cooner
Well, we do see that current census data points to the problem being greater in New Jersey than across the country. We found that 22 across the country. So it's a real challenge. So it's something that we'll have to continue to examine and continue to address at the policy level.
Stuart Shapiro
Yep. And especially here in New Jersey. So we have a fond spot in our heart as well, for the first report that the Policy Lab issued, I should point out the lab has only been in operation since last summer. And a couple of weeks ago, it issued its first report, and as Liz reminded me before we started taping, it's still the most frequently downloaded report on the site and gets the most hits. The report focused on vacant commercial properties. Can you tell us why this is important and what the report had to say?
Elizabeth Cooner
Sure. So here, we've seen that the growth in E-commerce and telecommuting has negatively impacted the demand for commercial property. And this, combined with the economic recession resulting from the pandemic, has led to an increase in vacant commercial property in New Jersey. But I will say, based on the examination of the data, it's not as bad in New Jersey as it is in other parts of the country. Nonetheless, they wanted to explore this issue, because vacant commercial properties can lead to increased crime, reduced economic growth, and lower government revenues.
So they explored tax and subsidy policies that could be used to activate vacant commercial properties. They examined the four different classes of commercial property in a number of different cities across the state, and basically, the major finding is that in New Jersey tax policies may not be promising, given our current New Jersey tax laws, but that other nontax policy could be implemented. So things like vacant property registrations–which had been done in Trenton–code enforcement policies, land banks, and better case law and courts and training for tax court judges. In the end, the authors, Mike Hayes and Pengju Zhang, did say that each city will need to choose the policy tools that fit their local community.
Stuart Shapiro
So already, you know, a significant array of policy issues that impact New Jersey have been covered by the lab, and this is hopefully just the tip of the iceberg. What else is the lab working on, or investigators funded by the lab working on, that we can expect to see in the months to come?
Elizabeth Cooner
So we have a number of really exciting studies that we're funding. So we're looking at things like digital equity issues, transportation changes resulting from the pandemic, equity and state budgets, the feasibility of offering mental health supports as part of the Unemployment Insurance Program. We're looking at women in work and the fallout of the pandemic. And next week, we'll be releasing a study related to food insecurity.
Stuart Shapiro
And all of these kind of do have… I mean, you can see the theme running through them to some degree, all of them do have that equity theme, located if not at their center, very close to it.
Elizabeth Cooner
Absolutely.
Stuart Shapiro
Liz, thank you very much for coming on today and going through the work of the Policy Lab.
Elizabeth Cooner
It's my pleasure. Happy to be here with you Stuart. Thank you very much.
Stuart Shapiro
And also a big thank you to Amy Cobb and Karyn Olsen, our production team. We'll see you next week with another talk from another expert at the Bloustein School. Until then, stay safe