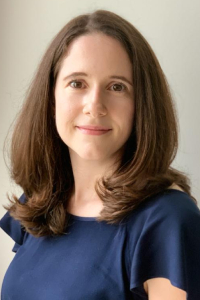 Assistant Professor
Ph.D., City and Regional Planning, Cornell; MPP, Lee Kuan Yew School, National University of Singapore; B.A. Economics/International Relations, State University of New York, New Paltz
Contact
Room 356, Civic Square Building

andrea.rm [at] rutgers.edu
Research Interests
Planning institutions
The politics of planning for water and sanitation
Grassroots involvement in urban governance
Cities and metropolitan areas in the Global South
Progressive planning
Climate change adaptation
Andrea Restrepo-Mieth, Ph.D. joined the Bloustein School as an assistant professor in September 2022. She was previously a postdoctoral fellow at Perry World House, University of Pennsylvania, where she worked on urban planning institutions and local climate change adaptation. She is a member of The Ralph W. Voorhees Center for Civic Engagement at Rutgers and the Galápagos Education and Research Alliance (GERA), a multi-institutional and interdisciplinary group of community members and university researchers working in Galápagos. Her research combines insights from urban planning, public policy and political science to examine the emergence and stabilization of urban planning and city management institutions that improve the equitable and sustainable provision of local public goods and basic services in cities in the Global South. She has a regional focus on Latin America and has also worked in Southeast Asia. She holds a Ph.D. in City and Regional Planning from Cornell University, a MPP from the Lee Kuan Yew School, National University of Singapore, and a BA in Economics and International Relations from the State University of New York at New Paltz.
Complete Curriculum Vitae (C.V.)
Graduate
Environmental Planning and Management
Selected Publications
View publications on Google Scholar
Peer-Reviewed Articles
Andrea Restrepo-Mieth (2023) Learning from Mistakes: Reflective Planning, Simple Junctures, and Institutional Change, Planning Theory & Practice, DOI: 10.1080/14649357.2023.2183243
Restrepo-Mieth, A. (Online First). Examining the Dynamics Between Formal and Informal Institutions in Progressive City Planning. Urban Affairs Review.
https://doi.org/10.1177/10780874211041612
Restrepo-Mieth, A. (R&R). Elements of Institutionalization: how state and non-state actors attempt to give progressive urban planning practices continuity. Planning Theory.
Weisberg, M., Kovaka, K., Restrepo-Mieth, A., Tilyou, M., & Weisberg, D.S. (in review). Climate Resilience and Community Engagement. Philosophy of Science.
Areas of Expertise: environmental planning and policy, governance, international development, planning theory, political institutions, qualitative research, water planning and policy