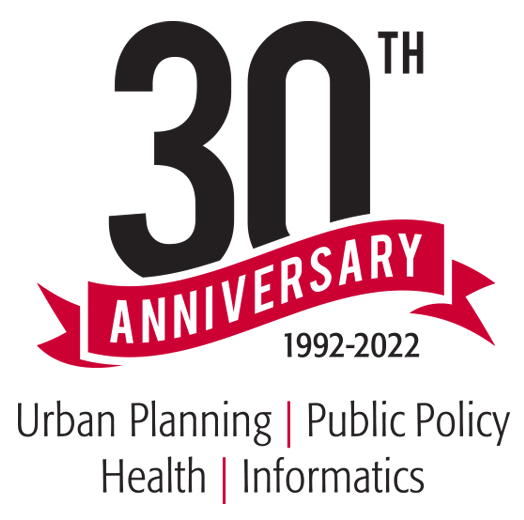 Read the history of the Bloustein School
The Bloustein School will begin celebrating its 30th anniversary in September, and we have a lot of great events planned! We hope everyone will be able to join us at these events and celebrate not just the school's history, but also our strong future.
Upcoming Events
Monday, January 13, 2023
at the Gov. James J. Florio Special Events Forum, Civic Square Building
5:00 p.m.
The Gov. James J. Florio Memorial Lecture with Congressman Frank Pallone, Jr. (NJ-06)
"Combating the Climate Crisis and Investing in a Better Future"
As the top Democrat on the powerful House Energy & Commerce Committee, Rep. Pallone is a leader in the fight against climate change and our transition to a clean economy. He helped author key legislative provisions in the Inflation Reduction Act, which is the most significant climate law in our country's history. He also led passage of the Bipartisan Infrastructure Law that has delivered federal funding to New Jersey to bolster the state's electric vehicle infrastructure and invest in safe drinking water. It also tackles dangerous PFAS chemicals and funds Superfund and Brownfield cleanups. In this lecture, Rep. Pallone will discuss the development and passage of these new laws, the road ahead for implementation, and the benefits that the legislation will bring to New Jersey, our country, and the future of our planet.
Register at https://go.rutgers.edu/ejbflorio2023
Thursday, March 9, 2023
at the Gov. James J. Florio Special Events Forum, Civic Square Building
5:00 p.m.
Junctures in Women's Leadership: Health Care and Public Health
More information coming soon!
Wednesday, March 22, 2023
at the Gov. James J. Florio Special Events Forum, Civic Square Building
5:00 p.m.
The Stuart Meck Memorial Lecture with Adriana Abizadeh '12, Bloustein School Senior Policy Fellow and Executive Director, Kensington Corridor Trust
"Land and Power: A history of commodification "
From stolen land to rematriation, all land ownership and control is rooted in its value as a commodity. A commodity that is not equally accessible and that has a value assigned to it based on markets that serve the few, not the many. What does it take to decommodify land? Is it possible? Can land and power be redistributed for collective benefit? This talk will take us on a journey through history to examine land ownership in the United States and the reverberating impacts experienced in the 21st century.
Adriana Abizadeh '12 is a Senior Policy Fellow at the Bloustein School and is the executive director of the Kensington Corridor Trust (KCT) in Philadelphia, whose mission is to utilize collective ownership to direct investments on the corridor that preserve culture and affordability while building neighborhood power and wealth in Kensington. She is also the President of Catalyst Consulting Group (CCG), a boutique consulting firm that is moving projects forward for nonprofits and other stakeholders. The firm specializes in strategic planning, leadership development, and board governance. Adriana's expertise is in supporting grassroots organizations with growth strategies and the development of welcoming and inclusive work cultures. She has a BA in political science from Rutgers with a minor in Security Intelligence and Counter Terrorism. She also has an MS in Public Policy from Drexel.
Sunday, March 26, 2023
at the Rutgers University Inn and Conference Center
10:00 a.m.
Bloustein School Scholarship Brunch
Sunday, April 2, 2023
Bloustein School / APA-NJ event at APA National Convention (Philadelphia)
More information coming soon!
Thursday, April 20, 2023
at the Gov. James J. Florio Special Events Forum, Civic Square Building
Film Screening and Panel Discussion: "Capturing the Killer Nurse"
More information coming soon!
Friday, May 5, 2023
at the Gov. James J. Florio Special Events Forum, Civic Square Building
The Alan M. Voorhees Distinguished Lecture
More information coming soon!
Past Events
Wednesday, Febuary 1, 2023
at the Gov. James J. Florio Special Events Forum, Civic Square Building
5:00 p.m.
Dr. Jeffrey Robinson, BA Urban Studies '94, BS Eng '95
"Black Faces in High Places: 10 Strategic Actions for Black Professionals to Reach the Top and Stay There"
Thursday-Friday, September 22-23, 2022
at the Gov. James J. Florio Special Events Forum, Civic Square Building
Ralph W. Voorhees Center Case Study Conference – Negotiating Social Futures: The Politics of Land Development and Value Capture During and After the COVID-19 Pandemic
Through a set of case studies from Chile, Brazil, Canada, USA, Hong Kong, and Taiwan, conference participants explore and engage in questions related to land development, value capture, value conflicts, participatory democracy, and the city's social futures. A keynote address will be given by Professor Sai Balakrishnan of the University of California, Berkeley. Students, faculty, alumni, and practitioners are invited to join the discussion.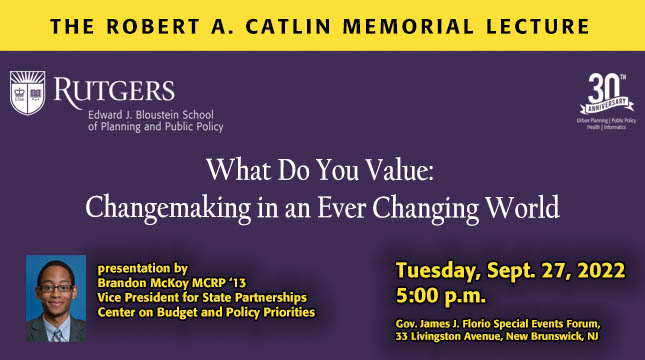 Tuesday, September 27, 2022
at the Gov. James J. Florio Special Events Forum, Civic Square Building
The Robert A. Catlin Memorial Lecture with Brandon McKoy, MCRP '13
"What Do You Value: Changemaking in an Ever Changing World"
In a rapidly evolving world where discord and conflict dominate the public square, policymaking in the public interest is as hard as it has ever been. With 15 years of experience in social policy research, advocacy, and implementation, Brandon McKoy MCRP '13 will delve into how he determined what drives his values and priorities, hoping to model how people can develop a career full of purpose and impact. He will also discuss his experiences supporting robust democracy and effective public programs, and how they shaped his career of public-interest work. By pushing against conventional wisdom, maintaining a long-term view, and developing a solid professional and personal network to aid his efforts and reach his goals, he hopes to help students and young alumni better understand how they can prepare for public-oriented careers during times of incredible national strife and difficulty.
Thursday, October 6, 2022
Cooper's Riverview, 50 Riverview Plaza, Trenton, NJ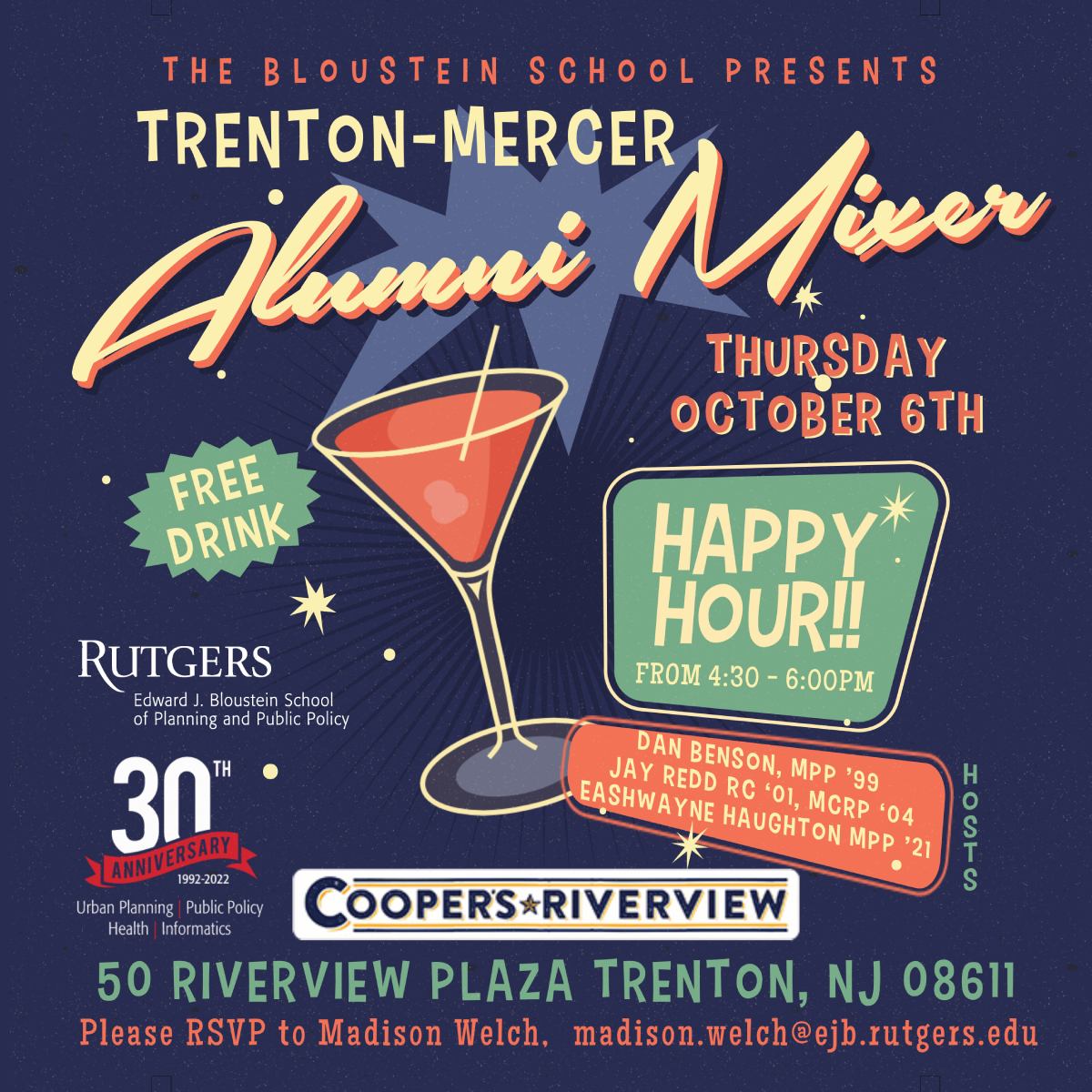 Trenton/Mercer Alumni Happy Hour
Meet up with Bloustein friends and colleagues at Cooper's Riverview at 50 Riverview Plaza Trenton, NJ 08611.Enjoy some pizza, salad and a free drink while you network with Bloustein Alumni from the area!
Thursday, October 20, 2022
at the Zimmerli Art Museum
Bloustein School Alumni Awards Celebration
Since 1994, the Bloustein School Alumni Association has aimed to present awards to accomplished alumni each year. Our goal is to pay tribute to alumni and friends to recognize their outstanding achievement and/or service to the Bloustein School, their communities, and/or their professions. Alumni are recognized by the Bloustein School Alumni Association in the following two categories: Career Achievement and Rising Star. For more information please visit: https://bloustein.rutgers.edu/alumni/hall-of-fame-and-alumni-of-the-year/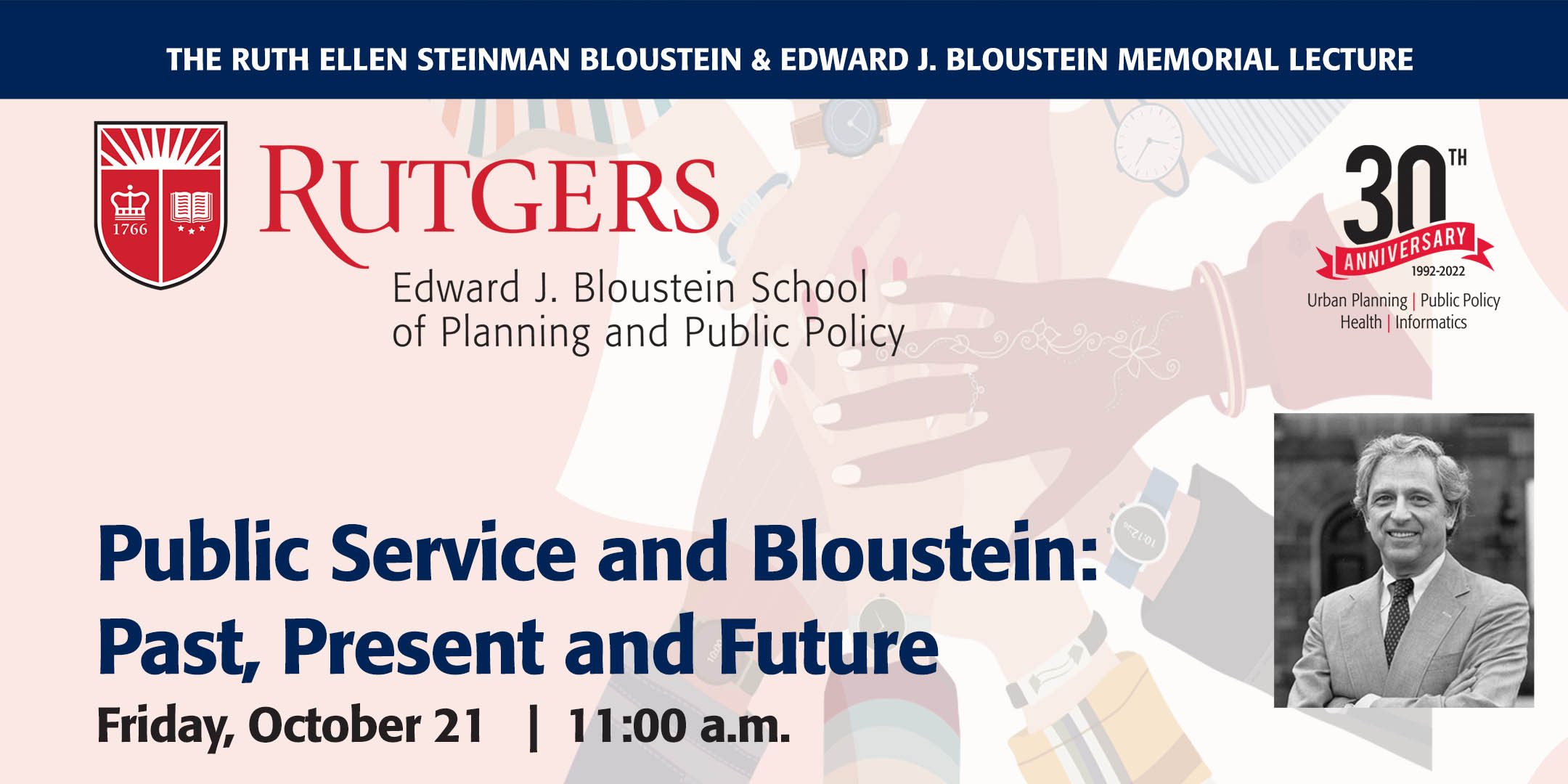 Friday, October 21, 2022
at the Gov. James J. Florio Special Events Forum, Civic Square Building
The Ruth Ellen Steinman Bloustein and Edward J. Bloustein Memorial Lecture
"Public Service and Bloustein: Past, Present, and Future"
Established and approved by the Rutgers University Board of Governors in 1992, the Bloustein School has served as a key center for the theory and practice of planning and public policy scholarship and analysis. The school has committed to a rebirth of the public service ethic, especially as new research interests in health administration, public informatics, and public health have joined the school's foundational disciplines. Interim Dean Stuart
Shapiro will moderate a panel celebrating the school's history, the legacy of namesake Edward J. Bloustein, and the school's future direction in creating just, socially inclusive, environmentally sustainable, and healthy local, national and global communities.
James W. Hughes, University Professor, and Dean Emeritus will provide a historical perspective, connecting the founding of the school to Ed Bloustein's legacy, including personal stories from his 22 years as Dean.
Kathe Newman, Professor, and Director, Voorhees Center for Civic Engagement, will discuss the accomplishments of the Voorhees Center for Civic Engagement and the urban planning program in furthering public involvement.
Will Jones, Executive Director, Rutgers Career Exploration and Success will talk about President Jonathan Holloway's commitment to the Rutgers Summer Service Initiative (RSSI) and bring a Rutgers-wide perspective to public service.
Lucas Torres, EJB '22 (Public Health) among the first 100 students selected for the RSSI, will conclude with his experience over the summer in the RSSI cohort at the United Way.
Friday, October 21, 2022
Meet at the Civic Square Building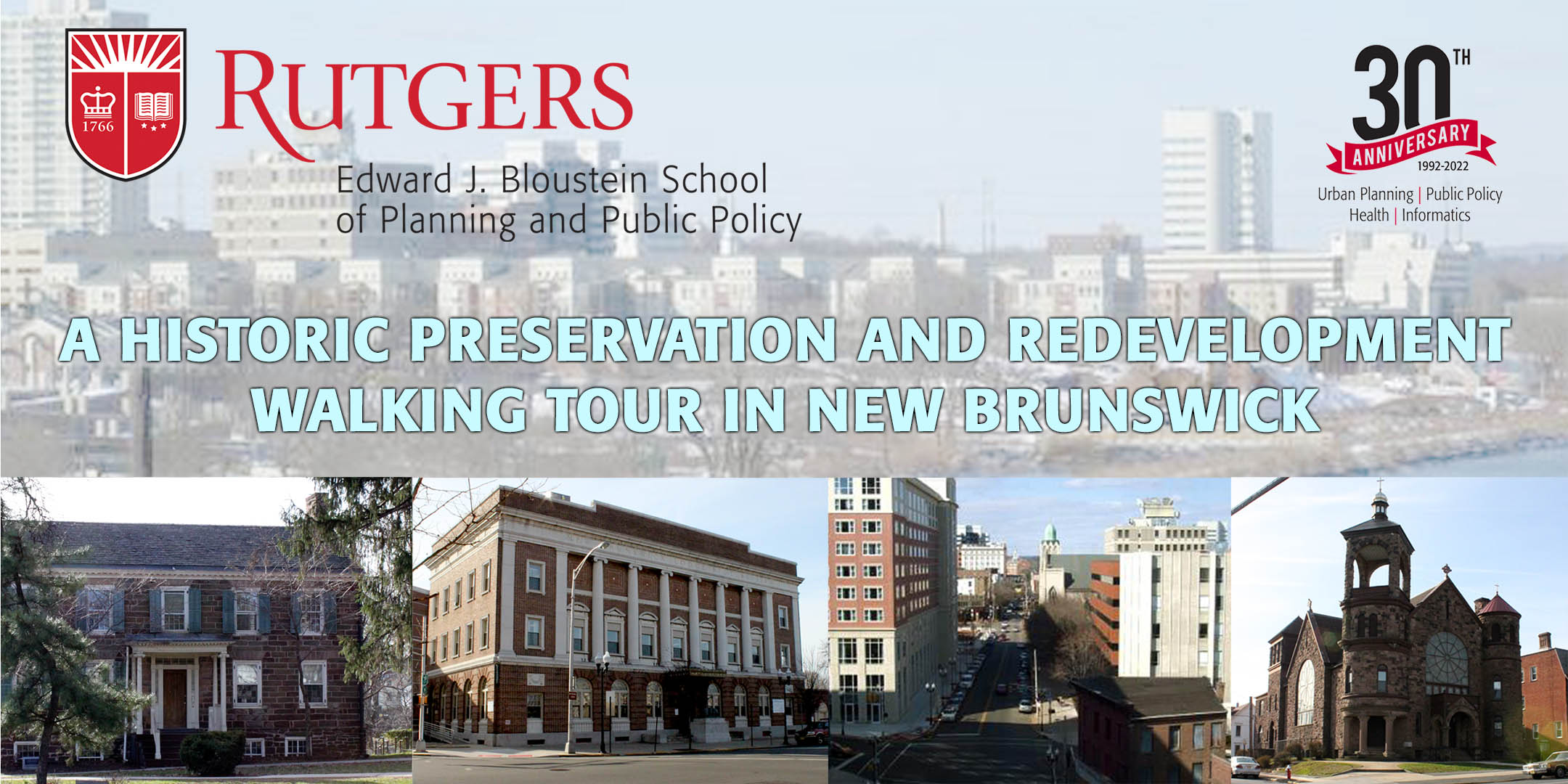 A Historic Preservation and Redevelopment Walking tour of New Brunswick
with David and Barbara Listokin
New Brunswick, NJ has many architectural gems that often go unappreciated. The city has also experienced significant redevelopment and in tandem, historic preservation versus development challenges. This tour will consider these diverse forces that typify many American cities.
Tour Plan and Logistics:
The tour will begin at the entrance to the Bloustein School, Civic Square Building, 33 Livingston Avenue, New Brunswick, N.J. Participants should meet at 12:45 p.m. on Friday, October 21.
From the Civic Square Building, tour participants will walk down Livingston Avenue, return to George Street, tour downtown, and end by Old Queens on the Rutgers Campus by 3 p.m. Participants are welcome to walk across the street to the Starbucks Cafe at the RutgersBookstore for post-tour refreshments (buy-your-own) and conversation.
The tour guides are Drs. David and Barbara Listokin, who teach urban redevelopment and historic preservation courses at the Bloustein School. This is a free, custom tour offered to members of the Bloustein School community. Spouses, significant others, children, and friends of Bloustein students, faculty, staff, and alumni are all invited.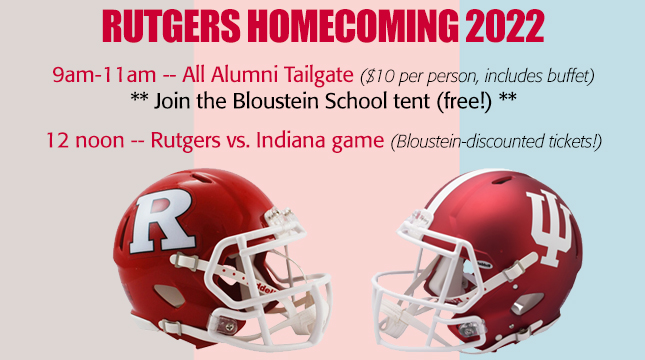 Saturday, October 22, 2022
All Alumni Tailgate, 9:00 a.m.
Rutgers Football vs. Indiana Game Time 12:00 noon
at SHI Stadium
Join the Bloustein School Tent at the ALL ALUMNI TAILGATE at Rutgers Homecoming
Athletes Glen, Hospitality Tent
Join fellow Bloustein alumni and meet up with former faculty, staff, and other friends at the RUAA Tailgate in Athletes Glen! The Bloustein School will have its own tent–everyone is free to attend! Cheer on the Scarlet Knights during the Scarlet Walk, hear the drum line, and win raffle prizes!
Want to attend the Rutgers Alumni Hospitality Tent for an all-you-can-eat buffet? Tailgate fare and exclusive giveaways will be provided! Tickets to the Hospitality Tent are $10 per person. Children 3 and under are free.
Sit with fellow Bloustein School alumni and get your discounted Rutgers vs. Indiana game tickets from the link below!
PLEASE READ THE SHI STADIUM STADIUM GUIDELINES and BAG POLICIES BEFORE ATTENDING!!!!
"Gate Procedures: All spectators must present their own ticket. All items brought into the stadium will be inspected. SHI Stadium regulations prohibit outside food and beverages, bottles, cans, alcoholic beverages, coolers, umbrellas, noisemaking devices, balloons, laser pointers, pets (with the exception of service animals), balls, weapons, sticks/poles, containers, fireworks, and any other items deemed dangerous or inappropriate from being brought into the facility. By use of your ticket, you consent to a reasonable search for prohibited items. Ticket stubs are not valid for re-entry."
"Umbrellas: To ensure safety and good field visibility, umbrellas are not permitted in SHI Stadium."
"In conjunction with Homeland Security, Rutgers will strictly enforce its bag policy. Bags that are clear plastic, vinyl, or PVC and approximately 12″ x 6″ x 12″, or one-gallon clear plastic bags or similar, and small clutch bags, approximately the size of a hand, can be taken into athletic venues. Exceptions will be made for medically necessary items after proper inspection. Sticks of all types, including selfie sticks, are strictly prohibited inside the stadium."