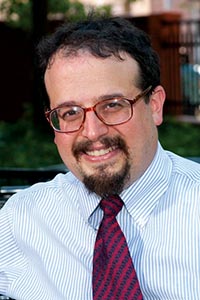 We're back! As we open our fifth season of EJBTalks, our focus is on the 20th anniversary of September 11. Stuart Shapiro welcomes Jim Bach MCRP '75, an alum of our nationally-ranked urban planning program who played a critical role in the World Trade Center Redevelopment. Jim discusses his 30+ year career at the Louis Berger Group, a world-renowned planning firm. They discuss Jim's experience on 9-11 and Berger's role in providing technical and project management support to the Port Authority during the redevelopment of the World Trade Center site. He reflects on the profession of planning and how being trained as an integrator, along with understanding the connections between scope, schedule, and budget, allowed him to successfully work with the Port Authority and the multitudes of emotionally invested stakeholders involved in this project. The result of these efforts was to make the site both a signature and incredibly moving piece of architecture.
Stuart Shapiro
Welcome to the fifth season of EJB Talks. Welcome back. I'm Stuart Shapiro, the Associate Dean of Faculty at the Bloustein School, and the purpose of this podcast is to highlight the work my colleagues and our alumni in the fields of planning, policy, and health are doing to make the world the country and New Jersey a better place.
Today, we're very happy to be speaking with Jim Bach an alum of our world-ranked urban planning program, who is involved with the redevelopment of the World Trade Center site in New York City. Welcome to the podcast, Jim.
Jim Bach
Happy to be here. Stuart.
Stuart Shapiro
Let's start by talking about your career before September 11, 2001. How did you get from your planning degree to that point where you ended up being involved in the World Trade Center redevelopment?
Jim Bach
Sure. I received my MCRP degree back in 1975, a very long time ago. When I graduated, I went to work for a transportation firm for a brief period of time, and then went to work for the Middlesex County planning board, where I spent six years. We were located in the Elks building on Livingston Avenue diagonally across the street from where the Bloustein School is now.
Stuart Shapiro
I remember it well.
Jim Bach
After six years at Middlesex County, which is where I met my wife, who is also an MCRP alum from Rutgers, I went to work for Louis Berger, and had a career of approximately 37 years at Louis Berger. It was acquired by WSP, another large engineering consulting firm back in 2018. And retired in 2019 from Louis Berger.
Stuart Shapiro
Gotcha. Well, we've talked about up to 9/11. It is about to be the 20th anniversary of 9/11, and we'll see lots of commemorations of that. What are your recollections of that terrible day?
Jim Bach
Well, I remember it very well. I was driving to work that morning on the New Jersey Turnpike. And I have a view of the World Trade Center as I'm driving to work. And I could see the smoke coming from the building at that point in time. We had people in the World Trade Center that day, part of Louis Berger's business, had included kind of extensions of staff, where we had employees that were working for and with the Port Authority in the Port Authority offices. And we had on the order of about 20 to 21 people in the World Trade Center that day, both people that were assigned there, were working there with the Port Authority, as well as staff that was on their way to meetings with Port Authority staff, since Louis Berger did and WSP still continues today to do a lot of work with the Port Authority.
So I immediately called one of our senior people on the staff that I knew in the building. I was not able to reach him. Got to my office, which was then located in East Orange, New Jersey, and started calling people and trying to determine where they were. Some people I was able to reach others, given the circumstances, I was not able to. In over 24 hours, since it took me till early the next morning before I located the last person, all of the staff that we had that either had been in meetings or working in the World Trade Center, were able to safely get out. Though, it wasn't until the next morning that we were able to verify that.
Stuart Shapiro
Thank goodness for that. But wow, what a memory there. I was in Washington at the time working in the White House complex and we could see the plane hit the Pentagon that day. And, of course, we're worried that we were among the possible targets that the people on Flight 93 ended up saving. So, also very acute memories of that time.
What was your role then, moving forward from that, in the redevelopment of the World Trade Center site?
Jim Bach
Louis Berger as a company, as I mentioned, did a lot of work with the Port Authority. We were, I believe, one of the real go-to firms for the agency and continue to be so. We received a call a couple of days after 9/11, asking us to come to meet with the Port Authority. Of course, their offices had been destroyed at the World Trade Center. The staff I met with were working out of the Tech Center, which is located on the Jersey City/Hoboken border on 14th street there. And just a couple of days after 9/11, we were in discussions with the Port Authority in terms of how we could help them do the steps necessary to start planning the recovery, to figure out where the staff was going to be and how they were going to work. And from that day forward, Louis Berger has been involved and continues to be involved in the 9/11 recovery World Trade Center project.
I'll also just very quickly add that Berger was also involved in the 1993 bombing. After that event, which tragically took a number of lives, including for Port Authority staff, we were asked to come in immediately and to help the agency assess the damages and to understand what the implications were to the agency because those buildings were closed. And we did that, I was the project manager for that work. And so there were many people at the Port Authority that remembered our involvement in that and it was good to be back working with them on now with the 9/11. Not that it was good that the events took place, but it was important for us, the staff, to help the Port Authority move forward after this.
Stuart Shapiro
And the site that's up there now is is really impressive. And certainly, our listeners should go there and check it out if they haven't yet. I'm sure getting from there, you know from a point where the site was essentially rubble, to where we are now took a lot of managing of relationships, in addition to a lot of physical planning. Can you give us some idea of the scale of the project and your involvement?
Jim Bach
Sure. We were, as I just mentioned, involved in some of the demolition and clearing of the site. And I believe that it was a $600 million effort to deal with the recovery in the clearing the demolition on the site. Berger received a program management contract from the Port Authority. Shortly thereafter, we provided technical support to the Port Authority staff in the planning, dealing with environmental related issues, and then ultimately overseeing and assisting the Port Authority and overseeing the overall redevelopment effort.
We still have staff working under that program management contract as they complete the last phases of the work at the World Trade Center. But we've been involved from the very beginning. The Port Authority was largely my client at Louis Berger. I was the client manager for the Port Authority and have managed multiple projects for them and acted as the principal in charge, the overseer responsible for the contract for the redevelopment program management activities. And I do have to add program management is something that… we did a lot of program management type work for the Port Authority. It's something that I'm personally very interested in. I think it's a great field for planners. And it gives us an opportunity to work hand-in-glove with the Port Authority staff, and they do have a tremendously talented staff at the agency.
Stuart Shapiro
Yeah, program management is a set of skills I think that really across all our programs Planning, Policy, Health Administration has relevance. I mean, they're skills that you learn in program management that are really widely, widely applicable. What were some of the big challenges you faced over your time there?
Jim Bach
Well, the scale of the project in and of itself, is absolutely huge. I haven't seen the final numbers, but I believe that we're probably talking about a $20 billion redevelopment effort that took place there. And then the other thing that was really, I thought very incredible, was the number of stakeholders that were involved in various aspects of the job, which added to the complexity of the task before the Port Authority, as the owners of the site to coordinate with all of those various agencies, what was just an incredible and monumental effort. And the fact that the project is there today almost completed is a testament to their talents and capabilities and abilities to do that.
Just to mention a few; the lower Manhattan Development Corporation, which was an agency that was created by New York state and the city of New York, was a major player in the development of that. Silverstein Properties, the developer that had just before 9/11 leased the World Trade Center site, and had the ability to basically replace the almost 10 million square feet of office and retail space that they had, there was a very major player. The MTA, given the fact that there was a subway line, the 1 & 9 box that ran through the middle of the site. New York State DOT, since 9/11, the Westside highway, also was one of the borders of the site. Of course, the survivors, the families of 9/11, the museum, the Memorial Foundation, the Performing Arts Center, the Greek Orthodox Church… there were just so many stakeholders, and to each one of them, this was an incredibly important project to make sure it got done, and then it got done right. And the Port Authority coordinated all of those activities.
Stuart Shapiro
Yeah, I mean, a lot of the things you know, we talked about project management, a lot of it is also managing people and managing relationships. And that's not something that's easy to teach in graduate school, necessarily.
Jim Bach
It's not but the planners, I think, are very well equipped to provide those kinds of roles because they're integrators. They're integrators, by orientation by training. And program management is really the integration of scope, schedule, and budget, and all the things that are connected to that.
Stuart Shapiro
Let me pick up on that and ask you what advice you'd give our planning students in 2021? It's obviously been a while since you were in planning school, but you've got a lifetime of experience to draw upon. What advice would you give them?
Jim Bach
Well, I believe that planners are well equipped to serve the role of a program manager or to be in key positions on a program management team, because of the various disciplines that all come together in managing large complex projects like the World Trade Center, redevelopment. Understanding the scope, dealing with risk, and understanding what those risks are dealing with all of the various agencies that have various stakeholdings in the project. Scope, schedule, budget, those are all things that I believe are important to planners to understand and test their skills.
Stuart Shapiro
Well, let me end by asking you, looking back at your involvement and the 20 years since 9/11, what you're particularly proud of the accomplishments of yourself and Louis Berger and the Port Authority?
Jim Bach
I think since we're talking about 9/11 and that day… I walk around the World Trade Center site and I see what is there. I had the advantage, if you can call that, of seeing this project at every one of its key points/phases; when it was a great big hole in the ground, when the planning efforts were underway and there were disagreements and discussions in terms of how to build and where to build it, and where things should go. Dealing with the environmental issues associated with the site., and all of the other issues, transportation, and everything else that went along with it.
And, you know, now to see it today, and to be able to walk through the facility, whether you think that the project was too expensive, whether you think that it was too monumental. It is a signature piece of architecture, multiple pieces of signature architecture on the site. The memorial, I think is tremendous, very, very moving. And I think it is a testament to the Port Authority to its stakeholders, in terms of what they did to pull together and to get it done.
Stuart Shapiro
Yeah, and again, anyone who hasn't been down there to lower Manhattan, I definitely urge to, to go down there.
It was great talking with you, Jim, thank you so much for coming on.
Jim Bach
Thank you very much.
Stuart Shapiro
And a big thank you to Amy Cobb and Karyn Olsen, our production team. We're going to go back to weekly productions we hope and so we will see you next week with another talk from another expert from the Bloustein School. Until then, stay safe.