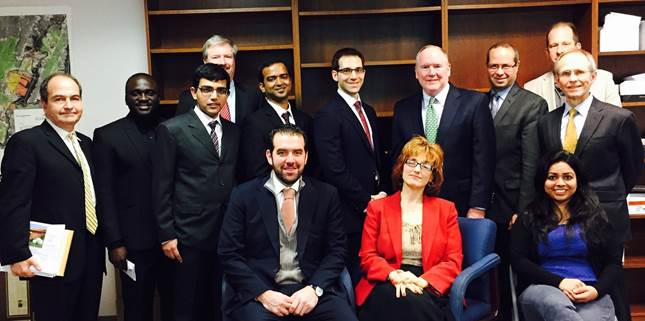 NAIOP New Jersey recently announced the winner of the 2016 CRE Intercollegiate Case Study Competition (CREICS), where teams from Rutgers University, Monmouth University and New York University accepted the challenge of reimagining an industrial site located near Liberty State Park in Jersey City. The site location was donated by sponsor KRE Group for purposes of the competition.
The case study submissions were judged on three criteria: financial feasibility, design excellence and sustainability. Each team received support from professional mentors in addition to working with educational advisors.
The joint winning team from the Bloustein School/Rutgers Business School presented a hotel project, Gateway Golf Suites, which repositioned the site as a destination for golfers playing at the nearby Liberty National and Bayonne golf courses. The project was sustainable from both a financial and environmental standpoint, with a minimal building footprint, energy-efficient layout and features designed to move the project towards Net Zero Energy and LEED Platinum certification.
The RBS-Bloustein team included RBS student Rob Stern (concentration in Real Estate) and Bloustein students Himadri Kundu, Deepnath Majumder, and Richard Asirifi.  The students under the direction of Bloustein Professor David Listokin and RBS Professor Kevin Riordan.
"Youth is the lifeblood of the real estate industry," said NAIOP NJ President Clark Machemer. "This annual event is designed to help students better understand the needs of our developers and our communities, and engage them in the real-world process of meeting those needs."In his opening remarks, Jonathan Kushner, president of KRE Group, praised the students for their effort and ingenuity. "We gave them a site that was challenging to work with and they responded with really creative ideas. In my eyes, all three teams worked incredibly hard and did a great job, which made this competition all the more difficult to judge."
"NAIOP NJ is committed to connecting community leaders, industry professionals and aspiring college graduates whenever possible. These forums inevitably lead to a fertile exchange of ideas and perspectives, based on current trends, market conditions and consumer preferences, that very often help these towns achieve their goals of being magnets for attracting talent and economic security," said CEO Michael McGuinness, who presented the $5,000 prize to the winners. "Once again, this event has proven to be a valuable and rewarding experience for everyone involved."