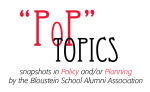 The Bloustein School Alumni Association (BSAA) New York City Regional Alumni group will host the first of a new series of discussions called "PoP Topics."  PoP Topics are a series of short talks covering different areas in Planning and/or Policy (PoP) and will feature current projects, ideas, and research. Speakers from various organizations will be invited to give short presentations of approximately 5 minutes each on selected topic areas. These mini-talks will be high energy, engaging, and fast-paced, and will be moderated by Bloustein School faculty or center directors/staff members.
The first PoP Topic panel session will be held on Thursday, April 24. "PoP Topics: Resiliency Planning Post-Sandy" will be hosted by the Bloustein School NYC Regional Alumni Group at the offices of The Louis Berger Group, Inc., 48 Wall Street, 16th Floor, New York, NY. Moderated by Jeanne Herb, Associate Director of the Bloustein School's Environmental Analysis and Communications Group, this discussion will incorporate many post-Sandy environmental, sustainability/energy, transportation, and housing issues. Participating speakers include:
Niek Veraart, Vice President, The Louis Berger Group Inc.
Deborah Morris, Director of Resiliency Planning, NYC HPD
Thomas Abdallah, P.E., Chief Environmental Officer, MTA New York City Transit
Howard Coppari, Hazard Mitigation Consultant, VidarisInc
Jeff Perlman, Regional Planning Analyst, NJTPA
Space is limited.  Please RVSP:  http://bit.ly/bsaa-nyc1
The event will begin at 6:30 p.m. and will be followed by networking and refreshments. The event is open to Bloustein School alumni, faculty, staff, and students.
Bloustein School Alumni Association Regional and Affinity Alumni Groups are a new way for Bloustein alumni to stay connected and network with alumni who live and work in particular regions and cities around the world, or who are interested in creating a network of alumni working on common issues or in similar industries.  Current regional alumni groups include New York City, Philadelphia, and Washington, DC. A New York Real Estate/Housing/Development affinity alumni group has also been formed. All group members must be Bloustein School alumni. Each group must have at least two co-leaders for purposes of communication and group organization and will work closely with Bloustein School Alumni Relations & Development staff to organize and host a minimum of two events per year. Join one of our alumni groups to connect with other Bloustein School alumni, attend local networking receptions, happy hours, and more or contact Hillary Bardwell for more information about starting an alumni group in your area.
Space is limited.  Please RVSP:  http://bit.ly/bsaa-nyc1