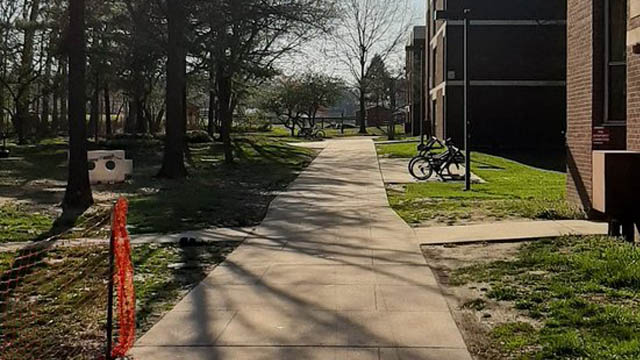 As the spring semester neared its end, Cecille de Laurentis MPP/MCRP '20 had the opportunity to speak with planning and policy students to learn more about their experiences at the start of the pandemic, as well as how their perspectives on their work and studies changed.
At the beginning of the week of March 15—right before spring break—Bloustein School graduate students were in the computer lab working, as usual, finishing midterm papers. And — with discussion of "the coronavirus" and its contagiousness starting to make headlines as the first cases began tracking in the U.S. — periodically Lysoling down keyboards. By week's end, they were being told to empty the contents of lockers and get their laptops ready to work outside of the building, as the U.S. contemplated a global pandemic and an indefinite amount of time spent inside.
The possibility of a shift to remote learning quickly became a reality that left students, faculty and staff scrambling.
COVID-19 forced unforeseen challenges on people all over the world. As students in public service fields, graduate students at the Bloustein School were not only navigating their own pandemic journeys but also considering its implications for how we govern. COVID-19 would not only affect their immediate job prospects, but also the content and goals of their work moving forward.
While some students quickly moved out of the New Brunswick area to be with family or friends, many stayed. First-year MCRP student Justine Recio moved in with her partner and another friend about 20 minutes from campus. When the lockdowns began, "that's what made it real for me, that this is really happening," she said. "I remember sitting in the lobby of my apartment building, waiting for a package or something…and I saw ten people leave. And I [thought], that's a lot [of people] for one hour. And [I felt] like I couldn't move because I didn't have a car, and I didn't have any place to go…"
Once quarantined, Justine began feeling some of the contradictions of lockdown. "I'm a homebody anyway, but then it became enforced."
Highland Park resident Noura von Briesen MCRP '20, who had been anticipating graduating in just a few short weeks, described the strangeness of living so close to school but being unable to go there and study whenever she wanted.
Even though she was anticipating graduating in just a few weeks, Morgan Hunlen MCRP '20 ended up on the other side of the country. "My life drastically changed," she says. The plan had been to move to Los Angeles with her partner at the end of the semester, but as social distancing took effect on both coasts during spring break, she realized might have to move sooner or risk not making it there at all. She packed up her on-campus apartment in two days and shipped her car to LA. Despite the frenzy and stress of moving under such circumstances, Morgan says she was able to easily settle in. "Before, I was applying to jobs in California from New Jersey. Now, I feel I have a little more of an edge because I'm already here."
Most students expressed gratitude that they were in a safe place and relatively unaffected but recognized that going to class and continuing coursework and projects from home were challenging. "I realized it's so much better not to work on the couch," said Noura.
Jennifer Elliott, in her first year of the graduate policy program, agreed wholeheartedly. "Sometimes I wasn't sure when the school day started and when it ended."
There was also the adjustment to a different kind of workflow: "Back at the lab, I could go for a full four hours," said Mercy Iyere (MCRP '21). "Working from my apartment, I had to break work into different chunks…for example, I would work for two hours, then go for a walk."
Bhavin Patel MPP/MCRP '20 expressed gratitude to his professors for "trying to get things as normal as possible. Shout-out to them for making this transition on the fly." Haoyun Wang MCRP/MPI '20 also appreciated that the Bloustein School made an effort to reach out to students. "They checked in on us. And many of the professors were willing to take an extra few minutes before or after class in case students needed to talk."
Job searching, though, became even more unpredictable and uncertain. Some students that had come to the school to make a career change found their efforts stymied. "I would like to be a planner," says Johnny Malpica MCRP '21, "But is it going to be harder now?"
Students also shared stories of having had promising job or internship interviews before lockdown, only to receive a call after social distancing guidelines went into effect telling them that the organization could no longer hire for the position. Haoyun noted that, as an international student, job searching is difficult; during a pandemic, the uncertainty of his work status made it even harder. And while many students were able to remotely work at their on-campus jobs, they were unsure of what would be next. Jennifer started an internship at the Rutgers School of Public Health studying the financial toxicity of cancer treatments, where she was already doing work as a patient advocate. She considered the internship a silver lining despite the challenges of working remotely.
Despite the uncertainty, Bloustein students are even more convinced of the importance of planning and policy work going forward. Haoyun, who is completing his degree in public informatics this summer, noted how critical data access has been. He cites the example of the Johns Hopkins coronavirus map, which was created by public health students and professionals and receives clicks from people all over the world. Mercy has considered the importance of data visualization and effective communication of scientific information; the #FlattenTheCurve graph was brilliant, she notes, but communication around masks was less effective.
Students were also concerned about the impacts on people that intersect with their work. Jennifer, whose concentration is in health policy, indicated worry about discrepancies between health policy and practice as practitioners react to the pandemic. She heard of cancer patients having their treatments and surgeries delayed, even as healthcare systems proclaim that they are still treating such surgeries as emergent. Morgan said the pandemic "brought home how profoundly unequal and unfair planning is. When I arrived in LA, I had no car…[you need a car] to get drive-through access to testing, curbside pickup, anything. Our first fallback for society is vehicles. The more strict the lockdown has become, the harder it has become for people that don't live the most comfortably in society [to gain access]."
Students also flagged COVID-19's disproportionate impacts on low-income people and people of color. "There are incredible disparities, but we already knew this," says Bhavin. He, like many of his fellow students, expressed hope that planners and policymakers will play a role in designing more just systems in a post-COVID world.
Johnny, meanwhile, noticed the increased mutual aid and service work being done in the local neighborhood. "New Brunswick is an amazing community, it's super resilient…lots of people think of it as a community where a lot of people are food-insecure," he said. "I think of it as an amazing city that has incredible resources. What we're seeing now is a lot of people doing amazing work."
He added, "It's ironic that to come together in solidarity, we have to remain apart."