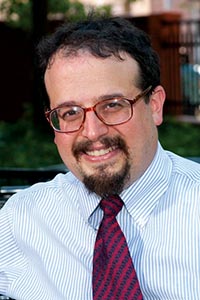 On this episode of EJB Talks, Stuart Shapiro welcomes Bloustein School alumnus and Advisory Board Member Jason Redd, Esq. BS (Public Health) '01, MCRP '04. They discuss how public health, urban planning, and policy can interact to improve people's lives, as well as how all three disciplines have impacted Jason's career. Jason also shares his experience as a volunteer observing the 2020 general election absentee ballot canvas in Blair County, PA as well as and his thoughts on the controversies that have followed the election.
Stuart Shapiro
Welcome to EJB Talks. I'm Stuart Shapiro, the Associate Dean of Faculty here at the Bloustein School. And the purpose of this podcast is to talk with my colleagues and our alumni about policy, planning, and health, the interaction between these issues, and how they affect people in New Jersey, the United States, and the world.
We started the second season of EJB Talks by talking to new faculty members. Having completed that–and please make sure you go and listen to those episodes–we are now returning to our broader community. Jason Redd is a graduate of the Bloustein School. He's currently on the school's Advisory Board. And in the recent election, he served as an observer of the poll counting process. Jason, welcome.
Jason Redd
Welcome, Dean. It's great to be on.
Stuart Shapiro
Can you tell us a little bit about your time at the Bloustein School and your career since then?
Jason Redd
Sure. I am a proud alum of the Bloustein School twice over. I have a Bachelor's of Science in public health. And then I stayed and got my Master's in City and Regional Planning degree from the Bloustein School. And then following that, I went out to Utah to Brigham Young University and attended law school.
Stuart Shapiro
Oh, wonderful.
Jason Redd
Immediately following getting my legal degree, I clerked for Judge Farber up in Sussex County, New Jersey, and then began my career working for the New Jersey Legislature. First, in the General Assembly. I took a brief break to go work as the deputy policy director for Governor Corzine's reelection campaign, and then went to work for Senate President Steve Sweeney in the Senate, staffing the Health Committee. Then the chief of staff to Majority Leader Weinberger, and then Chief Counsel and Deputy Executive Director to Senate President Sweeney in the senate majority. I now work for Gibbons Law Firm when I split my time doing legal and lobbying work in Washington, DC, and New Jersey.
Stuart Shapiro
So that's fascinating. You know, in the intro, I talked about the interaction between the fields of public health, planning, and policy. You got a Bachelor's Degree in Public Health. You got a master's degree in planning. And your career sounds very much like something a policy graduate would do. Can you talk a little bit about sort of all the connections there between these various fields?
Jason Redd
Sure, I think that they're definitely all related. You know, I had a strong interest in health when I was an undergrad and got a lot of the bones in the foundation, you know, as a Bloustein undergrad working towards my BS. One of the professors who had a profound impact on my whole life and my career and my education–he was my advisor at the undergraduate level and at the graduate level–is Dean Greenberg. I took his class as a freshman, we connected I worked for him and Professor Mayer at the Brownfields Center, and really seeing the intersection, you know, everything's connected. And he really helped me from a young age to see that, policy really impacts people's health and everything goes together. And then also, you know, Dean Greenberg is really, really technical–much more technical than I am–and really showing that the things that I observed in terms of in coursework, and through my practicum and my work really could be explained statistically, so you can see that, you could expand that and see that the things that we were observing on a qualitative level could really be expanded and proven on a quantitative level.
And so, I really credit the Bloustein School with providing me with the framework of a real diverse education, which gave me kind of a stepping stone to get to Trenton and start to work on policies. When I worked for then-Chairwoman Weinberger, she ran the Health Committee, really just the intersection of health with everything, it really is connected. It's connected to education, it's connected to where we put things in terms of planning and building. So, I think that I really got the framework as a Bloustein undergrad, and then as a Bloustein grad student to just see the connections, see the linkages, and take it from there.
Stuart Shapiro
Yeah, I count Dean Greenberg as one of my mentors as well. We'll have to have him on soon. So, let's talk about this recent experience you had. What motivated you to become a observer of the poll counting and absentee verification process?
Jason Redd
If you check my registration, I'm a lifelong Democrat. One of the things I consider myself very fortunate is to have a law degree and even though I'm not a lawyer in the traditional sense, where rarely you will find me in a courtroom. I do recognize how fortunate I am to have that degree and the ability to practice law. So, every year I volunteer to assist the Voter Protection Program here and in New Jersey, and that's usually, most recently, it's been lead by another Rutgers grad, Rajiv Parikh of the Genova Burns law firm. I volunteered and said, wherever you need me, I'm willing to go to help out. To ensure that folks have the opportunity to vote, and there are no barriers.
And so about a week before the election, Raj reached out and said, we've got a need from Pennsylvania for attorneys who would be willing to assist during election day. Then he was clear, he said, not Philadelphia, not Bucks County. And I said, you know, I told myself, I would do whatever I could, this is an important election, so I will go wherever there's a need. And so I gave my name to Raj and I ended up going to Blair County, which for those of you who are unfamiliar with Pennsylvania, Blair County is located between Harrisburg and Pittsburgh, and it's a little bit below State College. The most major town that's in Blair County is Altoona. So I made the decision to go to Altoona and what I thought was going to be a couple of day engagement I ended up being there from Monday, all the way through to Friday, kind of observing the absentee ballot canvas.
Stuart Shapiro
So tell us what you saw.
Jason Redd
So I think it was an eye-opening experience because I had voted by mail many times, but I never realized everything that went into that process. So be being able to see it firsthand, really, there's a lot of moving pieces. And I think that the biggest thing that I saw is the folks who are part of this process are neighbors, they're folks that are just regular people; some of them work for the local government. Some of them are retirees, some of them are other folks from the community. But they came down to Blair County, I think we had about 35 people. And they were inside, it was a garage where the Department of Transportation for Blair county is situated. And they had tables throughout. So it was all socially distanced. And you would have individuals at the table. And so what we watched was waves of counting the absentee ballots. The first wave of ballots were folks that had applied for an absentee ballot and received those ballots and then mailed them back prior to October 22.
October 22 is key because that's the date that the county said, okay, this is the point in time, we're going to stop; we're going to take that snapshot and then print the poll books. So those books would go to the polls so that when folks went to vote, the people at the polling place would be able to check that book and say, okay, Stuart Shapiro, he received an absentee ballot, and he sent it back in, we can't give him a ballot, because he's already voted, and we've already received it. So it was a protection to make sure that folks didn't vote twice. And so, people were able to take those ballots, review those, open them, make sure that they were supposed to be counted, and then position them to be counted.
The next wave of ballots that were going to be considered, were the ballots that were received October 23 through the Monday before Election Day. So those ballots were key because they couldn't count those ballots until after Election Day had occurred because they needed to compare the poll books to make sure that you know, did Jason Redd or did Stuart Shapiro vote? Okay, let's see, we look at the poll book and the poll book says that they did vote or they didn't, and now we can count it. So that's another level of checks because it was critical that there were no double-counting of ballots.
The next round of ballots were the ballots that were received Monday and Tuesday all the way up until 8 pm on Election Day. And so those ballots, again, had to be double-checked against, you know, everybody that had voted to make sure there were no double counts. And then there was the last round of ballots, which were the provisional ballots and military ballots and other things like that, that had come in. So it was a large process, which I just didn't realize all the moving pieces that went into it. And I never realized all the checks that went in to ensure that there was no double counting, to ensure that the signature is matched, that the signatures and the individuals were who they said they were. It was just a lot of moving pieces and it really helped me appreciate everything that went into ensuring that we all have the opportunity to vote. And it's a huge process in general. But on top of the pandemic, I mean, it was even more of an operation because so many more people were voting by mail in this election.
Stuart Shapiro
So you mentioned that the people that were doing this job, essentially, are you and I and our neighbors, and so on. And I think that's really important. And it's really important, particularly, because now we're in a period where the work of all these people is being denigrated on a daily basis, and being denigrated by people in the highest offices in this country. And to me, that strikes as an attack on the entire system and on the individual workers. Can you sort of talk a little bit about how people will react to that and what the long-term effects of the rhetoric that we're hearing could be?
Jason Redd
Sure. First off every morning, all the people that were working, the people that were in there doing the counting, everybody that was in that room except for me and the observer–there was a Republican observer there–and actually, we came to become pretty good friends and agreed in terms of how the votes were treated, and ballots that may have been disqualified. And we were brought in to look at them and see the determination and how it was made. We agreed on a lot and we erred on allowing folks to vote if the intent was there, and it could be proven. We were very clear, and we were on the same page.
But everybody that was there took an oath every morning that was administered by the clerk in order to do their job. To do their job in a way that was fair, in a way that was consistent with the law. Blair County is a Republican county. I think the President won the county in 2016 by 3 to 1 margin to Secretary Clinton. So it's definitely a Republican county, I think that if you were looking at the county, the majority of folks that live in the county–and that would be the pool of the folks that were working at the canvass to count the ballots–are probably majority Republican. But I can say that at no point did I ever feel like that was what they were doing like they had a bias or whatever. The goal was to get the votes counted.
The individuals took the job seriously. The clerk took the job seriously. I still remember once they did the oath in the morning. I remember the solicitor said to the canvassers that were there, hey, you know, I know that you go home, I know that you watch the news. I know that Pennsylvania is currently in doubt, and people are waiting for the votes to be counted. And he said I want to make sure that we do this right. I want to make sure that we do this in a way that we can account for the decisions that are made, that we count the votes that can be counted. And we take our time so that we do this right. And if we're the last county to report out the information that we have here, then we're going to be the last county that reports it out, but we're going to do it right. So that when people look at our work, they're going to see that we did it in a fair manner. And we did it in a consistent manner.
So I think that from what I saw in that experience, they approached the job in a way so that they were professionals. And they felt like they were ensuring that everybody got the opportunity to cast their ballot and participate in democracy. I think some of the comments that we've seen kind of attacking these individuals are unfortunate. I think it's definitely not helpful. And I think that it casts shadows over what I think is a pretty significant voter turnout during a pandemic–one of our country's most trying times. People found a way to vote, whether it was going in person, whether it was voting by absentee ballot, in numbers that we've never seen. And so I look at it as saying, folks found a way to vote in this time, so it's my hope–as someone who believes that as many folks should vote–that hopefully, folks will find a way to vote, moving forward, however it is it will increase people's participation in democracies.
Stuart Shapiro
Right, that's sort of exactly my sentiment as well. I want to sort of connect the work you've done in the past couple of weeks on this with your studies and the broader fields we have at Bloustein. It used to frustrate me–and I'm a policy and political person through and through–it used to frustrate me that I felt like those in the fields of planning and public health, and even some policy people didn't really understand the centrality of politics to all those fields. I think the Trump Administration, for better or for worse, has made that a little less of a problem. But I was wondering if you could talk a little bit about how politics generally, and elections, in particular, are really important in fields like public health and urban planning.
Jason Redd
So I look at this as kind of a creature who's been able to straddle both worlds at times during my career, as someone who's worked to provide technical assistance to policymakers and to help them along the line. So I've seen that connection between politics and policy and professionals, I have seen that intersection. It's my hope, that we will back away from that a little bit moving forward, and hopefully, that as we look to our elected officials who go to represent us, whether it be in Trenton, in Washington, that we look for individuals that are going to step back and rely upon the expertise of the folks that are out there. And provide a certain level of direction. But that we get back to a point where we trust the folks who provide public health expertise, we trust the folks who will come in. I think that, as you said, in recent years, we've seen politics intersect with policy in a negative way, where sometimes decisions are being made, and they're not being made necessarily for scientific purposes. Or they're not being made for public health purposes. So it is my hope that there's an awareness of the importance of the intersection between politics and policy.
But I hope that we get to a point where we go back to allowing the scientists and allowing the folks who work in this space to do their work and trust them to do that work. Because I think that we've seen where there can be catastrophic consequences when we don't. And I think we have folks here that have that knowledge. And I think we need to get back to a point where we trust them to do it and allow them to implement. Then we need to provide them, there always has to be some leading from the policymakers but I think that we need to let the folks who are experts do their job.
Stuart Shapiro
Well, you've hit on a subject for a whole other podcast. We can definitely talk about the role of experts in democracy, one of my favorite subjects, and one of the things I talk to my students about, frequently. But we don't really have time for an extended discussion on that right now. You know, we've touched on a lot of your roles. And it's tough to get everything you do into one podcast here. But I do want to conclude with a little bit about your role on the Advisory Board for the Bloustein School and ask you sort of what directions you'd like to see education in policy, planning, and health take. Particularly in the wake of our current challenges, the pandemic, the recession, the incredible polarization that has resulted in the election we just had. All of those things, I think, have to have some impact on the way we talk to our students and the way we think about education in these fields. And I was wondering what your perspective on that was?
Jason Redd
You know, I am a big fan of our new dean. And when she came on board, [Dean] Vonu [Thakuriah] reached out and asked me if I would consider joining the Advisory Board. And I considered it a tremendous honor. One, because I owe so much of what I do, personally, to the education that I received here as an undergraduate and as a graduate student. So it's been great to be on the board. I think that the Dean is the right person, to kind of bring all of our moving pieces together. Whether it's public health, whether it's planning, whether it's health administration, to pull it all together. Because her background is very much looking at data and figuring out the different components that contribute to that data. And I think that with her leading the institution, she's really kind of provided a vision where how can we pull this all together so that we can achieve better outcomes, kind of in the health space.
So I'm really excited about it. I'm really excited about the discussions that we have with the other members of the Advisory Board, talking about how do we tear down the silos, and kind of promote our faculty to do things that we can see what the tangible results are going to be within our community. It's really exciting to be coming in at the beginning with our Dean. She has this vision that she's putting out, and then we pair that with our new president, who is a rock star, and just really figuring out how that we can fit it all together. They are linked, and I think we've got the right people here and kind of energy to get to that point.
I would also be remiss if I didn't mention that we've got a big birthday coming for the Bloustein School in the next two years. So I think that it's a really big opportunity for us to celebrate where we've come from, what our future is; celebrate our graduates, celebrate our amazing faculty. So that's one of the things that I've been tasked with to serve on that committee. I'm super excited to be a part of it. And I'm just excited because it's a celebration of the Bloustein School and how long we've been around. But it's also just a celebration of everything that's come to it. And the future is bright for where we're going.
Stuart Shapiro
I can promise you that the 30th anniversary will certainly be featured on this podcast, and maybe we'll have you back as that approaches. Thank you very much for coming on. Today was a great discussion, and I'm sure our listeners are going to appreciate it.
Jason Redd
Thank you very much, Dean. It's great to be on.
Stuart Shapiro
Also, thank you to our production team, Amy Cobb and Karyn Olsen. We'll be back next week with another talk from another expert from the Bloustein School. Until then, stay safe.