The Rutgers School of Graduate Studies recognizes annually the notable achievements of graduate students, faculty, and staff in research and scholarship, teaching and mentoring, leadership, outreach, and service across all disciplines, through Chancellor-level affiliations, and within specific disciplinary clusters. Three members of the Bloustein School community have received awards this year.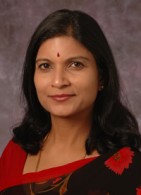 Professor Radha Jagannathan is one of two faculty recipients of the Excellence in Teaching and Mentoring Award, which recognizes graduate faculty who have made significant contributions to graduate education at Rutgers. Candidates for the award must have demonstrated excellence in graduate teaching and mentoring, including the integration of research and teaching, quality and extent of preparation, excellence in all aspects of the teacher-student relationship, and quality and quantity of significant student products stemming from coursework and mentored research.
Dr. Jagannathan's main research interests are in the areas of youth and public welfare. Her recent research has examined the impact of welfare reform on women's fertility behavior and their mental health, children's living arrangements, poverty, and incidence of child abuse and neglect. Collaborating with faculty from the School of Environment & Biological Sciences at Rutgers and funded by Johnson & Johnson, Jagannathan has also developed and implemented a nature/science exploration program called Nurture thru Nature (NtN) for New Brunswick elementary school students (ntn.rutgers.edu). The program is designed as a classical experiment and has shown promise in increasing the science, math, and language arts grades of NtN participants relative to non-participating peers.
Amy Rosenthal has been awarded the University & Louis Bevier Dissertation Completion Fellowship. The fellowship is intended to support completion and recognize excellence during a doctoral candidate's final year of dissertation work. SGS awards 15 University and Louis Bevier Dissertation Completion Fellowships annually, which provide recipients with tuition remission, health insurance, and a stipend of $25,000.
Following her research interests in school meals, food assistance, institutional food procurement, governance, and cooperatives, Amy's dissertation topic is "No Nation is Healthier than its Children: The Role of Staff and Students in the National School Lunch Program."
Amy graduated from Stanford University with a bachelor's in history and from New York University with a master's in food studies. Before beginning her doctoral studies at the Bloustein School she worked at School Food FOCUS, a New York-based nonprofit whose goal is to leverage the knowledge and procurement power of large school districts to make school meals nationwide more healthful, sustainable and regionally sourced.
Evan Iacobucci has been awarded an Off-campus Dissertation Development Award, which  is designed to provide support during the early stages of doctoral research to students who would benefit from off-campus, field-specific research opportunities. It is also designed to connect graduate students with GradFund by providing seed funding to incentivize applying for external fellowships and grants to support the dissertation project.
Evan's primary research interests include transportation behavior, the use of information technology for novel research approaches, the history of cities, and the role of science in planning. He earned a Master of Urban Planning degree from the State University of New York at Buffalo and also holds an MA in Philosophy from the State University of New York at Buffalo.