In 2021 the Edward J. Bloustein School of Planning and Public Policy received a generous gift from alumnus Walter C. "Wally" Evans MCRP '74, to create summer programming that would introduce resident New Brunswick students to the field of urban planning. Partnering with coLAB Arts and New Brunswick City Center, the Bloustein School sought to provide an innovative STEAM summer enrichment program to help students develop an understanding of urban planning and public policy solutions through a socially-engaged research and design process.
The Creative Cities Design Institute was held from July 25-29, 2022. The weeklong intensive program partnered middle school students from New Brunswick public schools with professional urban planners and artists in workshops that included building artful cities, 3D printing, community engagement, and social justice.
"I had the pleasure of viewing the video and photos and was quite impressed by the presentation and reactions," said Mr. Evans. "The final project reassured me that the introduction of urban planning and design to elementary and middle school students, through a hands-on project in their home community, was rightly ordered. The children became fully engaged in reimagining their downtown and had fun while being exposed to the many facets of the planning practice. A similar high school experience served as my spark, and led to my pursuit of a planning degree, and a fulfilling career. I look forward to the continuation of the camp next summer!"
Taught by coLAB Arts resident artists along with faculty and graduate students from the Bloustein School, students were engaged in what it means to engineer an artful and just city. The mission of coLAB Arts, according to John Keller, Director of Education, is to work with and engage artists, social advocates, and community stakeholders to create transformative new artwork in the communities in which they work. Adding the element of urban planning, he said, was a new challenge.
"This year we opened the Summer Institute in collaboration with the Bloustein School. Our imagination was going to be applied to something that we'd never tried before. Planning a city street. By combining socially engaged arts with urban planning, students learned about becoming agents of change in their own communities but more importantly, about working together to develop a vision for the future of downtown George Street."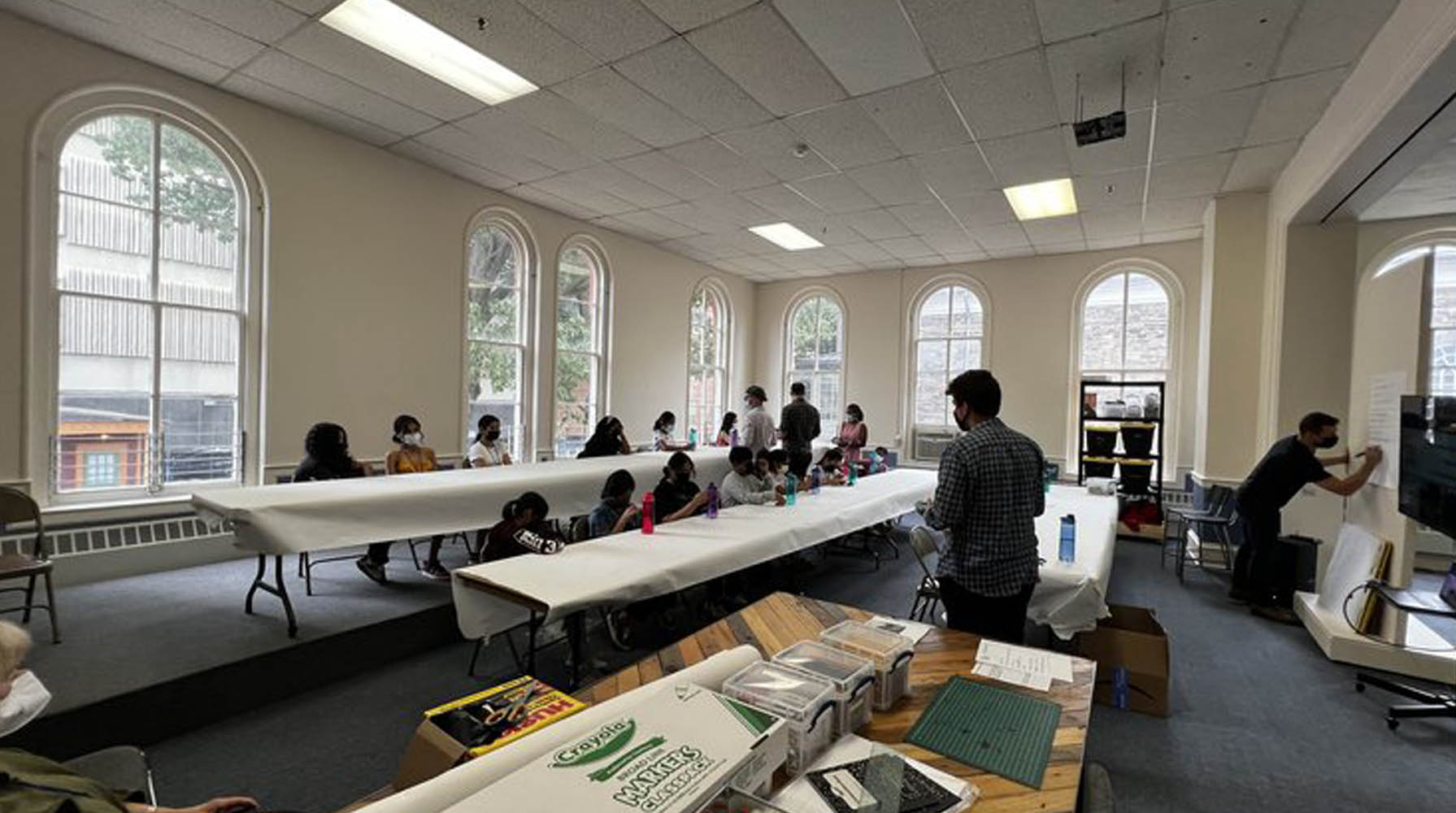 The goal of the design institute was for the students to create an original art installation project that would expand their understanding of the fields of city planning, art, engineering, environmental science, and social justice. They began their week learning about socially-engaged art and its intersection with urban planning through games and a community agreement, and learned how urban planning helps build better communities.
"Part of what we did was design ways to make our city of New Brunswick better, and decided as a group what "better" in urban planning means," said one student, Anisha. "And it means safer, appealing, walkability, and maintenance."
After an observational walk on George Street and a demonstration of 3-D printing by FUBAR Labs, students discussed the importance of poetic language in preserving thoughts, feelings, and expressions beyond data, journalism, and fiction. One student, Deimi, explained that "We prewrote on tablecloths about what we see outside our kitchen window and how our stairs feel and smell. When we were done we each shared something we wrote and put it in a notebook. We used these ideas to share our feelings."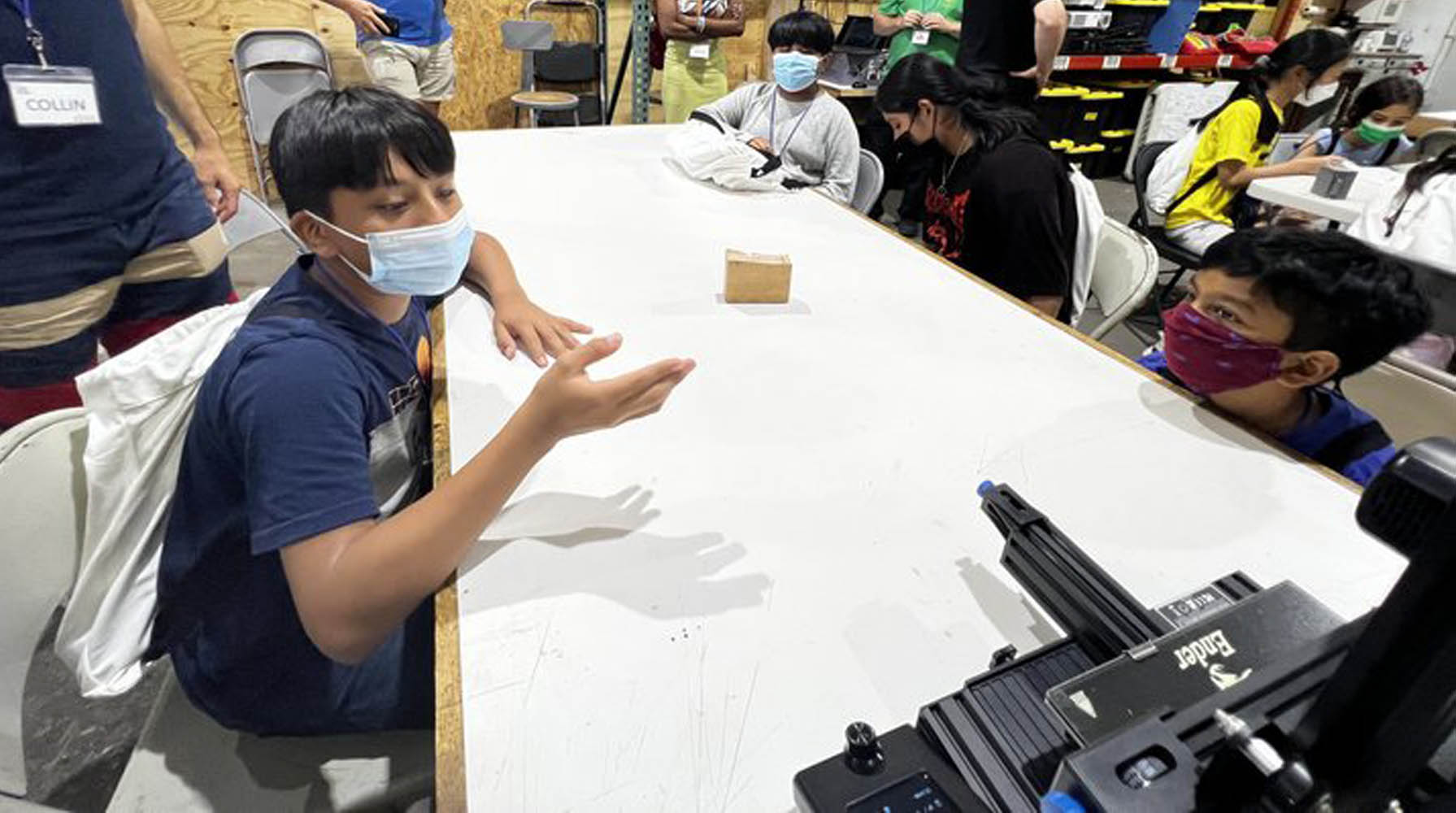 The New Brunswick students were also given a demonstration of the technology used by urban planners by Bloustein School graduate students in the urban design studio spaces of the school. Colin Roche (MCRP), Collin Rieger (MCRP), and Maia Hill (MPP) described the technical and political processes used in urban planning to develop and design communities. They explained terminology and symbols commonly used, and used a large-scale model of George Street created by graduate students to provide the middle schoolers with hands-on experience. Associate Teaching Professor Juan Ayala also demonstrated the 3D modeling software used by graduate students.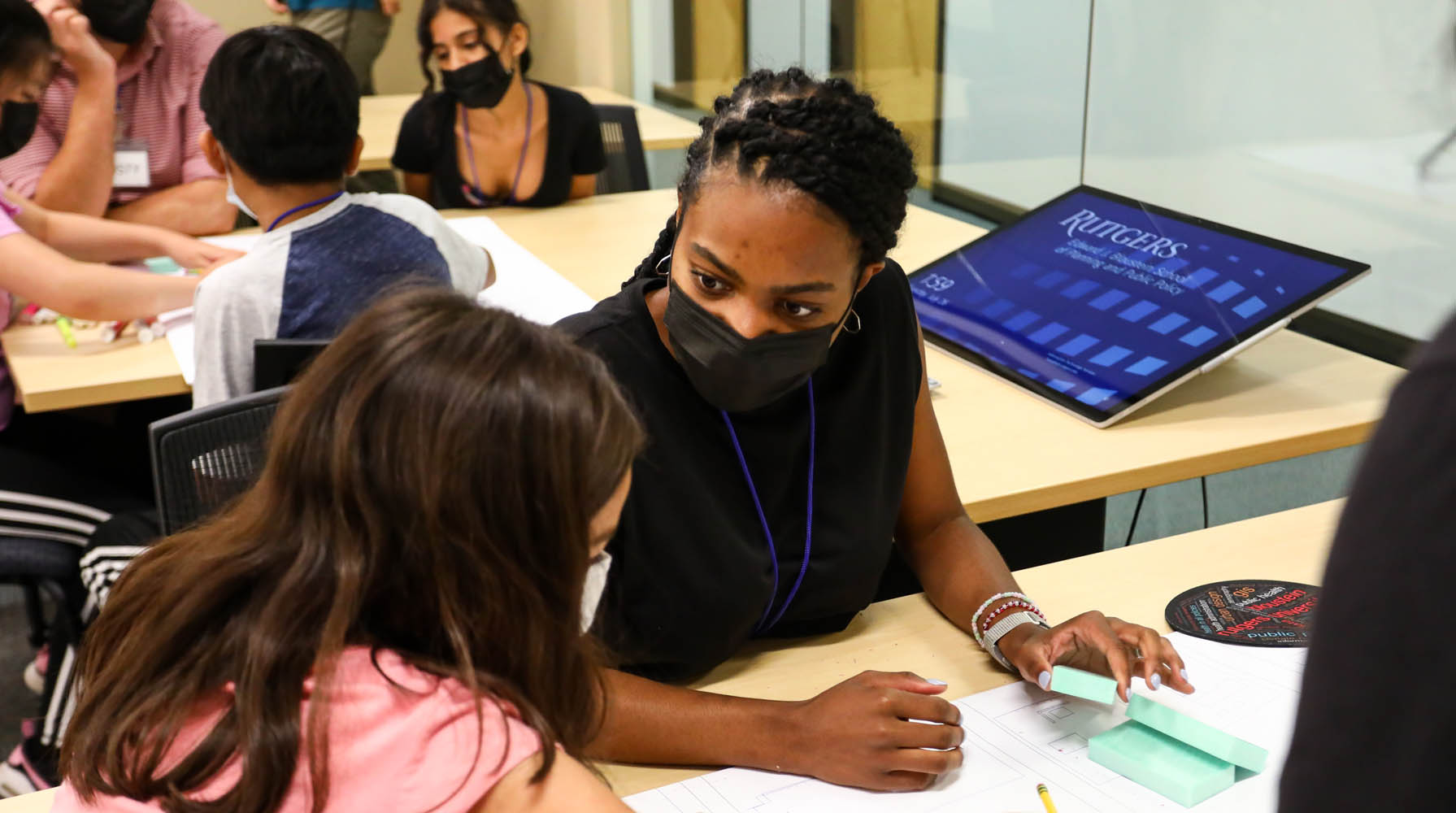 "It is important to open this type of opportunity to young students. I teach undergraduate students who don't know where cities come from or how cities are designed," said Barbara Faga, Bloustein School Professor of Practice. "Much of the information used in the Creative Cities Design Institute is the product of the graduate design studios, Imagine New Brunswick. The graduate student work was a great place to start when teaching middle school students how to design cities."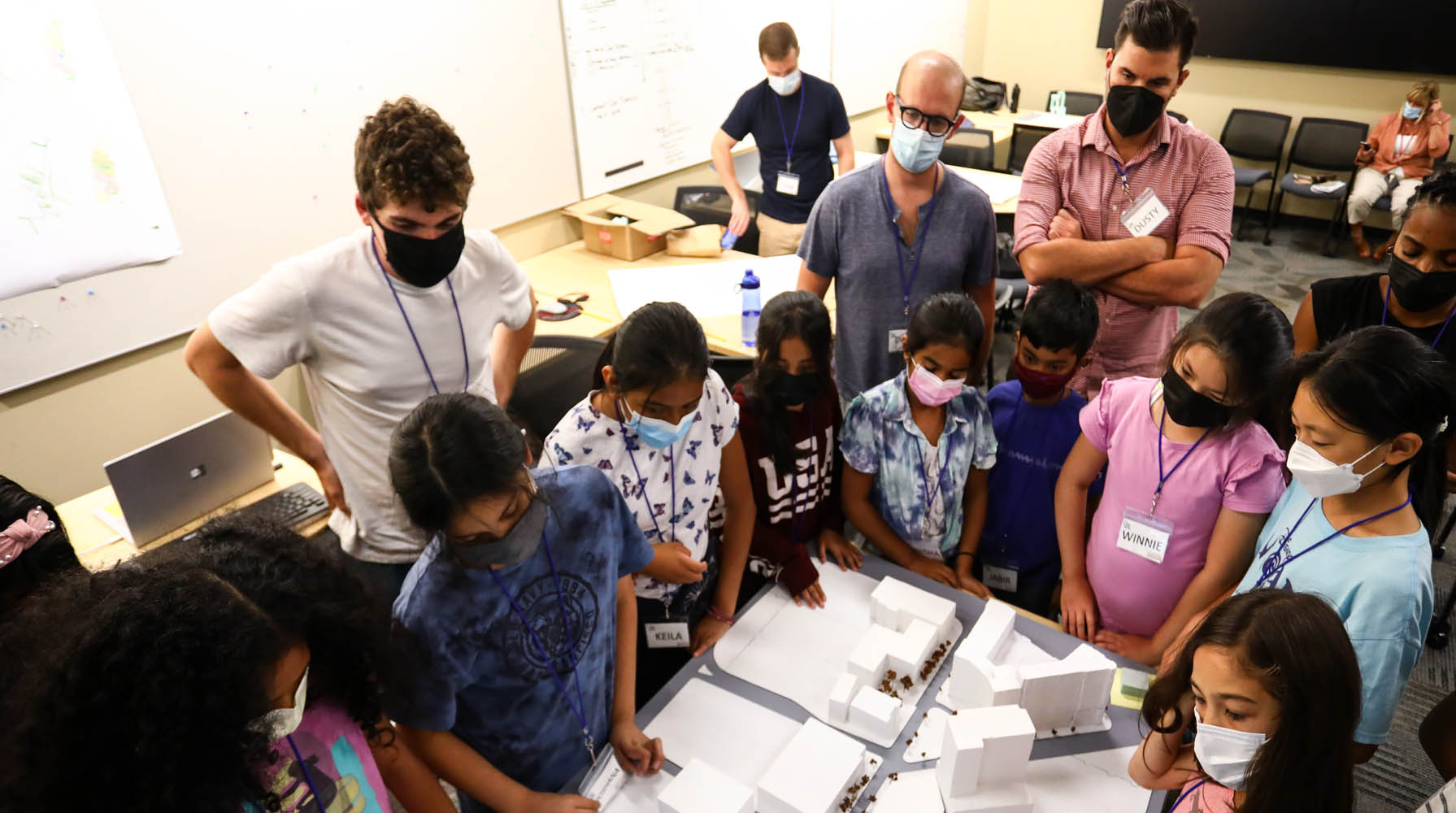 "I can't think of a field that impacts a municipality, a community, more than urban planning," said New Brunswick Mayor Jim Cahill, who attended the final presentation. "It is people like our Bloustein School colleagues that are teaching and learning in their graduate and undergraduate programs, and the coLAB artists who understand what happens in a community at the grassroots level, that help to translate the message through art so everybody can understand. That's how you transform a community."
As their final presentation, students created an interactive mural of painted tiles and sound recordings titled, "I Dream of a City Where…" which reflected their experiences, feelings, and what they learned and created throughout the week with coLAB Teaching Artists Dave Seamon, Rafaelle Lozada, and Dustin Ballard. They shared their own vision of George Street through the 3-D model created with the guidance of Professor Ayala and the resident makers at FUBAR Labs.
Parents and members of the community were invited to the final sharing at Tavern on George on Friday. One parent commented, "My daughter always gets good grades, but her teachers say that she does not interact with many of the other kids. She does not do many after-school activities and usually comes right home after school. She came home so excited on the first day of this program, and I can see that she is participating and making new friends. I am so proud of her, and can't thank you enough for giving her this opportunity."
"The Creative Cities Design Institute gets students excited about planning cities, and I hope you all had a wonderful experience," said Doug Schneider, Chair of the New Brunswick City Center Board of Directors and owner of Tavern on George and Clydz restaurants.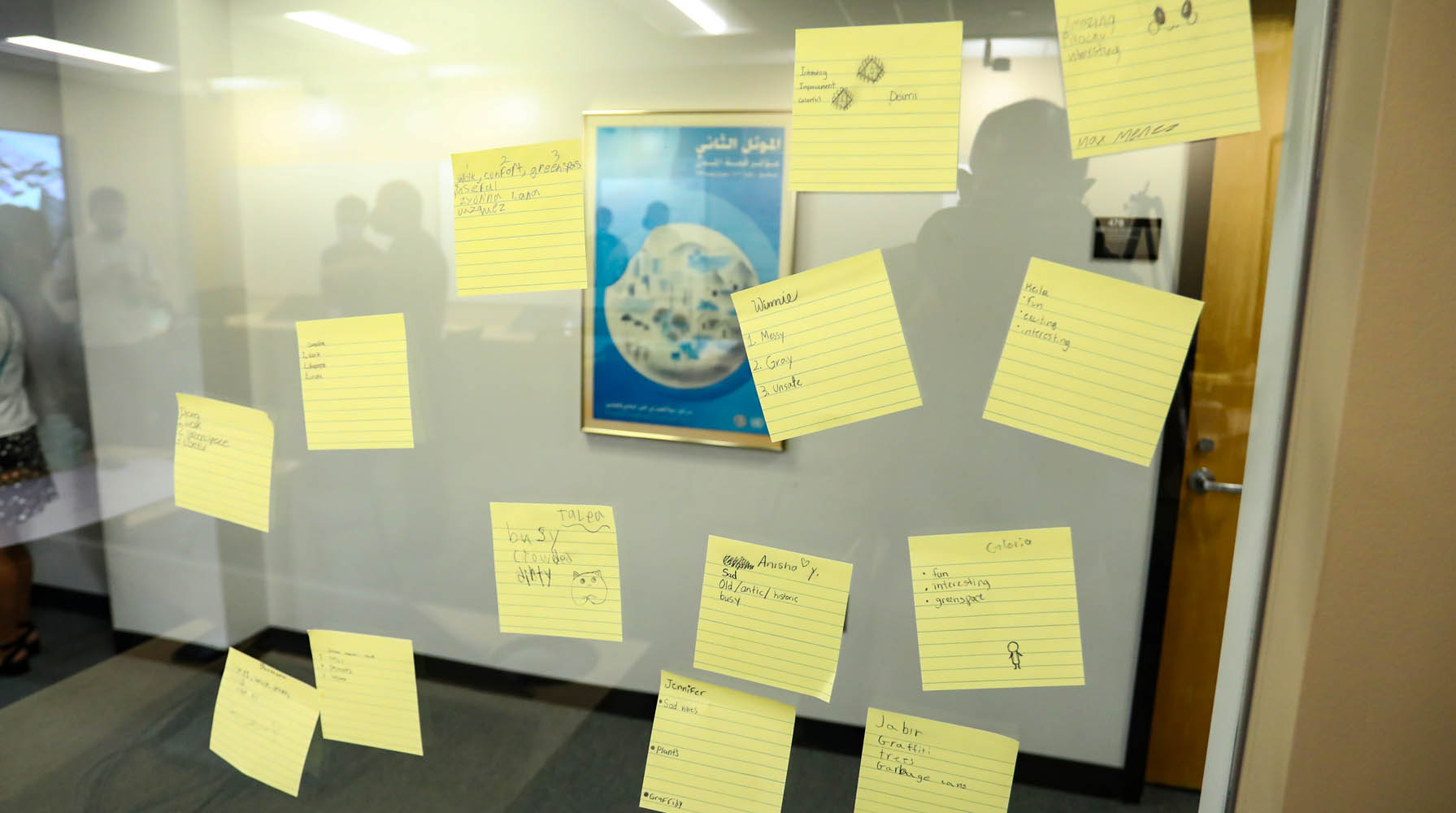 Mr. Schneider addressed the students and their families at the graduation and final presentation on Friday, saying, "New Brunswick is something that we are all passionate about. Everybody that you see here is extraordinarily passionate about the city that we live in, that we play in, that we work in. And it's a place that is ever-changing. And what you learned over the course of your design institute is how to make our city the best city it can be."
Photos and video of the Creative Cities Design Institute may be found at https://colab-arts.org/creative-cities-design-institute-2022. The original concept for the institute came from the Fall 2021 and Spring 2022 planning studios, Imagine New Brunswick, created by Bloustein School graduate students.