by Cecille de Laurentis MPP/MCRP '20
"When someone tells you that your hair is unkempt, that your hair is not neat, that is hair discrimination. When someone tells you that you need to 'fix your hair accordingly' —whatever that means—that is hair discrimination."
New Jersey State Assemblywoman Angela McKnight described the discrimination many black women and men face professionally, at school, and in other aspects of their lives for wearing their hair as it grows naturally, or in styles that are culturally significant to the black community at the CROWN (Creating a Respectful and Open World for Natural Hair) Conference hosted by the Bloustein School on January 29. The program was presented with support from the Rutgers-New Brunswick Division of Diversity, Inclusion, and Community Engagement.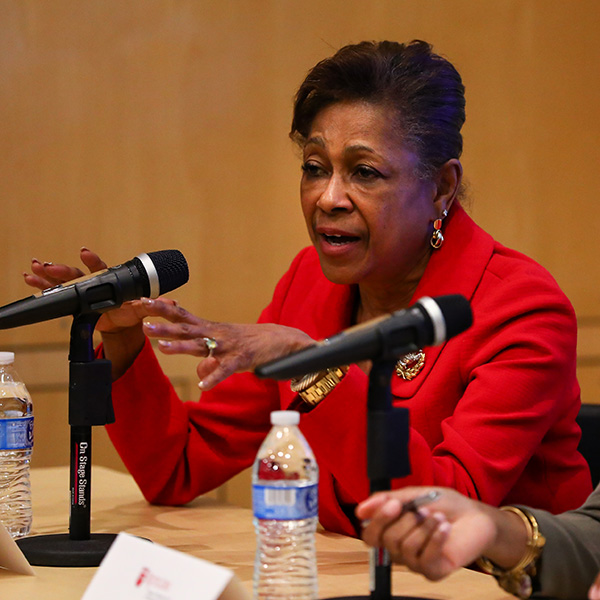 Assemblywoman McKnight and State Senator Sandra Cunningham are two co-sponsors of New Jersey's CROWN Act, which bans workplace and public service provider discrimination based on hairstyles that are "historically associated with race," such as braids, locs, and twists. The legislature passed the CROWN Act on December 19, 2019 — the anniversary of the day that Andrew Johnson, a New Jersey high school wrestler, was forced to cut his dreadlocks before a match. This made New Jersey only the third state, after California and New York, to ban hair discrimination. Other panelists included Dr. Bernice Rumala and Shemekka Ebony Coleman, co-founders of the CROWN Campaign, and Karen Thompson, a Senior Attorney for ACLU-NJ. Dr. Patti O'Brien Richardson of Bloustein moderated the panel.
The panelists wove together personal stories and policy discussion, connecting the history of hair discrimination to the broader story of racism against African Americans. "It's never just about hair," Attorney Thompson emphasized, referencing stories about children being suspended from school and otherwise penalized for their hairstyles.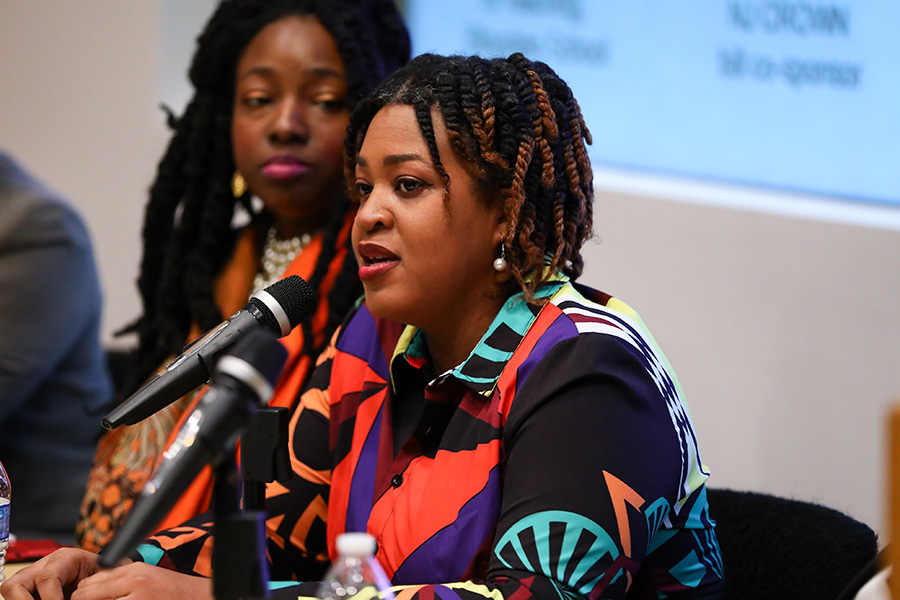 "This is a way to criminalize children." Dr. Rumala recalled a painful incident from her own childhood. "When I was a child…my mom [did] my hair in a beautiful threaded hairstyle. I went to school, and I was sent home. And it hurt our community…my mom thought she did something wrong…" Attorney Thompson explained that New Jersey's protections against discrimination, such as the Law Against Discrimination (N.J.S.A. 10:5-1 et seq.), are particularly strong as compared to other states. But Senator Cunningham pointed out, "New Jersey anti-discrimination law already protects black people and their hair. But that was on paper–not reality." In practice, hair discrimination still occurs, as the Andrew Johnson story demonstrated.
When asked if policy is enough, Assemblywoman McKnight said, "Short answer, no." There was some appreciative laughter. "But it is a vehicle that helps end air discrimination," she continued. The panelists emphasized the importance of community organizing and advocacy, especially in places where "the policy hasn't caught up yet." They brought up the case of DeAndre Arnold, a high school senior in Texas who will not be allowed to walk at graduation unless he cuts his dreadlocks, and encouraged audience members to tweet at Texas lawmakers and show support for DeAndre on social media.
In addition to policy and advocacy work to fight broader structural racism, panelists encouraged intra-community work to combat internalized feelings. "One of the things we have to do is educate," said Assemblywoman McKnight, "and bring about self-love." This reflects Attorney Thompson's repeated point that "it's never just about hair" — hair is just one way in which black Americans are policed in public space, and told that they are not free to be and love themselves. As the five CROWN panelists emphasized, tireless advocates are creating change, but there remains much more work to be done.