As part of Hunger Action Month, the Bloustein School's Graduate Society of Healthcare Leaders put their efforts toward raising donations for Elijah's Promise Community Kitchen.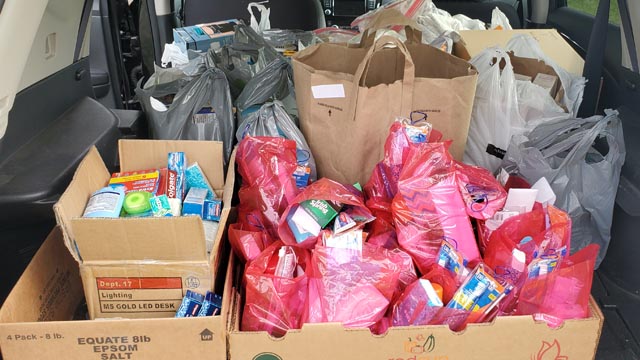 Graduate students gathered food supplies from the kitchen's wishlist as well as necessary hygiene products and clothing items. In just one month, they were able to gather every single item from the list and more. Following both EP and Rutgers' social distancing guidelines, the students met at a local park, donned masks and gloves, and packed more than 100 snack and hygiene bags, as well as the bulk items and donations including rice, pasta, oil, and clothing items. They packed three cars full of donations to make the trip over and deliver the items to Chef Curtis and his team at EP.
GSHL was also able to make a monetary contribution because of the amazing amount of donations they were able to raise for the Give $5 to EP campaign. Each person that donated $5 asked five friends to do the same, and asked those five friends to pass it along to another five people.
GSHL is planning a similar event for the winter and invites all graduate students to participate! In the meantime, we invite all to donate to Elijah's Promise this month in support. Please stay tuned for more events and reach out with any questions at ejb.gshl@gmail.com, or follow the group on Facebook or LinkedIn