The RMHA has a multi-tiered advising system to ensure appropriate and timely academic and career advising as students in both the TT and ET progress through to graduation.
Traditional track
All first-year students (0-18 credits) are assigned at the time of their orientation and first enrollment to an Academic Advisor. Academic advisors provide students with an overview of the recommended progress toward the degree and ensure that advisees are registered for the appropriate first-year required courses. Students are expected to meet with their Academic Advisors at least once each semester and prior to registering for any course or courses in subsequent semesters.
In the second year (completion of 18 credits), students are assigned to Practitioner Advisors and Leadership Advisors commencing with and during the period of enrollment in Leadership and Professional Development (590). The role of the Practitioner Advisor is to facilitate continuation in the Program with increasing focus and concern related to professional and career development. An advising sheet is followed for all advising and uploaded to the grad portal for continuity of structure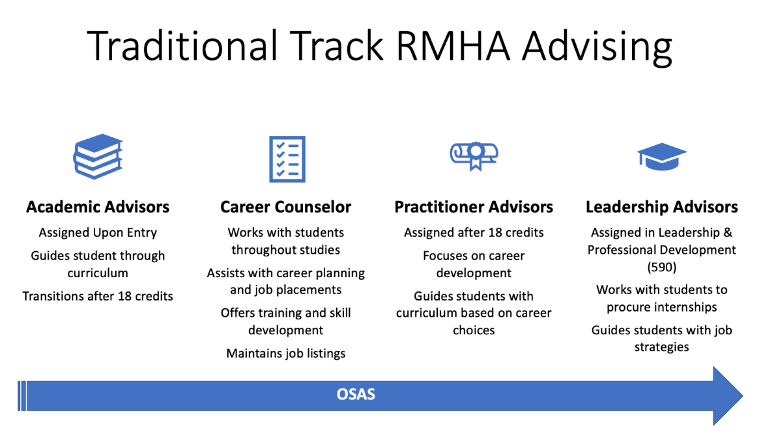 Executive Track
Students in the ET follow a similar advising system, where each is assigned to the faculty member instructing the Executive Cluster. Thus, advising is integrated into the instructional program, directly linked to competencies as they are developed.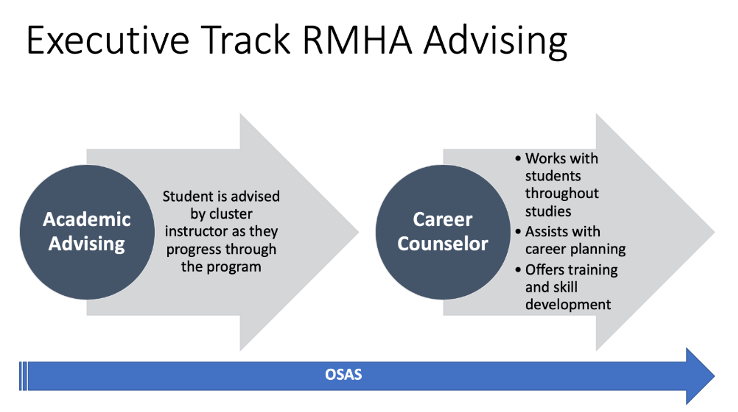 Program Director
The Program Director provides additional support to advisers and students by assessing ongoing needs and developing both ad hoc and longer-term arrangements for additional training and support.
Career and Job Counselor
The Rutgers MHA program has a full-time professional Career and Job Counselor available to all RMHA students for career and job related advising.
Peer Coaching
The Program is working collaboratively with the GSHL to develop a peer mentorship program to establish student peer advisors (well performing second-year students) to assist in the advising and job skill development efforts.