About Health Administration
According to the U.S. Census Bureau, the healthcare industry is the nation's largest employer and one poised for dramatic growth. In 2018, more than 20 million employees worked in healthcare and the sector's annual payroll exceeded $1.0 trillion. The job outlook for healthcare administrators is especially good. From 2021 through 2031, the occupation is expected to grow 28%—a rate of growth that exceeds the mean for all occupations. Each year, over the next decade, there will be an average of approximately 60,000 openings for healthcare administrators. In 2021, the median annual income for someone in this role was $101,340 with the top 10% earning more than $205,620.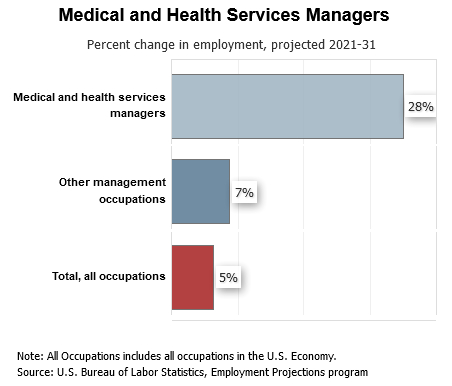 In this rapidly changing and rewarding environment, healthcare executives and administrators—who plan, direct, coordinate, and lead the business activities associated with healthcare facilities and their providers—will play an increasingly important role. Outside of facilities, administrators can be found working in pharmaceutical, health information technology, and consulting companies. Would you like to secure a role in this fast-growing industry? Do you have an interest in shaping and improving health care? Then Rutgers Master of Health Administration (MHA) program is the perfect degree program for you!
---
About the Rutgers Master of Health Administration (MHA) Program
The Rutgers MHA curriculum meets the Commission on Accreditation of Healthcare Management Education (CAHME) standards; The program is tailored to students who have completed a bachelor's degree and who are working or plan to work in the healthcare industry. The MHA is also suitable for those seeking to make a career change or who are already working in healthcare but seeking a higher-level, management position.
Next generation healthcare requires a new way of thinking—bigger, bolder, and smarter—and an understanding of the challenges facing healthcare systems in the 21st century.
If you are interested in an exciting career with high salary potential, opportunities for advancement, career flexibility, and a dynamic work environment, then an MHA is right for you. Healthcare administrators play a critical role in the delivery of care: directing operations, managing data-driven systems, shaping policy, and striving to improve the healthcare system. To be successful in this sector, administrators need core competencies including professionalism and leadership, an understanding of health and healthcare delivery, operations and financial management, communication skills, and strategic planning. Rutgers' MHA prepares incoming students with these, and other, competencies.
Meet the Program Director
Ellen Kurtzman, PhD, MPH, RN, FAAN is a professor and the Executive Director of Health Administration. Prior to her arrival at Rutgers in 2022, Dr. Kurtzman spent 15 years at The George Washington University with appointments in the Schools of Nursing, Public Health, and Public Policy. Dr. Kurtzman teaches health policy, research, and statistics. Her investigator-initiated research explores the impact of federal, state, and institutional policies on health care delivery and the role of the health care workforce in achieving higher value care. From 2018-2019, Dr. Kurtzman served as one of eight Robert Wood Johnson Foundation Health Policy Fellows and worked in the Office of the Speaker of the U.S. House of Representatives and the Office of the Surgeon General. Before joining academia, Dr. Kurtzman served in senior capacities for large health services organizations including the American Red Cross, National Quality Forum (NQF), American Health Care Association, and the National PACE Association.
Why the Rutgers Master of Health Administration (MHA) Program?
The Rutgers MHA offers a flexible approach that focuses on developing a range of core competencies. You'll learn from the best too—our expert faculty includes leaders who are helping to solve real-world problems, which healthcare organizations grapple with every day. They know how to find solutions, and they bring practical knowledge into the classroom.
The MHA at the Bloustein School provides students with an interdisciplinary education focused on improving health care, health systems, and policy. While you'll have the same rigorous training in economics, law, ethics, leadership and other disciplines that you'd get in an MBA curriculum, the Rutgers MHA is specifically tailored to the healthcare sector. Participants complete the 45-credit program at their own pace, full- or part-time.
Emphasis on Higher Learning Activities and Real Work Instruction
Our regular faculty represent over 300 years of combined senior leadership, practice and consulting experience in healthcare. They bring this rich experience into the classroom and prepare our students to enter or advance in their careers and assume increased responsibility in various healthcare settings.
Additional, Part-Time Lecturers (PTLs) are also recruited from across the country and bring a depth of 'real world' experience. Almost all PTLs are currently employed in, or just recently retired from, leadership roles in a healthcare field. Their first-hand expertise provides the breadth and depth of experience required for student success.
The program relies upon active learning and higher-level teaching activities. Students apply, analyze, integrate and synthesize what they learn in the classroom to real cases, challenging managerial problems, and simulated workplace settings. Senior guest speakers from different healthcare fields challenge students to think critically and apply innovative problem solving to the dynamic and rapidly changing environment in which they will work. This results in students who are both proficient in their knowledge of the healthcare field as well as capable of performing confidently as managers and leaders.