About the Program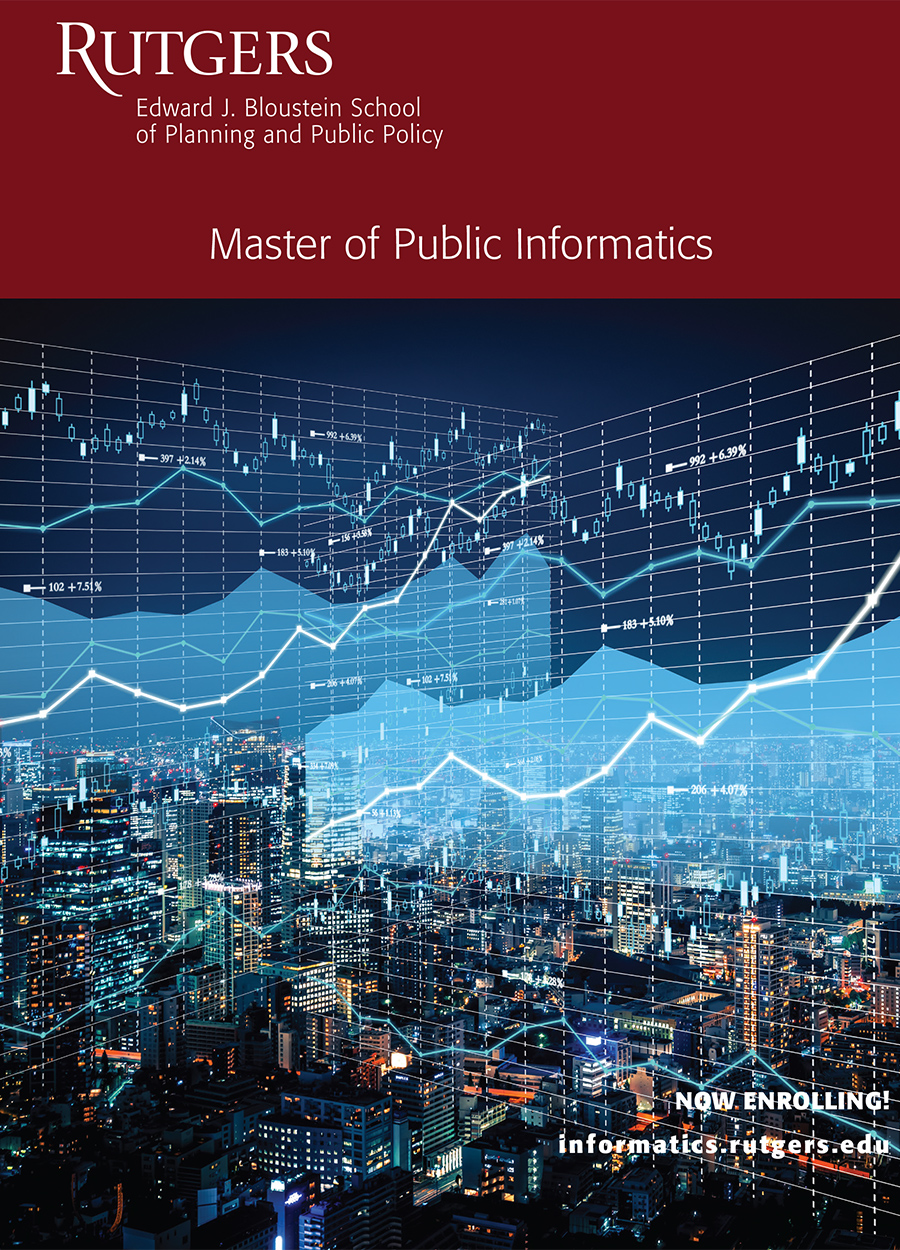 The Bloustein School's Master of Public Informatics STEM-designated program provides the vehicle for educating professional student cohorts in the competencies needed in public informatics: statistics, programming, data management, data analytics, visualization, spatial analysis, applications and the integration of these skills. Graduates of the program will bring a critical voice and a deep understanding of context to an emerging field.
APPLY NOW
Recent Projects in Data Analytics and Informatics
Why a Master of Public Informatics from Rutgers?
The Rutgers MPI program is suitable for students with undergraduate degrees in any field. Applicants must demonstrate competency in one or more programming languages and skills in data management (with coursework, work experience, or by examination). Students with appropriate backgrounds may substitute more advanced courses* for topics already mastered.
It is anticipated that full-time students may complete the 36 credit hours required for the degree in three (3) semesters (18 months).
Model Schedule
(following a fall entrance, full-time, 3-semester plan)
34:816:501 Theory & Practice of Public Informatics (3)
34:970:527/833:525 Applied Multivariate Methods (3)
34:970:590 Graphical Communication for Planners (3)
Elective
34:833:633 Data Analytics: Using Big Data (3)
Planning: 34:970:510/511 Studio OR
Policy: 34:833:640 Policy Practicum I
Planning: Elective OR
Policy: 34:833:641 Policy Practicum II
34:970:591 Intro to GIS for Planning and Public Policy (3)
Topics in GIS (3)
Planning: Studio II (3) OR Policy: Elective (3)
Elective (3)
Elective (3)
* If a student has had a course similar to Intro to GIS or Graphical Communication for Planners, he/she may be advised/required to take more advanced level course within subject matter:
Data Visualization for Policy and Administration (3 credits)
Remote Sensing (3 credits)
Web Programming (3 credits)
Graduate Seminars on Advanced Topics (3 credits), such as participatory GIS, open-source informatics, sensors & drones, or public database management
Directed Study in Public Informatics (3 credits)
Careers for Data Scientists and Data Analysts
The U.S. Department of Labor's Bureau of Labor Statistics reports that the 2014-24 job outlook for data analysts is expected to grow by 30% (much faster than the average), with almost 28,000 new jobs needing to be filled in this area. Management analysts will add an additional 103,400 jobs (a 14% increase). A report by the National Science and Technology Council of the Executive Office of the President stated "…a national Big Data innovation ecosystem needs a strong community of practitioners across Federal agencies to facilitate rapid innovation, ensure long-term propagation of ideas, and provide maximal return on research investments."
New Jersey Big Data Workforce Roadmap: An Examination of the Challenges and Opportunities for New Jersey's Workforce to Successfully Compete in the Data-Driven Economy
In addition, prospective employers routinely express interest in students to fill positions related to public informatics. The following organizations have recently posted job openings with the Bloustein School's Student and Academic Services Office and Rutgers University that require a public informatics background:
AARP
Applied Energy Group
Deloitte
Delaware Valley Regional Planning Commission
Eurostat
Federal Transit Administration
Johnson and Johnson
Mathematica Policy Research
MDRC
Port Authority of New York New Jersey
United Nations
United Nations Development Programme
UN Office of the High Commissioner for Human Rights
U.S. Department of Health & Human Services
World Bank
World Economic Forum
WSP USA
Applicant Requirements
Prospective students apply online and submit all application materials before the Bloustein School will review your credentials for admission.
• The deadline to apply to the Master of Public Informatics program is August 1 for fall admission.
Online application form
Application fee
Baccalaureate degree from a nationally/internationally accredited program
Official transcripts from all institutions
Resume/CV
Three letters of recommendation
GRE general, GMAT or LSAT test
TOEFL/IELTS required for non-U.S. applicants. Scores will be accepted up to five years from their issuance.
Personal statement (approximately 750 words)
Why do you want to study public informatics and what are your professional goals? Why are you particularly interested in the public informatics program at Rutgers Bloustein School? Describe your professional/user experience and background in following areas: graphics, statistics and computer science?
APPLY NOW