Informed and directed by the program's mission, vision, and values, the RMHA curriculum is designed to provide students with both the breadth and depth of knowledge appropriate to the track they are in. Traditional students are early careerists so their understanding of the healthcare structure and the environmental factors that shape its development and the management/business skills needed for them to succeed are undeveloped. These students receive a broader coverage across the curriculum. The Executive Track students have 5-years managerial experience in the field, so this track focuses on the complexity and constantly changing healthcare environment in greater depth, with more critical analysis and application.
RMHA Competency Model
The RMHA competencies provide a solid examination of the complexity of the healthcare environment, develop students as leaders and consummate professionals, provide foundational business and management skills/knowledge and emphasize innovation and entrepreneurship to assure that our students are prepared for the rapidly changing healthcare environment whether aspiring as early careerists or mid careerists. The RMHA's curriculum of 19 competencies within five Domains provides students with the following:
A fundamental understanding of the healthcare environment with its complexities and dynamic nature, providing a foundation upon which to build other competencies.
Development as leaders and professionals with focus on management style, and the links between planning, organization, and success, as well as a lifelong commitment to ethical decisions and professional development.
A comprehensive set of business skills necessary to grow as managers and leaders in the healthcare field.
Enhancement of communication abilities, relationship management and team dynamics.
An appreciation of innovation and entrepreneurship to deal with change management and build sustainable health systems.
The specific competencies addressed in the RMHA are:
1. The Healthcare Environment
1.1 Healthcare Structure: Compare and contrast different types of health services
organizations, insurance providers, and healthcare providers.
1.2 Health Policy, Law, and Ethics: Examine the health care policymaking process and be able to critique ethical and legal issues at the local, state, regional,and national level.
1.3 Healthcare Quality: Analyze the essential domains of healthcare quality assurance (Safe, Effective, Patient-centered, Timely, Efficient, Equitable) and apply efficient measures of improvement.
1.4 Disparity in Clinical and Population-Level Health Outcomes: Analyze the sources of existing disparity in health outcomes, both at an individual and community level, and predict appropriate measures needed to improve population health.
2. Leadership and Professional Development
2.1 Leadership Theories, Styles, and Practices: Compare and contrast different leadership theories, styles, and practices, and support concepts for change management in a variety of health care organizations.
2.2. Strategic Planning: Examine the importance of the strategic planning process in a healthcare organization and predict how this process will certify the organization's mission, vision, and efficient allocation of resources in different situations.
2.3 Ethical Leadership and Commitment to Life-long Learning: Evaluate the foundation of ethical
values and relate these values to ethical responsibilities and a commitment to Life-long learning.
3. Management and Business
3.1 Quality Improvement and Measurement: Evaluate the importance of quality improvement tools (i.e., LEAN, Six Sigma) and illustrate their functional use to improve clinical and operational outcomes.
3.2 Financial Analysis and Budgets: Analyze and apply the fundamentals of financial management and budgeting principles and be able to differentiate between various financial reports and matrixes to measure organizational performance.
3.3 Operational Management: Compare and contrast a variety of different approaches for healthcare delivery and organizational management of services.
3.4. Human Resource Management: Examine various principles of human resource management and regulatory requirements in healthcare to generate a plan for improvement in health care delivery.
3.5 Health Information Systems: Appraise the role of health information systems for administrative and clinical purposes and support the necessity for HIS with emerging issues like cybersecurity, data privacy and security of healthcare information.
3.6. Ethics and Compliance: Assess ethics and regulatory compliance issues in healthcare and create plans to improve compliance within healthcare systems.
3.7 Data Analytics: Compare and contrast various statistical analysis techniques and the use of data visualization software to support the use of healthcare data for benchmarking and business intelligence.
4. Communication and Relationship Management
4.1 Written Communication: Construct appropriate written reports, memos, and papers using effective written business communication skills.
4.2 Oral Communication: Compose narratives to produce effective verbal communication skills, in both individual and group settings.
4.3 Team Dynamics: Evaluate the importance of teamwork in a healthcare setting and design competencies to work effectively in different roles within a team.
5. Entrepreneurship and Innovation
5.1 Entrepreneurship and Innovation: Compare and contrast examples of disruptive technologies and apply it to the healthcare industry to promote innovation.
5.2 Emerging Technologies: Examine the role of emerging technologies on the healthcare delivery system and predict consumer behavior.
The Traditional Track is intended to move students sequentially from Novice (1-2) to Advanced Beginner (3-4) and to Competent (5-6) by graduation across all competencies. Because this is not a cohort-based track, students follow recommended sequential courses at their own pace, depending upon their full or part-time status.
Executive Track students are usually at the Advanced Beginner (3-4) level at their start of the Program and then move sequentially through four, 9-credit clusters during fall and spring terms and two practice-based summer courses to reach Proficient (6-7) levels by graduation.
RMHA Assessments
The RMHA-Master Assessment Plan lays out a comprehensive eight module plan to offer ongoing program evaluation and assessment across teaching and learning. Modules 1 through 4 collect student- and cohort-level data on competency attainment and program, while Modules 5 through 8 collect Program-level data on program effectiveness and competency currency and relevance. Modules 7 and 8 are conducted with reference to the Environmental Scan effectiveness.
The RMHA-MAP is an integrated approach for:
Assessing student progress toward mastery of Program competencies
Assessing Program level facilitation of student competency attainment, and facilitation of competency currency/relevance review and over-time adjustment;
Assuring that the assessment "loop is closed" by deploying data collected via student-level and programmatic-level competency assessments, together with data collected from external stakeholders to assure programmatic improvement and competency currency and
Assessing those metrics related to Programmatic Goals and Objectives
For additional details and past assessment analysis:
Grading
The RMHA program uses a standard grading scale for all our courses. The letter grade is assigned using the following grading scale:
100 % to 90.0%
< 90.0 % to 85.0%
< 85.0 % to 80.0%
< 80.0 % to 75.0%
< 75.0 % to 70.0%
< 70.0 % to 0.0%
Traditional Track Curriculum
The 45-credit Traditional MHA track curriculum includes 11 core course and requires completion of an experiential professional practicum with seminar (6 credits), and 6 credits of approved electives.*
501:501 Principles of Health Administration (3)
501:510 Human Resources Policy and Practice in Healthcare Management (3)
501:515 Financial Accounting for Managers (3)
501:520 Population Health (3)
501:533 Lean 6 Sigma Green Belt (3)
[Note: 501:533 Lean Six Sigma Green beginning 7/1/2020]
501:554 Marketing for Health Care Organizations (3)
501:556 Health Care Ethics and Law (3)
501:563 Health Systems Operations (3)
501:590 Leadership and Professional Development (3)
501:571 Finance for Health Administration (3)
501:565 Information Systems for Health Care (3)
501:595 Professional Practicum with Seminar (6)
Six Credits of Approved Electives (6)
Current "automatically approved" electives include:
501:512 Health Care Economics (3)
501:516 Directed Study (3)
501:525 Artificial Intelligence Challenges in Healthcare Management (3)
501:530 Data Analytics in Healthcare Management (3)
501:534 Lean 6 Sigma Black Belt (3)
501:540 Health Care and Life Sciences (3)
501:542 Long Term Care (3)
501:570 Financing Long Term Care (3)
501:572 Managing People and Organizations (3)
TOTAL CREDITS = 45
---
*Professional Practicum with Seminar may be portfolio-based or experiential, depending upon the student's experience and accomplishments. 501:501 and 501:515 must be taken in the first semester in which students are enrolled in the program. The six credits of electives, chosen from a broad range of courses, allows the program to provide a degree of customization for each student's interest and need while doing so within accreditation requirements
Traditional Track Recommended Course Sequencing**
---
**Of special note in course planning. Leadership and Professional Development (501:590) is a mandatory pre-requisite to the Professional Practicum with Seminar (501:595). Since entry into Leadership has multiple pre-requisites (either 563 or 571 AND a minimum of 18 completed credits prior to the start of Leadership), students should anticipate needing two semesters to complete this two-course sequence (Leadership followed by Practicum). Therefore, entry into Leadership must be met prior to this "upper course", two-semester sequence.
Traditional Track Course Descriptions
34:501:501 Principles of Health Administration (3)
The course introduces students to the historical development, structure, operation and current/future directions of the American health care delivery system with an emphasis on health care policy and management.
34:501:510 Human Resource Policy and Practice in Health Care (3)
The course analyzes core human resource functions like recruitment and retention, diversity, performance management, compensation and workforce development in the healthcare environment, while aligning human resources strategy to the business strategy's goals.
34:501:512 Health Care Economics (3)
Students will analyze supply demand theory while examining profitability, cost analysis and the economic factors that influence healthcare delivery at the micro and macro level.
34:501:515 Financial Accounting for Managers (3)
Students will apply major concepts in health care finance to align operational functions with the financial objectives within an organization.
34:501:520 Population Health (3)
This course analyzes the complex economic, environmental, social, and behavioral causes affecting the health of populations. It explores how health care organizations plan and evaluate the impact of their participation in community health improvement programs.
34:501:530 Section, Data Analytics in Health Care (3)
Students will analyze and interpret hospital and public data sets for use in strategic decisions-making, trend analysis and business presentations. Advanced excel and other tools will be used to mine data sets, identify patterns, and create data summaries.
34:501:533 Healthcare Six Sigma Green Belt (3)
This course is designed to prepare students for the Lean Six Sigma Green Belt certifying exam under the Council for Six Sigma Certification requirements.
34:501:554 Marketing for Health Care Organizations (3)
This course provides a strong foundation in marketing principles, tools, and techniques to develop a strategically designed marketing plan for health care organizations.
34:501:556 Health Care Ethics and Law (3)
A systematic analysis of contemporary ethical and legal issues in health care. The class is designed to engender a keener awareness and deeper understanding of the interrelationships of legal and ethical underpinnings of the practice and administration of modern medicine.
34:501:563 Health Systems Operations (3)
This course provides a macro and micro view of health care operations with a focus on critical management theory, fundamental economic principles, employee management, and the art of negotiations.
34:501:565 Information Systems for Health Care (3)
An exploration of the types and uses of information systems; their management and strategic application; related privacy policies and their transformative role in health care delivery.
34:501:571 Finance for Health Administration (3)
A review of financial management tools for various health care delivery settings to allow students to interpret financial information, assess the processes performed by financial departments, and explore the financial management responsibilities of health leaders.
34:501:575 Understanding Health Care Payer Systems (3)
To provide a fundamental understanding of the three predominant forms of health insurance coverage in the United States (Medicare, Medicaid, and commercial).
34:501:590 Leadership and Professional Development (3)
An in-depth look at leadership styles, traits and strategies using critical thinking and complex analysis that addresses multifaceted healthcare case studies involving best practices and change management.
34:501:595 Professional Practicum with Seminar (6)
A capstone field experience in an approved healthcare facility designed so students apply healthcare theory to practice in a real-world setting. Students complete an outcomes-driven project that is presented as a written business analysis and a formal presentation in a public forum.
Executive Track Course Structure and Sequence
The Master of Health Administration (Executive track) at the Bloustein School is tailored for the health professional with at least five years of experience. Our newly designed curriculum presents information in four sequential, 9-credit modules or clusters – courses grouped together in common themes and two experiential summers. At the start of each module, cohorts take on a complex health care problem and collaboratively create innovative solutions.
This small, cohort-based option allows for convenient Saturday scheduling and team based competency development. The 45-credit Executive track is designed to be completed in two years.
Executive Track Recommended Sequence (with Traditional Track Equivalencies)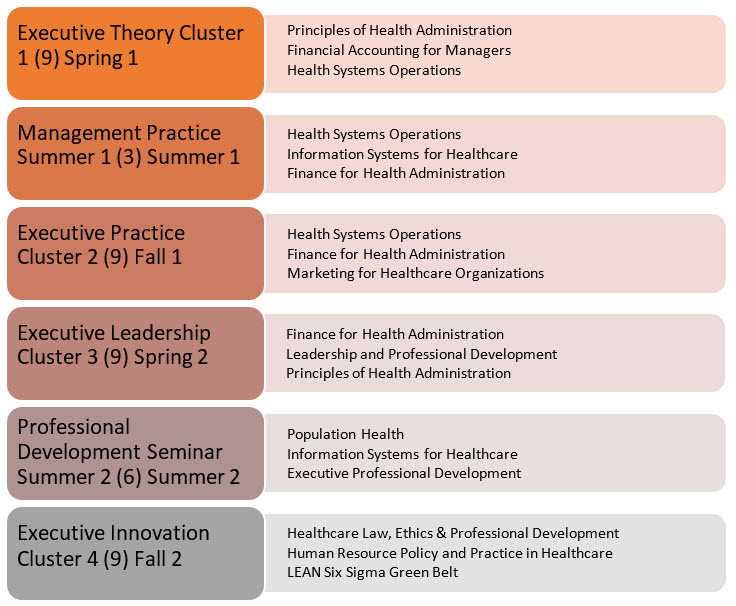 Executive Track Course Descriptions
34:501:581 Executive Theory Cluster 1 (9)
This cluster is for MHA Executive Track students and provides health care practitioners with a macro and micro view of the current health care environment.by assessing and interpreting critical management theory, fundamental economic principles and essential analytical skill for problem solving.
34:501:585 Management Practice Summer 1 (3)
MHA Executive Track students interact with members of the C-suite for a health care facility.to apply and analyze critical management by focusing on the micro and macro healthcare environment.
34:501:582 Executive Practice Cluster 2 (9)
This course analyzes and evaluates key management functions at an advanced level including the role of value-based performance in health structures; strategies for growth and financial sustainability, an understanding of various cost-structures and their impact on an organization's financial performance. Restricted to MHA Executive Track students only.
34:501:583 Executive Leadership Cluster 3 (9)
The course focuses on leadership, healthcare financing and strategic planning by examining the impact of the health reform upon hospital finances, the formation of health systems, strategic decision making, governance and the increased focus on quality of care and health information technology. Restricted to MHA Executive Track students only.
34:501:586 Professional Development Seminar Summer 2 (6)
This cluster course enables MHA Executive Track students to self-assess their skills by building a professional portfolio and examine the role of the information system within the U.S. health care system and to improve population health. Restricted to MHA Executive Track students only.
34:501:584 Executive Innovation Cluster 4 (9)
This course is designed to provide MHA Executive Track students with a systematic analysis of contemporary ethical and legal issues in health care, human resource management and patient quality improvement. Students will also become proficient in LEAN Six Sigma techniques at the Green Belt level.