Information Technology Services
Classes at the Bloustein School use either Webex or Zoom and the following instructions can be used to help you get started using these platforms.
Zoom Information for Faculty & Staff
Activate Account
Navigate to https://netid.rutgers.edu/ and select Service Activation.
Log in with your NetID and NetID password.
Check the box that says Rutgers Zoom Zoom Meetings. Depending on your role, you will see either "with HIPAA support" or "NOT for RESTRICTED data controlled by HIPAA or other regulations."
Select Activate Services at the bottom of the page. It may take up to an hour for you to be able to access your Zoom account.
You can access your account by navigating to https://rutgers.zoom.us/ and selecting Sign in.
Login
You can access your account by navigating to https://rutgers.zoom.us/ and selecting Sign in.
Or, on the main zoom.us page, choose Sign in with SSO. Type "rutgers" for the company domain.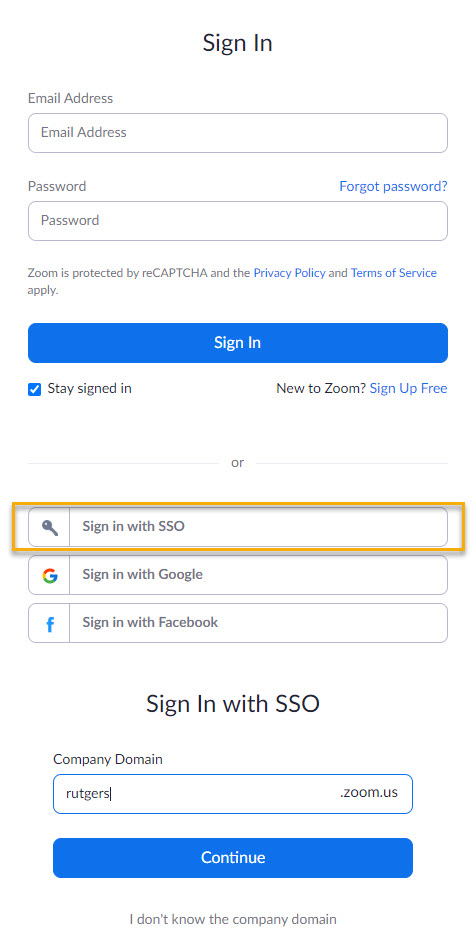 Help Resources
General Information
Additional resources
Zoom Security
OIT Announcement
Original Email from OIT on 7/15/20
Members of the Rutgers Community:
We are pleased to announce that Zoom is now available for the Rutgers community. The Office of Information Technology is offering Zoom as one of several web conferencing options at Rutgers. Zoom complements our existing offerings—namely, Webex and Microsoft Teams—and provides further choice for collaboration to Rutgers students, faculty, and staff.
Some benefits of Zoom include:
High-quality video and audio support for up to 300 concurrent participants for students and 500 participants for faculty and staff.
Ability to customize your own virtual backgrounds during a Zoom meeting.
Easy-to-use tools such as Whiteboard and Annotate to share and collaborate with others.
Breakout rooms allowing you to split your Zoom meeting into as many as 50 separate sessions.
What if I already have an existing Zoom account?
If you currently have an existing Zoom account with a Rutgers email address or NetID, please review these instructions.
How do I sign up for Zoom at Rutgers?
To sign up for a new Rutgers Zoom account, please follow these instructions. Additionally, Zoom offers a variety of resources on its help page to guide new users in getting started.
Is Zoom for Rutgers HIPAA-compliant?
For those who handle Protected Health Information (PHI), Zoom for Rutgers is compliant with the Health Insurance Portability and Accountability Act (HIPAA). If you handle PHI, you will be assigned an account that is appropriate for your use with restricted data. If your role at Rutgers is not flagged for interaction with PHI, you will see a message upon signing up for Zoom indicating that your account is not for use with restricted data controlled by HIPAA. 
Additional resources
For more information about Zoom at Rutgers, please visit the Zoom section of the Rutgers IT website. Also, if you would like to learn about other remote technology resources available at Rutgers, feel free to explore the Remote Technology Resources webpages.
Questions?
If you have specific questions or need assistance accessing Zoom, please contact your department's IT staff or your local Office of Information Technology Help Desk.
Thank you,
Michele Norin
Senior Vice President and Chief Information Officer